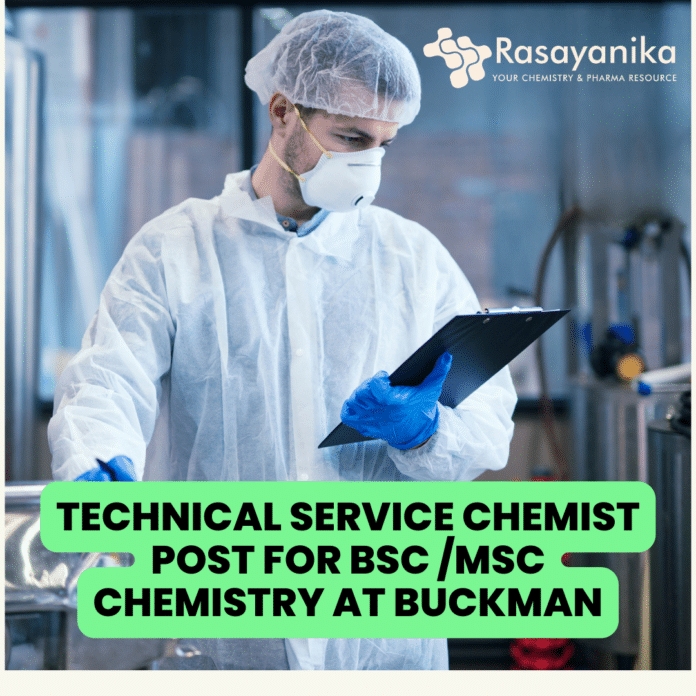 Buckman is Hiring BSc /MSc Chemistry for Technical Service Chemist Post
Buckman is Hiring BSc /MSc Chemistry for Technical Service Chemist Post at Chennai, India. Interested Candidates check out the details below and Apply Online
Job title: Technical Service Chemist
Job Location: Chennai, India
Job Type: Full Time
Job Context:
About Us
Buckman is a privately held, global specialty chemical company with headquarters in Memphis, TN, USA, committed to safeguarding the environment, maintaining safety in the workplace, and promoting sustainable development. Buckman works proactively and collaboratively with its worldwide customers in pulp, paper, leather, and water treatment to deliver exceptional service and innovative specialty chemical solutions to help boost productivity, reduce risk, improve product quality, and provide a measurable return on investment. Buckman is in the middle of a digital transformation of its businesses and is focused on building the capabilities and tools in support this.
Purpose
They looking for an Application and Technical Service chemist to join their team to provide superior and excellent technical service to our customers. The candidate will analysis customer samples and issue the test report, evaluate products to help the sales team on product selection, develop new test methods to increase technical service capability
and involve in the field trials and onsite testing as required.
Accountabilities
Perform analysis on the customer's sample and issue technical service report promptly according to validated test method.
Evaluate Buckman product and market product for comparison
Work closely with sales team, R&D and QC chemist to identify requirements and expectations
Conduct product evaluation and selection based on the sales requirement
Provide suggestion to the sales team based on the analysis result
Provide training to field associates and customers for the test method if required
Support field trial and onsite testing
Develop new test methods depends on the internal and external customer requirements
Maintain complete and accurate records of test results
Provide assistance and back up in QC and product development, as and when required
Perform regular calibration and maintenance for lab equipment
Maintain and update lab equipment maintenance procedures
Report faulty equipment in a timely manner
Source laboratory equipment and suppliers as required
Maintain and manage storage of lab reagent used for testing
Maintain up-to-date standard test method database
Qualifications & Experience
Degree or above in Organic Chemistry/Industrial Chemistry/Polymer Science or relevant discipline
More than 3 years of experience in pulp and paper industry.
Knowledge and prior experience in analytical equipment, HPLC, FTIR, and ICP will be preferred
Knowledge on micro test will be a plus
Good communication skills, ability to prioritize and work with cross-functional business units and teams
Keen to do the lab hands-on work
Buckman is Hiring BSc /MSc Chemistry for Technical Service Chemist Post. Here are five interview questions and sample answers :
1. Question: Can you describe your experience in providing technical service and support to customers in the pulp and paper industry, including any specific challenges you've encountered and how you addressed them?
Answer: In my previous role, I had the opportunity to provide technical service and support to customers in the pulp and paper industry. One specific challenge I encountered was helping a customer optimize their paper production process to reduce chemical usage while maintaining product quality. To address this, I conducted a comprehensive analysis of their samples, identified areas for improvement, and recommended adjustments to their chemical treatment. Through close collaboration with the customer and our sales team, we achieved a solution that not only reduced chemical costs but also improved product quality, resulting in a measurable return on investment for the customer.
2. Question: Buckman is focused on a digital transformation of its businesses. How do you see technology playing a role in enhancing your responsibilities as a Technical Service Chemist?
Answer: Technology plays a pivotal role in enhancing my responsibilities as a Technical Service Chemist. With the digital transformation underway, I anticipate using advanced analytical tools and software to streamline data analysis, generate insights from customer samples more efficiently, and share technical service reports promptly. Additionally, technology can enable better communication with field associates and customers, facilitating real-time support and collaboration. Embracing digital tools will not only improve the speed and accuracy of my work but also enhance our overall customer service.
3. Question: Could you provide an example of a situation where you had to develop a new test method to meet specific customer requirements, and how did this contribute to improving technical service capability?
Answer: Certainly. In a previous role, a customer had unique requirements for testing the performance of our chemical products in their specific paper production process. The existing test methods did not fully align with their needs. To address this, I worked closely with our R&D team to develop a customized test method tailored to the customer's process. This new method allowed us to provide more accurate and relevant data, leading to better product recommendations and increased customer satisfaction. It demonstrated our commitment to meeting individual customer needs and significantly enhanced our technical service capability.
4. Question: Collaboration with cross-functional teams is essential in this role. Can you share an example of a successful cross-functional project you participated in, and how your contributions impacted the project's outcome?
Answer: Certainly. I was involved in a cross-functional project where we aimed to improve the quality of a specialty chemical used in the pulp and paper industry. I collaborated closely with the R&D team to analyze the chemical composition and identify potential areas for enhancement. Through our joint efforts, we not only identified key modifications that led to a more effective product but also optimized the manufacturing process to increase production efficiency. This resulted in a higher-quality chemical, reduced costs, and improved customer satisfaction. This experience underscored the importance of teamwork in achieving our goals.
5. Question: In this role, you'll be responsible for maintaining lab equipment and records. Can you discuss your approach to ensuring accuracy, compliance, and efficiency in these tasks?
Answer: Maintaining lab equipment and records with precision is crucial for ensuring the reliability of our technical service. I approach this by adhering to strict calibration and maintenance schedules for lab equipment, promptly reporting any faulty equipment, and keeping comprehensive and up-to-date records of test results. Additionally, I have experience in developing and updating lab equipment maintenance procedures to enhance efficiency and compliance. Regular training and communication with the team on these protocols help ensure that we maintain the highest standards of accuracy and compliance in our laboratory operations.
Subscribe Rasayanika for more Chemistry and Pharma job updates.