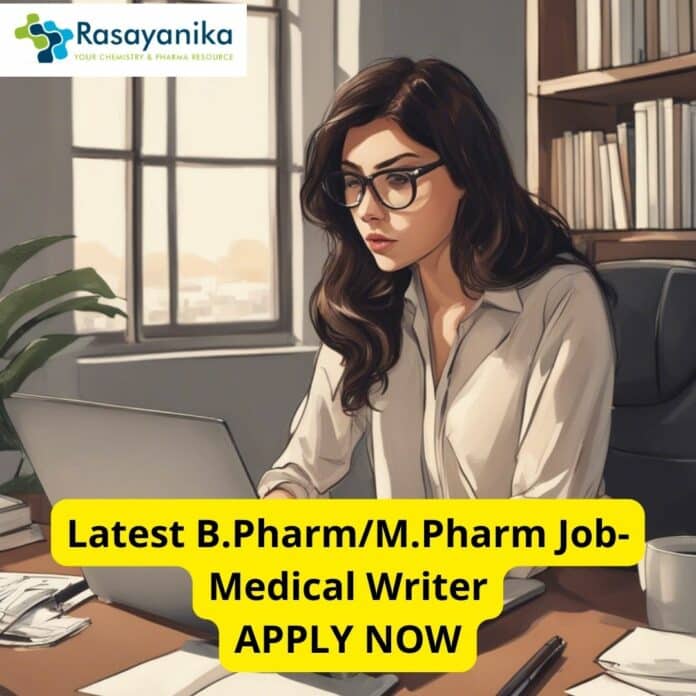 Latest M.Pharm/B.Pharm Job
Latest M.Pharm/B.Pharm Job Opening. Latest M.Pharm/B.Pharm Job-Medical Writer At Radiometer. Interested and eligible candidates can check the details given below and apply online.
Job role: Medical Writer
Job ID: R1250418
Job location: Bangalore, Karnataka, India
In our line of work, life isn't a given – it's the ultimate goal. When life takes an unexpected turn, our technology and solutions enable caregivers to make informed diagnostic decisions to improve patient care. This is our shared purpose at Radiometer and what unites all +4000 of us – no matter our roles or where in the world we're located. Creating impactful innovations like ours, doesn't happen overnight – it requires uncompromising persistency, passion, and a desire to make a difference. Here, you can learn, grow, and chart an uncommonly diverse career.
Radiometer is proud to work alongside a community of six fellow Diagnostics Companies at Danaher. Together, we're working at the pace of change to improve patient lives with diagnostic tools that address the world's biggest health challenges.
The Medical Writer Specialist for Radiometer will be responsible for documentation of clinical study reports, investigator's brochure, and other regulatory documentation such as performance evaluation reports, post-market surveillance report, periodic safety update
reports, etc. and will work closely with partners within Clinical & Medical Affairs, as well as within R&D, Regulatory Affairs and Marketing, across Radiometer's solutions within blood gas, immunoassay testing and transcutaneous monitoring. As Radiometer is a company within Danaher, there will also be an opportunity to interact and share information and findings with other Danaher Operating Companies worldwide. At Radiometer, our vision is to improve global healthcare with reliable, fast, and easy patient diagnoses.
This position is part of the Clinical and Medical Affairs located in the India Development Center (IDC) Bangalore, India and will be a hybrid position.
You will be a part of the Clinical Surveillance team and report to the team lead for the Medical Writing team located in IDC Bangalore responsible for the medical writing activities. If you thrive in an amazing and challenging role as a medical writer and want to work to build a world-class medical writing documentation—read on.
In this role, you will have the opportunity to:
Work closely with clinical study managers to provide inputs to the clinical study protocol and to develop the investigator's brochure.
Collaborate with data managers and biostatisticians for the clinicals study reports.
Create and update standard operating procedures and associated templates based on regulatory requirements and process improvement requirements.
Write and update regulatory documents such as periodic safety update reports (PSURs), performance evaluation plans and reports (PEPs and PERs), post-market surveillance plans and reports (PMS plan, PMS reports), etc.
The essential requirements of the job include:
PhD, ME/Mtech in Engineering (preferrably Biomedical Engineering, Medical Electronics, Biotechnology) or MSC/PhD in Biology, Biotechnology, and Microbiology / MPharm, BPharm
2 to 6 years of medical writing such as CERs, CEPs, PERs, PMS Reports, PSURs, etc.
Should be familiar with MDR, IVDR, ISO-14155, and ISO-20916.
Excellent Written and Oral Communication in English.
Should possess the ability to work independently with minimal supervision in a structured way with a quality mindset.
It would be a plus if you also possess previous experience in:
Previous experience with journal publication writing and thesis writing.
Experience in writing clinical study reports and investigator's brochure for medical devices and in vitro diagnostic devices.
Experience in writing study reports for 510k submission.
Travel
About 10% including International Travels
At Radiometer we believe in designing a better, more sustainable workforce. We recognize the benefits of flexible, hybrid working arrangements for eligible roles and are committed to providing enriching careers, no matter the work arrangement. This position is eligible for a hybrid work arrangement in which you can work part-time at the Company location identified above and part-time remotely from your home. Additional information about this hybrid work arrangement will be provided by your interview team. Explore the flexibility and challenge that working for Radiometer can provide.
When you join us, you'll also be joining Danaher's global organization, where 80,000 people wake up every day determined to help our customers win. As an associate, you'll try new things, work hard, and advance your skills with guidance from dedicated leaders, all with the support of powerful Danaher Business System tools and the stability of a tested organization.
At Danaher, we value diversity and the existence of similarities and differences, both visible and not, found in our workforce, workplace and throughout the markets we serve. Our associates, customers and shareholders contribute unique and different perspectives as a result of these diverse attributes.
If you've ever wondered what's within you, there's no better time to find out.
Here are four interview questions along with answers for Latest M.Pharm/B.Pharm Job-Medical Writer position at Radiometer:
1: Can you describe your experience in writing regulatory documents such as CERs, CEPs, PERs, PMS Reports, and PSURs?
Answer: I have a solid background in medical writing, with over [X years] of experience in producing various regulatory documents. In my previous role at [Previous Company], I was responsible for drafting and updating Clinical Evaluation Reports (CERs), Clinical Evaluation Plans (CEPs), Performance Evaluation Reports (PERs), Post-Market Surveillance Reports (PMS Reports), and Periodic Safety Update Reports (PSURs). My experience includes ensuring these documents complied with relevant regulations and standards, such as MDR, IVDR, ISO-14155, and ISO-20916. I understand the critical importance of accuracy and adherence to regulatory requirements in medical writing.
2: How do you stay updated with the latest regulatory changes and industry standards related to medical writing?
Answer: Staying current with regulatory changes and industry standards is vital in the field of medical writing. To ensure I remain up-to-date, I regularly monitor regulatory authority websites, attend relevant webinars and conferences, and engage with industry associations such as [mention any relevant associations]. Additionally, I actively participate in professional networks and forums where I can exchange information and insights with peers in the medical writing community. This commitment to continuous learning helps me stay informed about any updates that may impact our documentation processes.
3: Can you provide an example of a challenging medical writing project you've worked on and how you overcame obstacles to complete it successfully?
Answer: One of the most challenging projects I worked on was the preparation of a Clinical Study Report (CSR) for a complex medical device study. The study involved multiple data sources, and coordinating with cross-functional teams was essential. The main obstacle was aligning data from different sources and ensuring the CSR was comprehensive and compliant with regulatory requirements. To overcome this challenge, I initiated regular meetings with data managers, biostatisticians, and clinical study managers to streamline data collection and analysis. I also created a detailed project plan to ensure each step of the writing process stayed on track. By fostering open communication and meticulous planning, we successfully produced a high-quality CSR that met both internal and regulatory expectations.
4: How do you approach writing clinical study reports and investigator's brochures for medical devices and in vitro diagnostic devices?
Answer: When writing clinical study reports (CSRs) and investigator's brochures (IBs) for medical devices and in vitro diagnostic devices, my approach is to begin by thoroughly understanding the study's objectives, data, and the intended audience. I work closely with clinical study managers to ensure that the protocols and objectives are clear and well-defined. Finally, I ensure that the CSRs and IBs are reviewed by relevant stakeholders, including regulatory affairs and clinical teams, to address any feedback or revisions necessary for compliance and accuracy. My goal is to produce documents that not only meet regulatory requirements but also provide valuable information to healthcare professionals and regulatory authorities.
Latest M.Pharm/B.Pharm Job
Follow RASAYANIKA for more chemistry and pharmacy job updates.