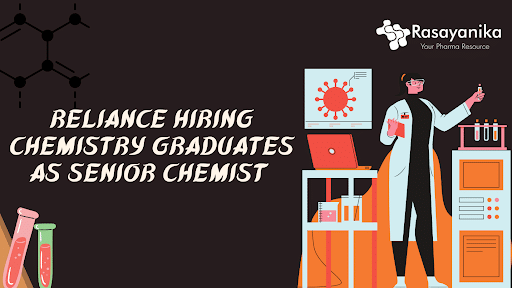 Sr Chemist Laboratory KG KKD is seeking a highly skilled Senior Chemist to join our dynamic team.If you have a strong background in method development, quality assurance, and a commitment to environmental and safety standards, apply to Senior Chemist vacancy and explore this exciting opportunity to make a meaningful impact in the world of chemical analysis and laboratory management.
Job Title: Sr Chemist 
Function/ Business Area: Manufacturing
Location: Gadimoga
Job Responsibilties
Business / Function-specific Competencies (Technical /Functional)
Method development & validation

Manage On the Job Training

Appraisal of Cost of Analysis

Routine analysis related maintenance

Quality Assurance of Lab services

Evaluation of Reproducibility & Repeatability in lab work

Analytical Technique/ Equipment Upgrade

Product Certification

Raw Material

Quality Assurance

Undertaking Lab trials

Application of Problem solving tools (RCA)

Alternate/New Method Development

Test run/trial/guarantee test run support

Customer Complaint analysis

Application of LIMS / SAP QM
HSEF -specific Competencies
Fire Safety Management

Fire & Gas Detection system

Emergency Response and Control Plan

Waste Management

Environment Management System – ISO # 140001

RIL HSE Management System

HSE Policy, Principles, Standards and Procedures & Practices

Incident Investigation

Emergency Preparedness and response

Hazard Determination, Control of Substances Hazardous to Health (COSHH) & Communication
Role-Specific Requirements:
 This position is at Onshore Terminal Site
Skills Required (Knowledge and Skills) as Senior Chemist:
Basic process knowledge and Hazards during sampling.  

Preparation of Quality documents for IMS certification and Implementation of LIMS  systems.

Calibration & Assurance of Lab instruments, Instruments handling

ISO 9001, 14001 & 18001, ISO 17025 (Knowledge)

Communicate Information (Written And Orally), Accurately, Concisely And Promptly.

Monitor and Maintain Pollution Control Measures and awareness on emergency response roles and responsibilities.
Experience:
Specific – Minimum 4 years as Laboratory Supervisor with sound knowledge of Sophisticated instruments handling and operations like Gas Chromatograph, AAS, IC, TOC, UV-VIS, COD, BOD, KF, LIMS operation.

Lab Inventory Management, Sampling Preparations.

Basic Knowledge in Gas Dehydration Process, Natural gas processing, gas Hydrates.

Overall – Min 8 to 10 Years in Oil & Gas (Prefered), Petrochemicals, Petroleum Refinery Laboratory
Education Requirement: Minimum Bachelor's/ Master's Degree in Chemistry
Experience Requirement: 10-15 years in QA/QC discipline.
Skills & Competencies:
Acts as an Incident controller and handling emergency situations.

Excellent interpersonal, written and oral communication skills.

Safety and Quality audit participation for Laboratory.

Skill to correct non-conformance and potential non-conformance.

Timely execution of assigned tasks with effective sectional activities

Analytical method development and standardization.

Selection of new instruments and installation / commissioning after procurement

Review of test results and decision on re-sampling or retesting

Leadership Quality with management skills with effective communication.

Analytical and Problem Solving

Team work

Erratic changes in plans.

Emergency procedures / Safe working procedures / Safety

Computer literate / Presentation skills.
Possible interview Question and Answer:
1. Question: Can you describe your experience with method development and validation in a laboratory setting?
Answer: Certainly. In my previous role, I was responsible for developing and validating analytical methods to ensure accurate and reliable results. I have experience with various techniques and tools to achieve this, which include statistical analysis and precision testing.
2. Question: How do you manage On the Job Training (OJT) for junior staff to ensure they adhere to quality standards?
Answer: I approach OJT by providing comprehensive training modules, hands-on guidance, and regular assessments. It's essential to ensure that junior staff understand the importance of adherence to quality standards, and I believe in fostering a learning environment to achieve this.
3. Question: Could you share an example of a situation where you had to appraise the cost of analysis for a specific project? How did you approach it?
Answer: Certainly. In a previous project, I needed to assess the cost of analysis to optimize resources. I conducted a thorough cost-benefit analysis, considering reagents, equipment, and personnel costs. This analysis helped us make informed decisions while maintaining quality standards.
4. Question: How do you ensure the routine analysis-related maintenance of laboratory equipment to minimize downtime?
Answer: Regular equipment maintenance is crucial. I implement a proactive maintenance schedule, conduct routine checks, and coordinate with maintenance teams to address issues promptly. Preventive maintenance ensures minimal disruption to ongoing analyses.
5. Question: Can you share your approach to quality assurance of laboratory services, including adherence to relevant standards?
Answer: Quality assurance is a top priority. I establish and enforce rigorous quality control measures, adhere to relevant standards, and conduct regular audits to ensure compliance. Continuous improvement and corrective actions are integral to maintaining high-quality services.
6. Question: How have you evaluated reproducibility and repeatability in laboratory work, and what steps have you taken to address any issues?
Answer: I've used statistical methods to assess reproducibility and repeatability, identifying sources of variation. If issues arise, I collaborate with the team to implement corrective actions, such as refining procedures or conducting additional training.
7. Question: Have you been involved in the upgrade of analytical techniques or equipment in your previous role? Could you describe the process and its impact?
Answer: Yes, I've been part of equipment upgrades. This involves evaluating new technologies, assessing their compatibility with existing processes, and managing the transition smoothly. Upgrades often lead to enhanced efficiency and accuracy in analysis.
8. Question: How do you approach product certification and ensure compliance with relevant standards and regulations?
Answer: I meticulously follow product certification processes, which involve rigorous testing, documentation, and adherence to regulatory requirements. Clear communication with certification bodies and continuous monitoring are key aspects of achieving compliance.
9. Question: Can you provide an example of when you successfully addressed a customer complaint related to laboratory services or results?
Answer: Certainly. I once received a customer complaint about inconsistent results. After a thorough investigation, we identified a procedural issue. I implemented corrective measures, communicated with the customer transparently, and ensured that subsequent results met their expectations.
10. Question: How do you apply Hazard Determination, Control of Substances Hazardous to Health (COSHH), and communication in your work to ensure a safe laboratory environment?
Answer: Safety is paramount. I conduct hazard assessments, implement COSHH controls, and communicate safety protocols effectively to all team members. Regular safety training and incident reporting systems are part of our safety culture to minimize risks.
Reliance Hiring Chemistry Graduates, Reliance Hiring Chemistry Graduates, Reliance Hiring Chemistry Graduates, Looking for latest chemistry and Pharma job openings, follow Rasayanika Facebook and Telegram and subscribe to our youtube channel for the latest updates on chemistry and Pharma job.