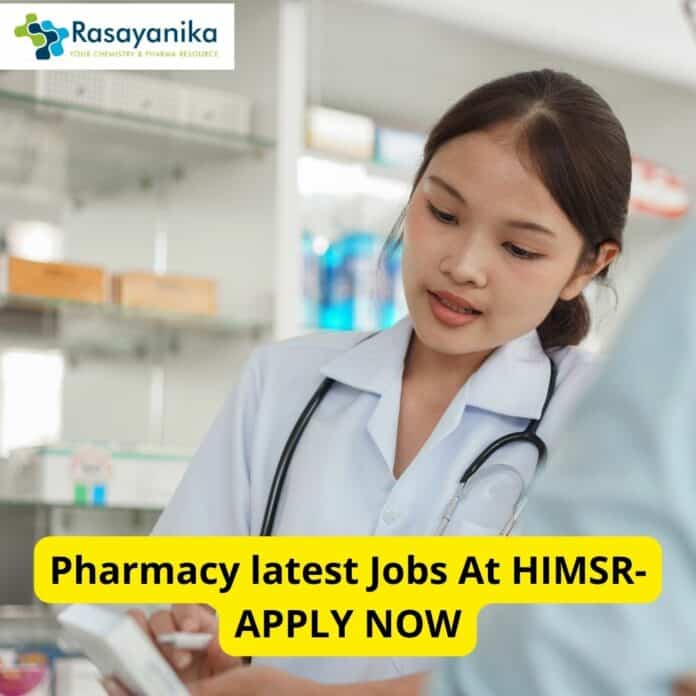 Pharmacy latest Jobs
Pharmacy latest Jobs At HIMSR-Clinical Pharmacist-Interested candidates can check the details below and apply online
Hamdard Institute of Medical Sciences & Research
& Associated HAH Centenary Hospital
Guru Ravidas Marg, Hamdard Nagar, New Delhi-1100
RECRUITMENT
(Advertisement No. HIMSR/HR/Advt/28/2023)
Dated: 30.08.2023
Hamdard Institute of Medical Sciences & Research and it's associated HAH Centenary Hospital Guru Ravidas Marg, Hamdard Nagar, New Delhi is accredited with NABH and NABL.
We are looking for the post of Clinical Pharmacist in the HIMSR & HAHC Hospital.
Job Title: Clinical Pharmacist
No. of Posts: 01
Job Description
DUTIES AND RESPONSIBILITIES:
To understand and audit the variance in Prescriptions, restricted abbreviations usage.
To implement the Antibiotic policy and usage guidelines of Restricted Antibiotics prescription in Hospital.
To facilitate pharmaceutical care services, direct patient care programs medication utilization systems within assigned services and care areas to assure drug utilization activities are aligned with patient care needs, evidence-based best practices, and regulatory standards.
To designs and implements stewardship activities and restriction/surveillance programmes.
Tracks and evaluates assigned pharmacy programs for operational, quality, and financial efficiency and routinely benchmarks against local and national best practices.
Actively identifies practice related issues which require evaluation and facilitate clinical research projects quality improvement initiatives, or healthcare provider education as needed to advance practice.
Develops and oversees policies and procedures for drug purchasing drug usage drug distribution, and drug control.
Assures pharmacy is an integral part of the health-care delivery system and facilitates enhancement and expansion of pharmacy services/ programmes.
Maintains proficiency in decentralized pharmacy services and clinical pharmacy programmes.
Clinical Pharmacist will be responsible for documenting adverse drug reaction, medical device related adverse event and medication errors.
Work as an active member of multidisciplinary team and collaborates with healthcare providers within decentralized patient care areas to provide patient-centred care.
Identifies high-risk patients and implements interventions to improve quality and safety.
Makes appropriate evidence-based, patient-centred medication recommendations.
Participates in the management of medical emergencies.
Provides discharge medication review, reconciliation and counselling as appropriate.
Maintains proficiency in hospital computer systems and medication ordering systems.
Provides accurate, safe, timely and appropriate medication therapy based on patient age and needs.
Completes critical patient monitoring and reviews patient profile/chart to identify, prevent or mitigate drug-related problems, improper drug or dose selection, sub therapeutic dosage, over dosage, adverse drug reactions, drug interactions, failure to receive drugs, untreated indications medication use without an indication and treatment failures.
Communicates effectively and appropriately with healthcare providers and caregivers (physicians, nurses, etc.) and assures continuity of pharmaceutical care between shifts and among staff.
Actively participates in stewardship activities and restricted medication programs.
Maintains proficiency and actively engages in operational programs, central dispensing pharmacies, satellite dispensing pharmacies and specialty pharmacy areas as appropriate for job assignment.
Facilitates specialty medication procurement, ordering and dispensing procedures including but not limited to chemotherapy, parenteral nutrition, controlled substances, etc. as appropriate for assignment.
Oversees pharmacy operations and technician practice/ activities.
Identifies, designs and implements improvements in the medication-use system to advance patient safety, maximize therapeutic outcomes or control costs.
Qualification:
Graduate from an accredited College of Pharmacy.
Doctor of Pharmacy or other advanced degree highly preferred.
Relevant experience:
2 – 4 years of experience in Clinical Pharmacy in a Hospital.
Completion of PGY-2 Specially Pharmacy Residency is preferred.
Knowledge of contemporary hospital /clinical practice and service.
Salary: 25,000 to 30,000/- negotiable as per experience
General Conditions:
The Institute reserves the right not to fill-up the vacancies if the circumstances so warrant and to call only short-listed candidates for test/ interview.
Candidates called for interview will have to come to the place of interview at their own expenses and bring with them their original all documents certificates etc. for verification.
The following documents should be sent on email id: [email protected] latest by 10.09.2023 at 4 PM along with following:
Bio-data (highlighting personal details, academic records, teaching and research experience) in prescribed form.
Self-attested copies of certificates & testimonials in support of qualification and experience.
Candidates are advised to give specific, correct, full information. All original certificates/documents in support of information furnished in the Biodata are to be produced at the time of verification of documents, failing which the candidate will be
Candidature is liable to be rejected at any stage of recruitment process or after recruitment or joining, if any information provided by the candidate is found to be false or is not found in conformity with eligibility criteria mentioned in the advertisement.
Documents received after the closing date will not be entertained.
Any canvassing, directly or indirectly, by the applicant will disqualify his/her.
DOCUMENTS NOT IN CONFORMITY WITH THE REQUIREMENTS MENTIONED ABOVE WILL BE REJECTED AND NO CORRESPONDENCE SHALL BE ENTERTAINED IN THIS REGARD.
*************
Here are few interview questions with answers for the Latest B. Pharmacy Job role of Clinical Pharmacist in HIMSR:
1:Can you describe your experience in implementing antibiotic policies and guidelines for restricted antibiotics prescription in a hospital setting?
Answer: Certainly. In my previous role as a Clinical Pharmacist at [Previous Hospital Name], I was responsible for implementing and enforcing antibiotic policies and guidelines to ensure the appropriate use of restricted antibiotics. I worked closely with the infectious disease team to review antibiotic prescriptions, monitored their usage, and educated healthcare providers about the importance of following evidence-based practices. This approach resulted in a significant reduction in the misuse of antibiotics and contributed to improved patient outcomes.
2: How do you stay updated on contemporary hospital/clinical practices and services, and how do you apply this knowledge to enhance patient care?
Answer: Staying updated on current practices in clinical pharmacy is essential to providing the best patient care. I actively engage in continuous education through attending conferences, participating in webinars, and subscribing to relevant journals. Additionally, I collaborate with interdisciplinary teams within the hospital to exchange knowledge and insights. I believe in applying the latest evidence-based practices to optimize patient care, whether it involves medication selection, dosage adjustments, or addressing drug-related issues. This approach ensures that I provide the highest level of pharmaceutical care to patients.
3: Can you share an example of a challenging medication-related problem you encountered in a clinical setting and how you resolved it?
Answer: Certainly. In a previous role, I encountered a patient who was experiencing adverse drug reactions due to multiple medications prescribed by different specialists. To resolve this issue, I conducted a comprehensive medication review, identified potential interactions and duplications, and initiated communication with the prescribing physicians. I proposed a medication adjustment plan that included discontinuing unnecessary medications, adjusting dosages, and providing patient education on proper medication administration. By working closely with the healthcare team and the patient, we were able to resolve the medication-related problems, improve the patient's health, and prevent further adverse reactions.
4: How do you ensure effective communication and collaboration with healthcare providers and caregivers to ensure continuity of pharmaceutical care in a hospital setting?
Answer : Effective communication and collaboration are vital in a hospital setting. I prioritize clear and timely communication with healthcare providers, including physicians, nurses, and other caregivers. I actively participate in interdisciplinary rounds and meetings to discuss patient cases, share insights, and address any medication-related concerns. I maintain open lines of communication to ensure that changes in medication therapy or patient conditions are promptly conveyed to the healthcare team. This collaborative approach ensures seamless continuity of pharmaceutical care, enhances patient safety, and contributes to positive patient outcomes.
These sample answers can serve as a foundation for interview questions in this role, but candidates should tailor their responses based on their unique experiences and qualifications.
Pharmacy latest Jobs
Check out RASAYANIKA for more chemistry and pharmacy related job updates.