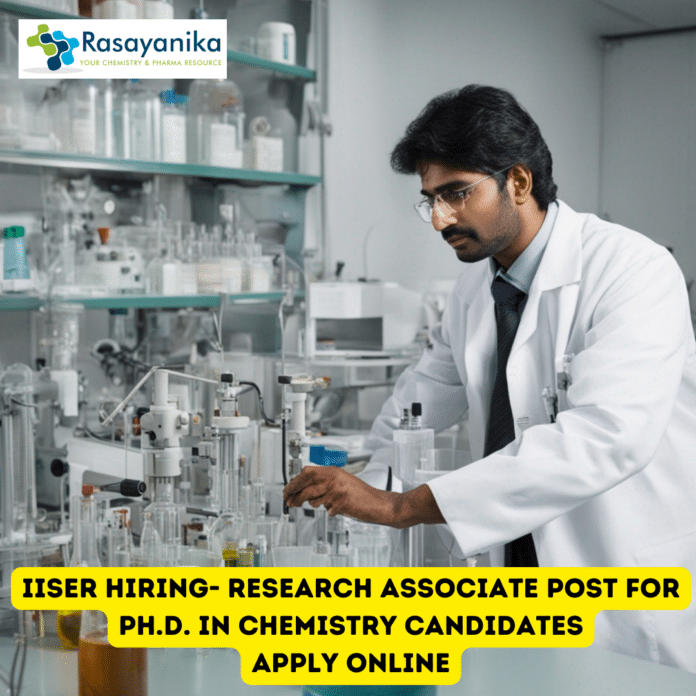 Research Associate at IISER. Chemistry job opening 2023, PhD Chemistry job opening 2023, Chemistry vacancy 2023, PhD job opening 2023, Intrested and eligible candidates may check out all the details on the same below:
Name of the post: Research Associate
No. of posts: 01
Project Code: 30120519
Title of the Project: "Lanthanide Doping in Perovskite Semiconductors: visible to infrared electroluminescence"
Funding Agency: Science and Engineering Research Board (SERB)
Minimum educational Qualification for Research Associate at IISER:
Ph.D. in Chemistry / Physics / Material (Nano) Science and Engineering or equivalent discipline
Candidates who have submitted their thesis may also apply
Preference:
Hands-on research experience on optoelectronic (LED / Solar Cell / photodetector) device fabrication and/or electronic and optical properties of metal halide perovskites
semiconductors.
Minimum of three first-authored papers in reputed journals.
Tenure of the appointment:
Initially for a period of one year extendable for further period subject to continuation of the project and satisfactory performance of the incumbent.
Consolidated emoluments per month:
रु. 47,000/- + 24% (House Rent Allowance)
35,000/- + 24% (House Rent Allowance) -Candidates who have submitted thesis for Ph.D. in the relevant areas but not completed defence (i.e. candidates without a provisional certificate of having qualified for the degree)
Upper age limit as on last date of application: RA: 35 years, SRF: 32 years
HOW TO APPLY for Research Associate at IISER:
Interested candidates should send the application by email in the prescribed
format available below advertisement by email (convert into PDF Format)
addressed to [email protected] on or before 10.09.2023. Please
mention "Research Associate and Advt. No. 48/2023" in the subject line of the
email.
List of shortlisted candidates for selection process with date, time and other details will
be put up on the institute website below this advertisement and candidates will be
informed by e-mail only.
Following will be collected and verified at an appropriate stage:
a) Photocopies of relevant certificates and other testimonials in support of age,
educational qualifications, experiences etc.
b) Recent passport size color photograph.
General Information / details about the post
The appointment is purely temporary and will terminate automatically without any notice
or compensation on termination of the project.
The appointed person shall have no claim of appointment / absorption in Funding Agency or in IISER Pune.
The appointment of the applicant will be governed by the terms and conditions of the
funding agency particularly applicable to the said project.
The prescribed date for determining the upper age limit, educational qualifications or
experience shall be the last date for submitting applications
The prescribed educational qualification should have been obtained from recognized
Universities / Institutions.
The prescribed educational qualification/s are the bare minimum and mere possession of
same does not entitle candidates to be called for interview. Where number of applications received in response to this advertisement is large, it may not be convenient or possible to interview all the candidates. Based on the recommendations of the Screening Committee, the Project Investigator may restrict the number of candidates to be called for the interview to a reasonable limit after taking into consideration minimum educational qualifications and experience over and above the minimum prescribed in the advertisement. Therefore, it will be in the interest of the applicants, to mention all the educational qualifications and experience in the relevant field at the time of applying.
Number of posts may vary depending upon the requirements during the selection
process.
Age relaxation commensurate with educational qualification/s and / or experience/s of the applicant may be considered for candidates having qualification and experience higher than the advertised with the prior approval of the competent authority
The experience requirement may be relaxed based on the cohort of applications received, with the prior approval of the competent authority.
In case, a selected candidate does not join or resigns after joining the post, waitlisted
candidate/s may be offered the position.
No TA/DA will be admissible for appearing for the interview.
No interim enquiries / correspondence / communication of any sort will be entertained on the matter
Bringing any influence, political, or otherwise, will be treated as a disqualification for the
post applied for.
Possible interview questions may be asked for Research Associate at IISER
1. Can you tell us about your research experience and how it relates to this position?
Answer: "I have a Ph.D. in Chemistry with a focus on optoelectronic materials. During my doctoral research, I worked extensively on synthesizing and characterizing metal halide perovskites for photodetectors. I also gained hands-on experience in device fabrication and optimization. These experiences align perfectly with the requirements of this Research Associate position, where I will be working on lanthanide doping in perovskite semiconductors."
2. Could you describe a challenging research project you've worked on and how you overcame obstacles?
Answer: "One of the most challenging projects I worked on was developing a stable perovskite-based solar cell. We faced issues with material stability and efficiency. To address this, I collaborated with experts in the field, conducted systematic experiments, and optimized the device structure. Ultimately, we achieved a significant improvement in stability, and our findings were published in a reputable journal."
3. How do you stay updated with the latest advancements in your field?
Answer: "I am committed to staying current in my field by regularly reading scientific journals, attending conferences, and participating in webinars. Additionally, I am an active member of professional organizations related to materials science and regularly engage in discussions with peers and mentors. Continuous learning is essential in science, and I embrace it."
4. Can you explain your approach to experimental design and data analysis?
Answer: "My approach to experimental design involves setting clear objectives and hypotheses. I plan experiments meticulously, considering controls and variables. During data analysis, I use appropriate statistical tools and software to ensure accuracy. I also critically evaluate results, looking for trends and anomalies. Effective communication of findings through reports and presentations is essential."
5. How do you handle tight project deadlines and manage multiple tasks simultaneously?
Answer: "I thrive in fast-paced research environments. To manage deadlines and multiple tasks, I prioritize work based on project goals and deadlines. I create detailed work plans, breaking tasks into manageable steps. Effective communication with team members ensures everyone is aligned and can support each other if needed. I also remain adaptable and ready to adjust plans when unexpected challenges arise."