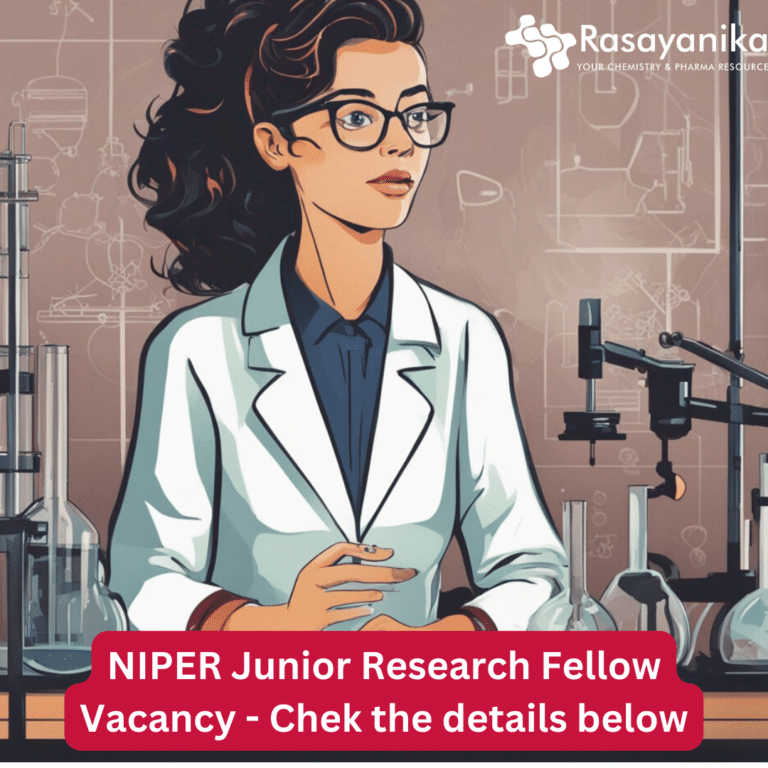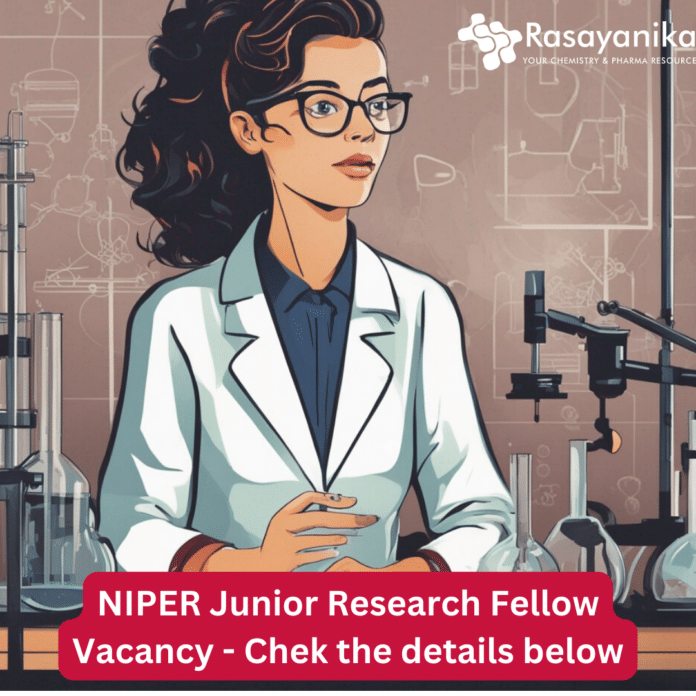 The National Institute of Pharmaceutical Education and Research (NIPER) is the first Institute of its kind to be set up in the State of Bihar in the year 2007. It is an autonomous institution of national importance, established under the aegis of the Department of Pharmaceuticals, Ministry of Chemicals and Fertilizers, Govt. of India under NIPER Act 1998 at Hajipur in Vaishali District of Bihar. It is a center of excellence for higher education, research and development in pharmaceutical sciences, conceived to provide leadership in pharmaceutical sciences and other related areas. Apply online after going through the Latest Chemistry Research Job details below.
Applications are invited from eligible and suitable Indian Nationals for the following Junior Research Fellow (JRF) purely on a contractual basis.
DST SERB Sponsored Project, Project Title – Endocannabinoids for cognitive aging and neurodegeneration; Grant No.: SRG/2022/001799
Supervisor: Dr. Vipan Parihar
Name of the Post-Junior Research Fellow (JRF)
Vacancy – One
Category – UR
Nature of Post – Initial appointment will be for 1 year, which is extendable up to 2 years based on performance. The position is temporary and co-terminus with the project.
Emoluments – Rs.31,000/- + HRA
Leave – One day per completed calendar month of
service
Age limit: 28 years on the date of application, with relaxation to SC/ST/OBC candidates as per Central Govt. norms.
Minimum Qualification:
The candidate must have an M.Pharm/MS(Pharm) or M.Sc.(Chemistry/Biochemistry/ Microbiology/Biotechnology or relevant degree with a minimum of 55% marks or equivalent.
A valid NET/GATE/GPAT or other equivalent National Eligibility Test score is necessary.
Desirable Qualifications:
Good publication record in peer-reviewed scientific journals. Research experience in metabolomics/brain function in small rodents will be preferred. Additional skills in tissue and organoid culturing, confocal imaging, image analysis,and immunohistochemistry are highly valued.
Candidate must have excellent communication and organizational skills. Be capable of conceptualizing, designing experiments and conducting studies independently as well as
cooperatively with other lab members as a team and have the capability to write quality manuscripts and grants.
How to apply:
Interested candidates may submit a CV with supporting documents (Educational Qualification and Experience) through email to

[email protected]

on or before 30.09.2023.While applying the post name must be clearly indicated otherwise application is deemed to be rejected. The interview will be conducted through Physical/Online mode.
Candidates willing to attend the INTERVIEW are required to send their application form along with the other relevant documents (Experience, Qualification, DoB certificates) as per the criteria given above on or before 30.09.2023. 05:00 PM to the email only (

[email protected]

). Accordingly, all professionally qualified and eligible candidates are encouraged to apply for the position as specified above
The shortlisted candidates shall be called for the interview in front of the constituted committee.
Greetings, all! We've gathered a selection of interview questions and corresponding answers to assist you in your interview preparations for Latest Chemistry Research Job. We trust that these resources will aid you in achieving success during your upcoming interview for the Latest Chemistry Research Job.
What motivated you to apply for this JRF position in our research project on endocannabinoids for cognitive aging and neurodegeneration?
Sample Answer: I am genuinely passionate about neuroscience and the potential impact of research on cognitive aging and neurodegeneration. The opportunity to work on a project of such significance, under the guidance of Dr. Vipan Parihar, greatly excites me. I believe that my educational background in Biochemistry, along with my research experience, aligns perfectly with the goals of this project.
Could you discuss your research experience related to metabolomics or brain function in small rodents, as mentioned in the desirable qualifications?
Sample Answer: During my previous research positions, I had the privilege of working on projects that involved studying the metabolomics of specific brain regions in small rodents. This experience allowed me to gain insights into the biochemical changes associated with cognitive processes and neurodegeneration. I believe this background equips me to make meaningful contributions to the current project.
How do you plan to manage your research tasks both independently and collaboratively with other lab members, as mentioned in the job description?
Sample Answer: I believe in a balanced approach to research. When working independently, I am highly organized and capable of designing experiments, collecting data, and analyzing results autonomously. Additionally, I value teamwork and collaboration. I have successfully collaborated on multidisciplinary research projects, contributing my expertise while learning from others in the lab. I am eager to work collaboratively with the team to achieve the project's objectives.
Can you share an example of your experience in writing quality manuscripts or grants, as required for this position?
Sample Answer: As part of my graduate studies, I actively participated in the preparation and submission of research manuscripts for peer-reviewed journals. I was involved in drafting, revising, and formatting manuscripts to meet journal guidelines. Additionally, I assisted in grant proposal writing, helping to articulate the research objectives, methodology, and potential impact. These experiences have honed my skills in scientific writing and grant preparation.
How do you stay updated with the latest developments in the field of neuroscience and related research areas?
Sample Answer: Staying updated in my field is crucial to me. I regularly read scientific journals, attend conferences, and engage in online forums and webinars related to neuroscience, metabolomics, and neurodegeneration. I also actively participate in discussions with peers and mentors to exchange knowledge and stay informed about emerging research trends and techniques. This commitment to continuous learning ensures that I remain current in my field.