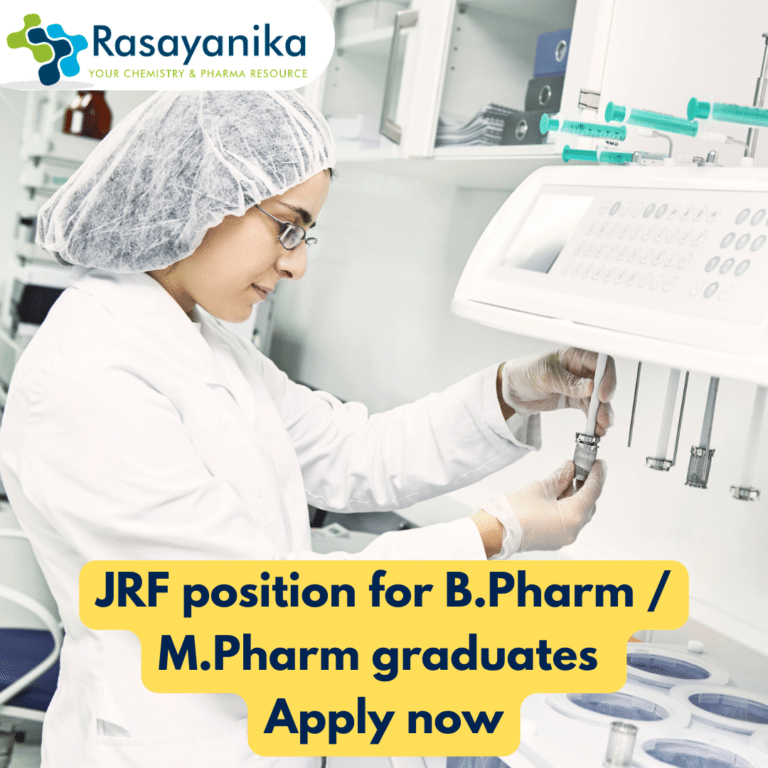 JRF position at IIT(BHU) – Applications are invited – Review the information provided below and Apply
Recruitment of Junior Research Fellow in Department of Pharmaceutical
Engineering & Technology,  
Applications are invited from Indian nationals for the following position in the research project entitled "Study on therapeutic and preventive efficacy of linoleic acid in hamster model of visceral leishmaniasis". sponsored by the Indian Council of Medical Research- Epidemiology and Communicable Diseases (ICMR-ECD) Grant awarded to Dr. Vinod Tiwari
Name of the Position : Junior Research Fellow (JRF)
Number of Position(s) : One (1)
Duration of the Position : One year. Extendable based on the performance.
Emoluments :  Rs.31,000+ HRA (as applicable) per month
Educational Qualification:
B.Pharm degree and GPAT/GATE with 55% marks (equivalent grade) in M.Pharm/M.S/M.Tech degree in Pharmaceutical Sciences/Biotechnology.
Experience in cell culture, western blotting, RT-PCR, IHC and in-vivo model of pain and neuroscience is desirable.
Job Profile:
In this project, selected candidate will be working on:
In-vitro and in-vivo models of leishmaniasis in rodents.
 Tissue harvesting
Molecular biology techniques including western blotting, immunohistochemistry, RT-PCR, cell culture etc.
Data entry and analysis using appropriate software's such as excel, sigma stat etc.
Writing manuscripts and presenting data in conferences
Upper Age limit as on the last date of
application :
28 years. Age relaxation applicable as per Government of India (GoI) rules.
General Terms and Conditions to apply for the JRF position at IIT(BHU):
The position is purely temporary and is coterminous with the project.
The PI has the discretion to restrict the number of candidates to be called for interview to a reasonable limit on the basis of qualifications and experience higher than the minimum prescribed in the advertisement.
Only shortlisted candidates will be communicated to appear in the interview and no other communications in this regard will be entertained.
The candidate is expected to join immediately, if selected.
No TA/DA will be paid for attending the interview.
Interested candidates should send their applications strictly in the attached application format via email to Principal Investigator, Dr. Vinod Tiwari at [email protected] on or before 14 September, 2023. Please write "Application for JRF" in the subject line of the email. The shortlisted candidates will be intimated by email.
Note :
Tentative date of interview: within two weeks of application deadline.
Venue of Interview : Department of Pharmaceutical Engineering & Technology, IIT (B.H.U.), Varanasi-221005. Contact no: +91-7069532713
Application Instructions:
Original certificates and self-attested copies of all certificates need to be presented before the interview for verification.
Canvassing in any form will lead to disqualification of candidature.
Application should be strictly according to the attached format.
Last date for receiving completed application is 14 September, 2023.
Note: The selected candidate can be considered for PhD program after fulfilling the required criteria of IIT-BHU.
Check out Rasayanika to explore more Job opportunities
Here are some interview questions and possible answers for the Junior Research Fellow (JRF) position at IIT(BHU) :
Can you provide an overview of your educational background and how it aligns with the qualifications required for this JRF position?Answer: I have completed my B.Pharm degree and secured a GPAT/GATE score. Additionally, I hold an M.Pharm degree in Pharmaceutical Sciences with a 55% marks, which meets the educational qualifications outlined in the job description. My academic background has equipped me with a solid foundation in pharmaceutical sciences.
Could you discuss your experience and proficiency in techniques such as cell culture, western blotting, RT-PCR, and immunohistochemistry, as mentioned in the job profile?Answer: During my academic and research endeavors, I have gained hands-on experience in various molecular biology techniques, including cell culture, western blotting, RT-PCR, and immunohistochemistry. I have successfully applied these techniques in previous research projects, which will be valuable in this role.
Can you elaborate on your familiarity with in-vivo models of leishmaniasis in rodents and tissue harvesting?Answer: I have previous experience working with in-vivo models of leishmaniasis in rodents and conducting tissue harvesting. This experience includes the administration of experimental treatments and the collection of relevant biological samples for analysis.
How comfortable are you with data entry and analysis using software such as Excel and SigmaStat? Can you provide examples of how you have used these tools in your previous work?Answer: I am proficient in data entry and analysis using software like Excel and SigmaStat. In my previous research projects, I have utilized these tools to manage and analyze experimental data, generate graphical representations, and perform statistical analyses to draw meaningful conclusions.
Can you discuss any prior experience you have had in writing manuscripts and presenting research data at conferences?Answer: I have been actively involved in scientific writing and have contributed to the preparation of manuscripts based on research findings. Additionally, I have presented research data at conferences, where I effectively communicated our findings to a diverse audience.
ALL THE BEST!