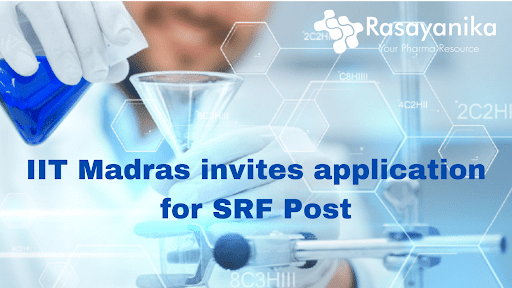 Applications are invited for the temporary post of Senior Research Fellow, Department of Chemical Engineering, IIT Madras. Eligible candidates apply online for SRF Position at IIT Madras
Job Title: Senior Research Fellow
Department: Department of Chemical Engineering,IIT Madras
Qualifications of SRF Position at IIT Madras: 
Graduate / Post Graduate Degree in Chemical Engineering / Textile engineering/ Polymer engineering / Mechanical engineering course selected through a process described through any one of the following: 
Scholars who are selected through National Eligibility Tests- CSIR- UGC NET including lectureship (Assistant Professorship) and GATE

The selection process is conducted through National level examinations conducted by central government Departments and their Agencies and institutions such as DST, DBT, DAE, DOS, DRDO, MHRD, ICAR, ICMR, IIT, IISc, IISER etc. 
Experience: 
 2 years of research experience

 Experience in the relevant field preferred but not mandatory
Fellowship: Rs.35000 pm
Preferred skills/work experience: 
Preparation of soft materials such as colloidal dispersions, emulsions, hydrogel, biomaterials, etc 

Rheological studies on soft materials/complex fluids • Additive manufacturing, 3D printing of soft materials. 

Experimental skills; Working experience in using TEM, SEM, DLS, microscopes, spectrophotometers, rheometers, scattering techniques, and other analytical methods.

The last date for submission of online application is 19.09.2023.
Possible Interview Question and Answer:
1. Question: Can you explain your experience in preparing colloidal dispersions and emulsions? What techniques have you used?
Answer: I have hands-on experience in preparing colloidal dispersions and emulsions using methods such as high shear mixing, ultrasonication, and homogenization. I have also utilized surfactants to stabilize these systems and control their stability.
2. Question: Could you describe a specific project where you conducted rheological studies on a complex fluid? What were the key findings?
Answer: In a recent project, I conducted rheological studies on a hydrogel to understand its viscoelastic properties. We found that the storage modulus increased significantly with an increase in polymer concentration, indicating improved gel strength.
3. Question: Have you worked with additive manufacturing and 3D printing of soft materials? Can you provide an example of a successful application or project?
Answer: Yes, I have experience in 3D printing soft materials. In a project, we 3D printed a biocompatible hydrogel scaffold for tissue engineering. This scaffold provided a suitable environment for cell growth and tissue regeneration.
4. Question: What analytical methods have you used for characterizing soft materials? Can you explain the advantages of using certain techniques in specific situations?
Answer: I have utilized various techniques, including TEM, SEM, DLS, microscopes, and spectrophotometers. For example, TEM and SEM are valuable for visualizing nanoscale structures, while DLS is excellent for measuring particle size distribution in colloidal systems.
5. Question: How do you approach selecting the appropriate rheological test methods for a given soft material? Can you provide an example?
Answer: The choice of rheological test method depends on the material's properties and intended applications. For instance, for a shear-thinning hydrogel, I would use rotational rheometry to assess its viscosity under different shear rates.
6. Question: Can you discuss a challenging situation you faced while working on a biomaterial project, and how did you overcome it?
Answer: During a biomaterial project, we encountered difficulties in achieving the desired biocompatibility of a polymer. To address this, we collaborated with experts in biomaterial science, modified the polymer synthesis, and conducted extensive biocompatibility testing until we achieved the desired results.
7.Question: In the context of soft materials, how do you ensure reproducibility in your experiments and data analysis?
Answer: To ensure reproducibility, I maintain detailed records of experimental conditions, including temperature, humidity, and sample preparation procedures. I also perform multiple measurements and statistical analysis to validate results.
8. Question: Could you share an example of a project where you used scattering techniques to study the microstructure of a soft material?
Answer: Certainly, in a project involving a nanoparticle-loaded hydrogel, we employed small-angle X-ray scattering (SAXS) to analyze the arrangement of nanoparticles within the hydrogel matrix. SAXS provided valuable insights into the material's nanostructure.
9. Question: How do you stay updated with the latest developments and trends in soft materials research and analysis techniques?
Answer: I stay updated by regularly reading scientific journals, attending conferences, and participating in online forums and webinars related to soft materials and analytical methods. Continuous learning is essential in this rapidly evolving field.
10. Question: Can you discuss a project where your expertise in soft materials and analytical methods led to a significant breakthrough or innovation?
Answer: In a project focused on drug delivery systems, my expertise in characterizing microstructures using microscopy and scattering techniques helped optimize the formulation, leading to enhanced drug release kinetics and bioavailability, which was a significant breakthrough for our team.
Looking for latest chemistry and Pharma job openings, follow Rasayanika Facebook and Telegram and subscribe to our youtube channel for the latest updates on chemistry and Pharma job.