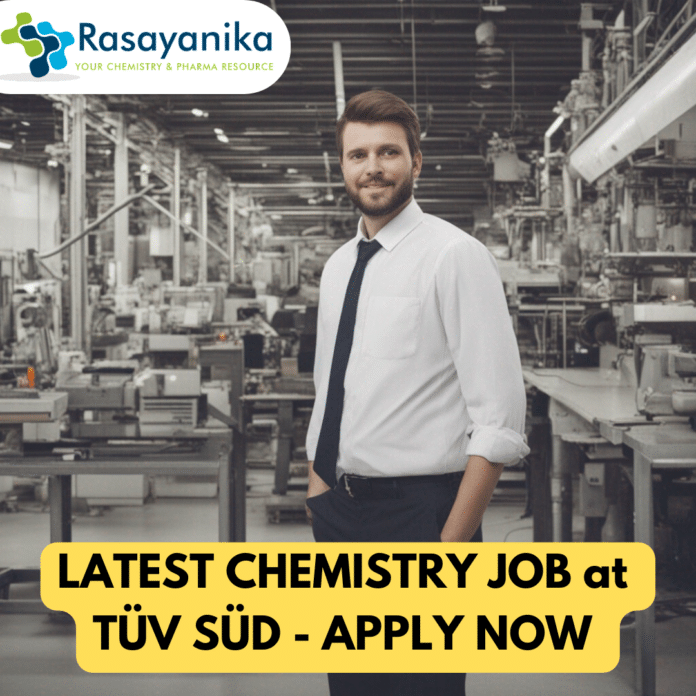 TUV SUD Hiring. MSc Chemistry job opening 2023, Analyst / Senior Analyst role at TÜV SÜD South Asia Pvt. Ltd – MSc/MTech/B.Tech  Chemistry Graduates Check out all the details on the same below:
Job Title: Analyst / Senior Analyst
Job Category: Manufacturing, Consumer Products & Food
Location: Gurgaon, India
Employment type : Full-time / permanent
Reference number : 138529
Organizational unit : TÜV SÜD South Asia Pvt. Ltd
Your Tasks :
Candidate should have practical knowledge of chemical analysis.
Able to Maintain the laboratory and its activities as per the SOPs.
Candidate should have good oral and written communication skills.
Able to Perform and maintain the records for verifications, inter-mediate checks, performance verification, preventive maintenance and history record of equipment's / instruments used in wet laboratory.
Able to Perform and maintain the records for receiving, handling, and storage and approval of Chemical media, reagents, and supplements.
Ensure validation data & calibration of all instruments, chemical, consumable, Glassware's etc.
Ensuring accuracy of calculations, reproducibility of test result.
Maintain the control of technical records as per requirements.
Monitoring and operating of the sample analysis by UV spectrophotometer, Viscometer, Refractometer, Auto Kjeldal, water activity meter, Polari meter, pH meter.
Responsible for intermediate check of micropipette, and analytical balance , Oven and other lab equipment's.
Responsible for complete chemical analysis in parameters of moisture, ash content, Acid insoluble, Fat content, Alcohol acidity, Dietary fiber, Gluten content, Protein analysis, Crude fiber & phosphorus etc. in different food products.
Your Qualification : 
MSc/MTech/B.Tech in Chemistry
Exp. in testing laboratory approx. 1 to 3 year
Required Experience : Professionals 3 – 5 years of experience
Additional Information :
Safe work practices and personal protective equipment to ensure personal safety
Minimize generation of wastes and environmental impacts
Ensure safe collection of laboratory and other hazardous waste for proper disposal
CHECK OUT RASAYANIKA FOR MORE UPDATES
Here are some interview questions and sample answers for the role of Analyst/Senior Analyst Role at TÜV SÜD South Asia Pvt. Ltd:
1. Can you describe your experience with chemical analysis in a laboratory setting?
Sample Answer: During my previous role at [Previous Company], I gained practical knowledge of chemical analysis by working extensively in a laboratory environment. I conducted various tests and analyses to assess the quality of different food products. This hands-on experience allowed me to develop a strong understanding of laboratory procedures and techniques.
2. How do you ensure that laboratory activities are conducted in compliance with Standard Operating Procedures (SOPs)?
Sample Answer: Adherence to SOPs is critical in maintaining the quality and reliability of laboratory results. I make sure to follow SOPs meticulously by thoroughly reviewing them, training team members as needed, and conducting regular internal audits to identify any deviations. My goal is to establish a culture of strict SOP adherence within the laboratory.
3. Can you provide an example of a situation where your communication skills were essential in a laboratory setting?
Sample Answer: Effective communication is crucial in a laboratory, especially when reporting results or discussing findings. In a previous role, I had to communicate complex technical information to both technical and non-technical stakeholders. I prepared concise reports and presentations, ensuring that everyone could understand the results and their implications. This helped facilitate decision-making processes within the organization.
4. How do you ensure the accuracy and reliability of laboratory instruments and equipment?
Sample Answer: Maintaining the accuracy and reliability of laboratory equipment is essential. I perform regular instrument calibration and validation, keeping detailed records of these activities. Additionally, I conduct preventive maintenance to identify and address any issues before they impact the accuracy of results. This proactive approach minimizes downtime and ensures consistent performance.
5. Can you describe your experience in conducting chemical analysis for different food products, and what methods or techniques have you used?
Sample Answer: In my previous role, I conducted comprehensive chemical analysis for a variety of food products, including moisture, ash content, acid insoluble, fat content, alcohol acidity, dietary fiber, gluten content, protein analysis, crude fiber, and phosphorus. I utilized a range of analytical instruments such as UV spectrophotometer, viscometer, refractometer, and pH meter to ensure precise measurements and accurate results.
ALL THE BEST !