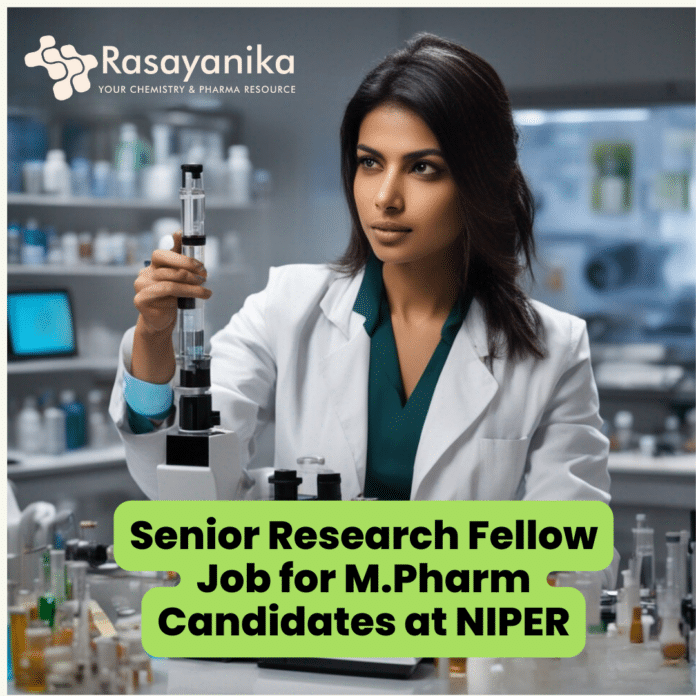 NIPER Hiring M.Pharm Candidates For Senior Research Fellow Position
NIPER Hiring M.Pharm Candidates For Senior Research Fellow Position at Guwahati. Interested Candidates check out the details below and Apply Online. National Institute of Pharmaceutical Education & Research, Guwahati (NIPER-G) is an autonomous institute of National importance and the first national pharma institute in NE India set up by the Department of Pharmaceuticals, Ministry of Chemicals & Fertilizers, Govt. of India by an act of parliament, to impart high quality Education & Research in the area of Pharmaceutical Sciences. The Institute intents to fill the following Project position in CCRAS sponsored project through Online interview.
Name of the position: Senior Research Fellow (SRF)
No of position: 01
Name of the Sponsoring Agency/ Project / GAP code: CCRAS sponsored project entitled
"Deciphering Pharmacodynamics of Ayurvedic formulations used in the treatment of neurodegenerative diseases by integrating reverse pharmacological approaches" (GAP-148)
Fellowship: Rs. 35,000/- + 18% HRA
Max. Age limit: 35 years as on the last date of application, relax able up to 5 years in the case of SC/ST/OBC, physically handicapped and women applicants
Desirable Experience: Candidates should have experience in cell culture experiments, basic molecular techniques, and handling animal experiments and preference
will be given to the candidate having experience in Parkinson's or Alzheimer's disease models.
Educational Qualifications : Essential: The candidate must have a MD Pharmacology or MVSc Pharmacology or M.S/M.Pharm Pharmacology or MSc in life sciences/Pharmacology with two years of research experience from a recognized University/Institution
with minimum 60% marks. The candidate must have cleared GPAT/GATE/CSIR-NET or any National entrance test exam conducted by any Central Govt. agency at the time of the interview/ selection process.
General Instructions:
1. Candidates of Indian Nationality can only apply for these posts.
2. Interested candidates are invited to apply using the prescribed format only, available on the website (www.niperguwahati.ac.in) from 31.08.2023 to 14.09.2023. It is mandatory to fill the application online and no other form of application will be entertained. Candidates are requested to arrange the softcopies of all the required documents before filling the application.
3. Candidates should read carefully the requisite minimum essential qualifications, age and eligibility, experience criteria etc. laid down in the advertisement before applying for the above post. Since all the applications will be screened on the basis of data submitted by the
candidate in the online application form, the candidates must satisfy themselves of the suitability for the position to which they are applying. If at any stage during the recruitment and selection process, it is found that candidates have furnished false or wrong information, their candidature will be rejected.
4. Application once submitted cannot be altered / resubmitted, under any circumstances. Further, no request with respect to making changes in any data/ particular entered by the candidate in the application will be entertained, once the application is submitted  successfully by Email.
5. Incomplete application or those without relevant supporting documents (self-attested copies of Date of birth/Degrees/ Certificates/ Mark sheets/Experience Certificates/documents, etc.) will be rejected.
6. On the recommendation of the Screening/Selection Committee, the competent authority may relax all or any of the requirements related to age and experience in exceptionally meritorious cases.
7. Fulfillment of qualifications and experience is an essential requirement. As stated, the Institute is free to set the benchmark and call only the eligible candidates for the on-line interview. Further, NIPER Guwahati also reserves the right NOT to fill any of the post advertised, in the event or exigency so decided.
8. Intimations will be sent only by E-mail/host on the website as per the details mentioned in the Application form.
9. In case any dispute arises on account of interpretation of clauses in any version of this Advertisement other than English, the English version available on the NIPER-G Website shall prevail.
10.CANVASSING IN ANY FORM MAY LEAD TO CANCELLATION OF THE CANDIDATE.
11. All appointments shall be on contract of Six Months. The appointments are against the temporary project positions and will not continue in any circumstances beyond the duration of the said project. Any subsequent contract in the project or another project will be fresh
appointment. The appointment in the outside funded project does not give project staff any claim whatsoever for appointment/regularization against any Institute post.
12. Age will be calculated as on the last date of application i.e. 14.09.2023.
13. List of the Shortlisted candidates will be displayed on the Institute website.
14. In-case of online interviews only, the link for the online interviews will be sent to the shortlisted candidates individually, a day before the interview.
NIPER Hiring M.Pharm Candidates For Senior Research Fellow Position. Here are five Possible interview questions along with possible answers :
1. Question: Can you provide a brief overview of the CCRAS sponsored project, "Deciphering Pharmacodynamics of Ayurvedic formulations used in the treatment of neurodegenerative diseases by integrating reverse pharmacological approaches" (GAP-148), and explain how your background and qualifications align with its objectives?
Answer: The CCRAS sponsored project aims to understand the pharmacodynamics of Ayurvedic formulations in treating neurodegenerative diseases using reverse pharmacological approaches. My background in pharmacology, along with my research experience, makes me well-suited for this project. I have a strong foundation in pharmacological research methods, which will enable me to contribute effectively to the project's goals.
2. Question: Could you describe your research experience and how it has prepared you for the role of Senior Research Fellow in this project?
Answer: During my research journey, I have gained extensive experience in various aspects of pharmacology, including cell culture experiments and molecular techniques. I have also worked with animal models relevant to neurodegenerative diseases. This experience has equipped me with the skills needed to conduct experiments and contribute meaningfully to this project.
3. Question: The project requires candidates to have cleared GPAT/GATE/CSIR-NET or any National entrance test. Can you discuss your experience with these exams and how they have contributed to your academic and research journey?
Answer: I have successfully cleared [mention relevant exam] which has not only validated my knowledge in the field but also honed my critical thinking and problem-solving skills. These exams have provided a competitive edge to my academic and research pursuits, demonstrating my commitment to excellence.
4. Question: The project prefers candidates with experience in Parkinson's or Alzheimer's disease models. Could you share any specific experience or expertise you have in this area?
Answer: While my research experience covers a broad spectrum of pharmacological areas, I have had the opportunity to work on [mention relevant disease] models during my academic and research tenure. This exposure has given me insights into the specific challenges and nuances of studying neurodegenerative diseases, which I believe will be valuable for this project.
5. Question: This position involves online interviews. How do you plan to ensure effective communication and collaboration with the project team, considering the remote nature of the work?
Answer: Effective communication is crucial for remote collaborations. I plan to maintain regular communication with the project team through video conferences, emails, and collaborative tools. Additionally, I will ensure that project updates and progress reports are shared promptly to foster transparency and teamwork, despite the geographical distance. My goal is to contribute effectively to the project while ensuring seamless coordination with the team.
Subscribe Rasayanika for more Chemistry and Pharma job updates..