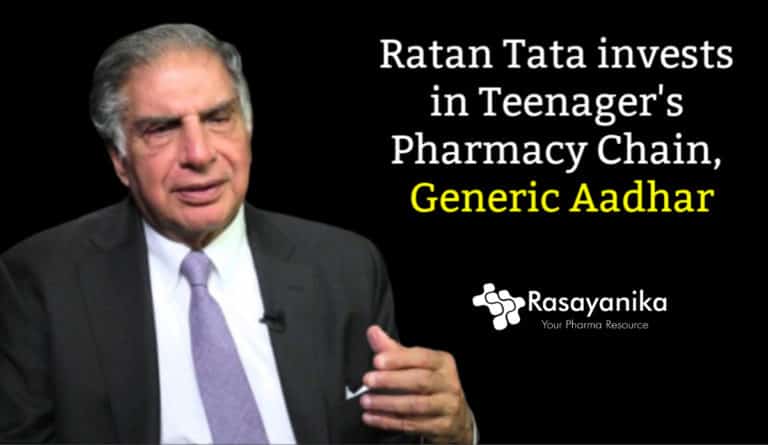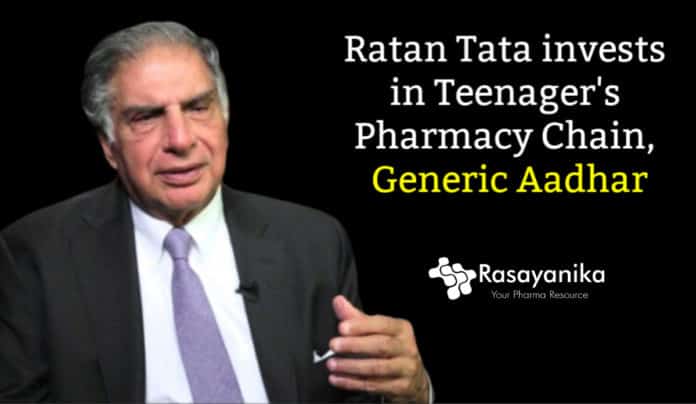 Ratan Tata invests in Teenager's Pharmacy Chain, Generic Aadhar
Ratan Tata, the Tata Group chairman, bought a stake in 'Generic Aadhar, a pharmacy retail chain promoted by Arjun Deshpande, a teenager from Mumbai. Generic Aadhar sells medicines at a much cheaper rate compared to the market price, unlike other online pharmacies.
Deshpande has confirmed the deal but refused to reveal the amount for which the Tata group has bought the stake. He had discussed his proposal with Ratan Tata 3-4 months ago. The business tycoon was interested in partnering with Deshpande and mentor him in running the business.
As per the sources, the investment was made at a personal level by Ratan Tata, and the Tata group is not linked to the new deal. Previously, Ratan Tata had invested in many startups like Snapdeal, Urban Ladder, Lybrate, Lenskart, Paytm, and Ola.
The 18-year-old Deshpande began Generic Adhar two years ago. The current revenue of the pharmacy chain is Rs 6 crore. A unique pharmacy-aggregator business model is followed by the startup. The firm is involved in supplying generic drugs to retail pharmacies, directly from the manufacturers. 16-20 percent wholesaler margin is eliminated by this.
A profit-sharing model is being followed by nearly 30 retailers from Pune, Odisha, Banglore, and Mumbai. These are mainly stand-alone pharmacies who are finding it hard to survive in intense competition from online pharmacies and medical stores.
The firm has nearly 55 employees, including IT engineers, marketing professionals, and pharmacists. Deshpande is planning to have 1,000 small franchise medical stores and expand to Gujarat, Tamil Nadu, Delhi, Andhra Pradesh, and Maharashtra.
Currently, the company provides hypertension and diabetes drugs but soon will start to offer cancer drugs at a much cheaper rate. Four-GMP certifies manufacturers in Ahmedabad, Pondicherry, Nagpur, and Palghar have tie-ups with Generic Aadhar. A drug manufacturer in Baddi, Himachal Pradesh, will supply cancer drugs.
Deshpande's parents, who run their own business, funded his startup initially. His father runs a travel agency while his mother owns a pharmaceutical marketing company. Deshpande got his business idea while traveling to Dubai, the US, and a few other countries with his mother to attend pharmaceutical trade events.
India provides generic drugs to the world, and yet the margins are much lower in many of those countries than what they are in India, he said.
He was shortlisted for a two-year program for young people who want to build new businesses, the Thiel Fellowship in Silicon Valley.
The government has been trying to control the price of all essential drugs for the last few years. About 80% of the drugs sold in the country are outside price controls. The margins are even higher for cardiovascular and cancer drugs.
Editor's Note; Ratan Tata invests in Teenager's Pharmacy Chain, Generic Aadhar