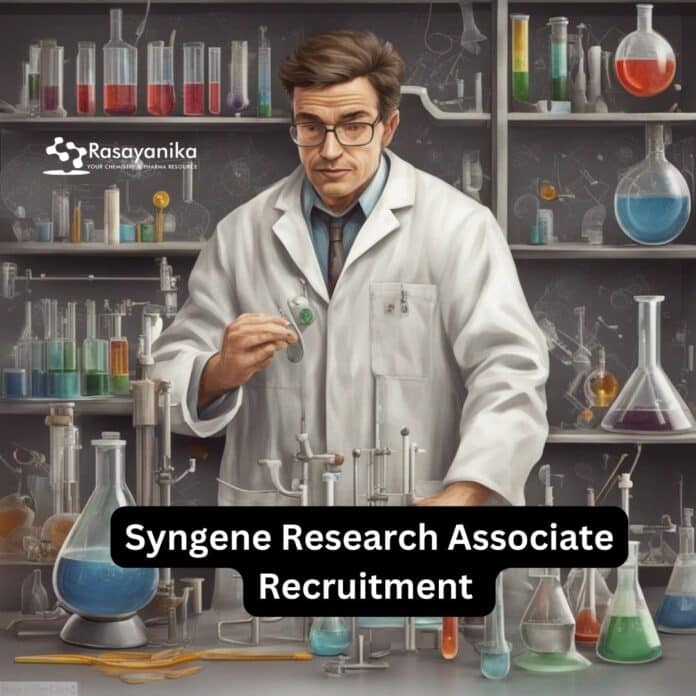 Syngene Research Associate Recruitment Syngene announces job opening 2023, MSc Chemistry job opening 2023, Senior Research Associate job opening 2023, Chemistry job opening 2023, msc job opening 2023, Chemistry job opening 2023. Intrested and eligible candidates may check out all the details on the same below:
Job Title: Senior Research Associate (9-II)
Job Location: Bangalore
Department: Department of Discovery Synthesis(DDS)
Educational Qualification:
Msc Organic Chemistry
Technical/Functional Skills:
• Should be familiar with concepts of chemical synthesis
• Familiar with operations of relevant apparatus – instrument / equipment.
• Good Knowledge of analytical techniques and analytical data interpretation
• Good communication skills
Experience: 2-5 Years
Behavioral Skills:
• Good communication
• Personal integrity
• Quick learner
• Adapt to changes
• Time management
• Professionalism
Job Purpose:
• Responsible for performing reactions following Syngene safety norms. Documenting the observations in relevant lab notebooks or e-book as per the principle of ALCOA+
• Assisting the supervisor to alert shortfall of resources, planning of reactions, PR request creation, training the junior scientists to develop their technical skills
Key Responsibilities:
• Perform synthetic chemistry reactions, reaction workups, purification of the compounds by column chromatography, crystallization, re-crystallization techniques, preparative TLC and operating lab equipment's.
• Ensure that the samples generated during synthesis are given for analysis and record subsequent results obtained and update the supervisor / group leader on the progress of synthesis and ensure samples are packed appropriately for shipment
• Record the observations of experiment/reaction, results, utilization of resources and other activities related to the reaction in the laboratory or e-notebook following guidelines and in timely manner and ensure that the same is handled safely and confidentially.
• Follow all time safety and quality in day to day activities and work practices
• Assist the supervisor to take stock of resources (raw materials, solvents, etc.) in the project and report any shortfall and support literature search for R&D
• Provide hands-on training and supervision to juniors while performing synthesis of compounds
• Follow SOP/IOP/EOP/OCP procedures for any lab activity
• Any other lab responsibilities as indicated by the EHSS team member/ supervisor / Group Leader
• In case of any instrument/equipment breakdown, report to maintenance immediately
• Attend all mandatory trainings and update training records as and when trainings are completed
• Follow environment, health, and safety (EHS) requirements at all times in the workplace ensuring individual and lab/plant safety.
• Attend training on environment, health, and safety (EHS) measures imparted company.
• Understanding and demonstrating responsibility for safety of self & colleagues by following all safety protocols provided by Syngene
• Adherence to all environment, health, and safety (EHS) policies & standards at all times in the workplace
• Wearing all PPE as required.
• Adherence to all procedures related to Syngene' s data integrity policies
• Compliance to Syngene' s quality standards at all times.
Syngene Research Associate Recruitment Looking for latest chemistry and Pharma job openings, follow Rasayanika Facebook and Telegram and subscribe to our youtube channel for the latest updates on chemistry and Pharma job.