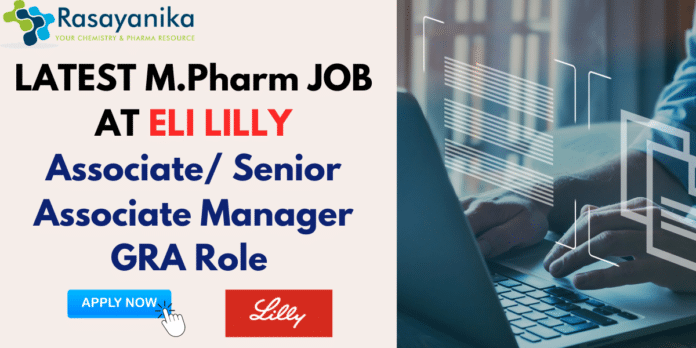 LATEST M.Pharm JOB AT Eli Lilly Bangalore, India – Associate/Senior Associate Manager GRA Role – Interested candidates apply below
Role : Associate/ Senior Associate Manager GRA (Central regulatory registrations/EU-ROW)
Location :  Bangalore, Karnataka, India
Category : Research & Development
Job Type : Full time Regular
Job Id : R-49743
Minimum Qualification Requirements : A BS or higher degree in a technical discipline such as chemistry, biology, pharmacy or equivalent demonstrated industry experience.
Purpose of the Associate/Senior Associate Manager GRA :
The purpose of the Associate, GRA-NA, is accountable for the operational and technical registration management processes that support the expedited delivery of safe and effective products to patients.
This is accomplished through a strong working knowledge of regulations, guidance's and regulatory precedence and collegial and mutually productive relationships across Lilly components, partner companies, and within relevant ministries of health.
The Associate utilizes process expertise and therapeutic area knowledge to drive appropriate internal consistency, and influence effective change management within GRA and cross-functionally.
The scope of the work includes records from the start of clinical trials through withdrawal of the marketing application. It is expected that this position embrace corporate transformation initiatives and represent Global Regulatory Affairs-NA (GRA-NA) as a change ambassador.
Primary Responsibilities of the Associate/Senior Associate Manager GRA role :
Provide Regulatory & Drug Development Expertise
Lead the registration management process by providing expertise in electronic submission regulations and guidance and technical content for GRA-NA. This includes but us not limited to all submission associates with INDs, NDA, BLAs, NDSs, and other eCTD MAAs, and ensuring compliance with all applicable regulations and internal quality systems with a focus on delivery of the development portfolio across all modules of the CTD.
Partner with other geographies to understand and incorporate local agency regulations and requirements as needed. For example, lead the planning and execution for electronic submissions in those regions who have and are adopting the eCTD specification
Guide and influence development team and function regarding internal and Agency registration management processes and requirements
Own the registration management process at the molecule/project level to ensure all required electronic records are timely, complete, and accurate Records include :The IND and NDA submissions Tracking the status of pending applications and commitment Incoming correspondence and records of contact
Serve as the GRA-NA operational lead for registration planning and execution including but not limited to: critical chain planning sessions and status updates, team operation meetings and GRACRR planning.
Own the routine compliance submissions and processes (e.g. DSUR, NDA/BLA annual reports, PSUR/PADER, routine maintenance submissions.
Partner with the Regulatory Coordinator/Scientist to drive the execution of the product deletion, divestiture process, IND inactivation/withdrawal process, product withdrawal process
Provide registration management expertise to the due diligence and business development processes.
Serve as the registration management expert for other processes dependent upon the registration record (e.g. OSI requests, out-license, user fees/drug listing/orange book).
Lead/Influence/Partner :
Develop collaborative relationships with personnel in other Lilly functional areas (e.g. medical, legal, labeling, compliance, quality, affiliates, etc.) to effectively influence the electronic registration plan.
Create an environment within team and GRA that encourages open discussions on issues to achieve a robust outcome on project decisions and constructively challenge to reach the best solutions.
Develop collegial, mutually productive relationships with the FDA Office of Business Informatics (OBI) to ensure understanding of the Agency's internal process and requirements to optimize the application presentation to facilitate review
Partner with the Regulatory Scientist to plan, facilitate and document internal, FDA, and partner meetings.
Leverage internal and external forums to continue to develop and share regulatory, drug development, and therapeutic expertise.
Influence others in a manner that creates maximum advantage for the organization.
Communicate verbally and in writing to effectively influence within work group/function and with development team
Serve as a mentor within GRA
Other Information/Additional Preferences :
M.Pharm. and higher education
Experience with global regulatory affairs for the US, EU and Canada
Experience with global regulatory affairs for other OUS countries
Experience with handling advertising and promotional materials for the US
Industry-related experience
Knowledge of drug development process, Lilly regulatory/business strategies and plans
Demonstrated ability operate and manage operational requirements in a highly regulated environment
Demonstrated effective written, spoken and presentation communication
Demonstrated effective negotiation and influence skills
Demonstrated attention to detail
Demonstrated effective teamwork skills; able to adapt to diverse interpersonal styles
Explore Rasayanika for more updates
Here are some potential interview questions along with sample answers for the Associate/Senior Associate Manager GRA role at Eli Lilly :
1. Can you provide an overview of your educational background and relevant experience in regulatory affairs?
Sample Answer: Of course. I hold a Bachelor's degree in Pharmacy and I also completed my Master's in Pharmacy with a specialization in Regulatory Affairs. I have X years of experience in the pharmaceutical industry, primarily focused on global regulatory affairs for the US, EU, and Canada. My background has equipped me with a deep understanding of regulatory guidelines and processes, which I believe will be valuable in this role at Lilly.
2. Could you explain the significance of registration management within the context of global regulatory affairs?
Sample Answer: Certainly. Registration management plays a pivotal role in ensuring the successful development and launch of pharmaceutical products. It involves the strategic planning, execution, and maintenance of regulatory submissions, such as INDs, NDAs, BLAs, and other electronic submissions, to health authorities worldwide. Effective registration management ensures compliance with regulatory requirements, timely submission of necessary documents, and fosters collaboration across various functions within the organization.
3. How would you handle a scenario where a regulatory submission faces unexpected delays or challenges?
Sample Answer: In such a situation, my approach would involve a proactive assessment of the issue's root cause. I would collaborate with cross-functional teams to identify potential solutions and alternatives. If the delay is due to missing documents or data, I'd work closely with the concerned teams to expedite their provision. Additionally, I'd maintain transparent communication with both internal stakeholders and health authorities, providing regular updates on the status and outlining the steps being taken to address the challenges.
4. Could you elaborate on your experience with electronic submission regulations and the eCTD specification?
Sample Answer: I have a strong understanding of electronic submission regulations and the electronic Common Technical Document (eCTD) specification. I've worked extensively with eCTD formatted submissions for INDs, NDAs, and BLAs, ensuring compliance with relevant regulatory requirements. For instance, I led the planning and execution of electronic submissions in regions that adopted the eCTD specification. My experience includes managing modules of the CTD, incorporating local agency regulations, and optimizing the presentation of applications for review.
5. Can you provide an example of a situation where you had to collaborate across different functional areas to ensure successful registration management?
Sample Answer: Certainly. In my previous role, we were preparing a submission that required close collaboration between regulatory, medical, and labeling teams. The labeling content needed alignment with the regulatory submission. I initiated regular cross-functional meetings to synchronize efforts, address potential discrepancies, and ensure that all aspects of the submission were cohesive and compliant. This collaborative approach led to a smooth submission process and timely approval
ALL THE BEST !