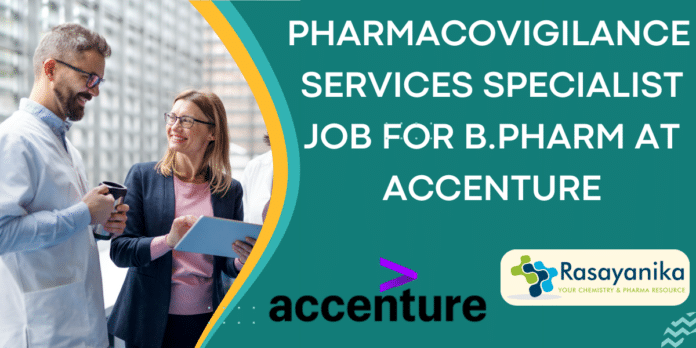 Pharmacovigilance Services Specialist Job For B.Pharm At Accenture
Pharmacovigilance Services Specialist Job For BSc/ B.Pharm At Accenture. Interested candidates can check out the details below and Apply Online.
Job Designation: Pharmacovigilance Services Specialist
Job Location: Bengaluru
About Accenture
Accenture is a global professional services company with leading capabilities in digital, cloud and security. Combining unmatched experience and specialized skills across more than 40 industries, we offer Strategy and Consulting, Technology and Operations services, and Accenture Song— all powered by the world's largest network of Advanced Technology and Intelligent Operations centers.
Job Description:
You will be aligned with Life Sciences R&D vertical. There services span across the entire life sciences enterprise, from research laboratories, clinical trials support, and regulatory services, to pharmacovigilance and patient services solutions. Employees under this span will be a part of one of the sub-offerings – Clinical, Pharmacovigilance & Regulatory, helping the wor
ld's leading biopharma companies bring their vision to life – enabling them to improve outcomes by converging around the patient, connecting scientific expertise with unique insights into the patient experience. You will be part of a dynamic Pharmacovigilance team with array of capabilities ranging from detection, assessment, understanding and prevention of adverse effects or any other medicine/vaccine related problem following Good Pharmacovigilance Practice (GVP) per client SOPs and applicable global regulatory requirements (Individual Case Safety Reports) to working on various aspects of Aggregate reports such as planning, authoring, reviewing and publishing of PBRER, PSUR, DSUR, PADER, Addendum to clinical overview (AdCO), Risk Management Plan (RMP), Signal detection and validation reports (SDVR), Cosmetovigilance Safety Reports (CoSR). The Pharmacovigilance team is also responsible for authoring and reviewing clinical documents such Protocols and amendment, Investigator Brochure, Clinical Study Reports (CSR), Synoptic/Abbreviated CSR, Safety Narratives, Clinical Overview/abbreviated Clinical Overview. Responsible for identification and creation of cases in the Global Safety database.
Skill required:
• Ability to work well in a team
• Adaptable and flexible
• Agility for quick learning
• Commitment to quality
• Detail orientation
• Educational and Experience Requirements:
• Minimum of Bachelor's degree in Health Sciences; Bachelor's Degree in Life Science with relevant experience.
• Entry level Role
• Good knowledge of medical terminology including knowledge of applicable dictionaries like MedDRA and WHO-Drug
• Technology skills: experience with MS office
• Knowledge of safety database and automation technology as applicable for the role
• Good Communication Skills
• Analytical Ability
• Strong English Language proficiency (Reading and Writing) and Good English Language proficiency (Listening and Speaking)
• Review and reconciliation of data between the Patient Safety and Clinical databases
• To make requested changes in the safety database, if required based on documentation
• To request for documentation and provide justifications or rationale if required
• To make sure that the data between the Patient Safety and Clinical databases are correct and completed on a timely manner
• To record all comments and actions on the reconciliation sheet as sent by the data manager
• Perform the download of PV obligation and MLM cases from EMA website
• Perform EV cases narrative downloads per the process agreed with Client
• Complete and document a check of all Cases not to be databased on a periodic basis and share the results of any errors and if required, associated action plans with Client.
• Confirm compliance to the SOPs and guidelines for all book-in activities are performed.
• To participate in audits or inspections.
• Open to get trained and moved across roles based on business requirement.
• Authoring of process documents
Roles and Responsibilities
• Access the designated email box(es) and case intake queues in the system (e.g., LAM intake or E2B intake) as agreed by both Parties to retrieve new incoming safety information or follow-up correspondence for existing cases per Client sops
• Contact the relevant CO to obtain an English translation, if applicable.
• Determine whether the information is eligible for databasing per client procedures
• Ensure a duplicate check against the Global Safety Database is conducted in accordance with client SOPs for all ICSRs to determine whether there is an existing Case file.
• Ensure that all identified duplicate ICSRs and Source Documentation are electronically stored and appropriately cross-referenced with the original Case;
• Create an electronic Case report file for each new Case, including a cross- reference for each duplicate Case identified in the Global Safety Database;
• Send an acknowledgment of receipt (including the Case number) in respect of any safety information accessed by Accenture pursuant to the Source Document sender;
• Archival of all source documents, clarifications, communications and reports in the Global Safety database
• Review non-case information received via e-mails, in-coming E2B and LAM and respond appropriately/acknowledge to the sender.
• Ensure events are identified from Source documents and entered within timeframe defined in agreed TAT SLA's to ensure correct screening and triage of Cases.
• Perform medical coding for ICSRs using MedDRA
• Screen the Cases appropriately i.e., Seriousness assessment, and other relevant triaging criteria for further processing in the workflow according to Client procedures and determine Day 0 in order to meet the regulatory due date of ICSRs, the TAT SLAs and KPIs.
• Ensure not to disclose information identifying the patient or trial subject associated with an Adverse Event; Remove/blind patient's and reporter's personal information from the ICSRs;
• Inform the applicable manufacturing Site about a Product Complaint. Where a Product Complaint is associated with an Adverse Event or safety hazard, the results of any investigation shall be included in a follow-up ICSR;
• Complete reconciliation of mailbox activities as needed;
Educational Qualifications: BSc/Bachelor of Pharmacy/MBBS
Years of Experience: 7 to 11 years
Here are five Possible interview-based questions along with their corresponding answers for Pharmacovigilance Services Specialist Job :
Question 1: Can you describe your understanding of pharmacovigilance and its role in the pharmaceutical industry?
Answer: Pharmacovigilance is the science and activities related to the detection, assessment, understanding, and prevention of adverse effects or any other issues related to medicines and vaccines. It plays a crucial role in ensuring patient safety by monitoring and analyzing data to identify potential risks associated with medical products. In this specific job role, as a Pharmacovigilance Services Specialist, my responsibilities would involve tasks like reviewing and reconciling data between patient safety and clinical databases, performing medical coding for adverse events, ensuring compliance with safety procedures, and more.
Question 2: The job description mentions working with safety databases, technology skills, and medical terminology. Could you provide an example of your experience with these aspects in a previous role?
Answer: Certainly. In my previous role at XYZ Pharmaceuticals, I was responsible for entering adverse event data into the company's safety database, ensuring accuracy and completeness. I utilized my technology skills, specifically with MS Office, to manage and organize large volumes of data efficiently. Additionally, I have experience with medical terminology, having worked with dictionaries like MedDRA and WHO-Drug to ensure accurate coding of adverse events for regulatory reporting.
Question 3: The role requires strong attention to detail and commitment to quality. Can you share an example of a situation where your attention to detail made a significant difference in the accuracy of your work?
Answer: Absolutely. In my previous position, I was tasked with reviewing safety narratives for a set of clinical trials. During this process, I noticed a discrepancy between the data in the narrative and the corresponding adverse event case report. Thanks to my attention to detail, I identified the error, which turned out to be a critical safety concern that required immediate attention. This incident highlighted the importance of meticulousness in pharmacovigilance to ensure accurate reporting and patient safety.
Question 4: The job involves interacting with various stakeholders and ensuring compliance with SOPs and guidelines. How do you effectively manage communication and maintain compliance in a dynamic work environment?
Answer: Effective communication and compliance are essential in pharmacovigilance. To manage communication, I ensure timely responses to emails, acknowledgments of received safety information, and appropriate interactions with relevant parties. To maintain compliance, I stay updated with the latest regulatory requirements, SOPs, and guidelines. I consistently align my work with these standards, conducting periodic checks to verify adherence. This proactive approach helps me ensure that the workflow remains compliant and communication is clear and efficient.
Question 5: The role involves working within a team. Can you provide an example of a situation where you collaborated effectively within a team to accomplish a pharmacovigilance-related task or project?
Answer: Certainly. In a previous project, our team was tasked with conducting a thorough safety assessment for a newly launched drug. We needed to ensure that adverse events were accurately captured and analyzed. To accomplish this, we divided the workload based on our strengths – one team member focused on data entry, another on medical coding, and I took on the role of cross-referencing and quality control. Our collaborative effort ensured a comprehensive analysis and accurate reporting, showcasing how teamwork and leveraging individual strengths can lead to successful pharmacovigilance outcomes.
Subscribe Rasayanika for more Chemistry and Pharma job updates.