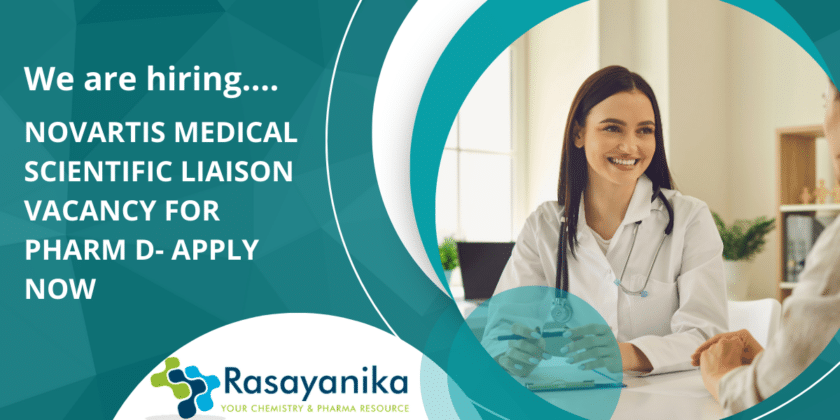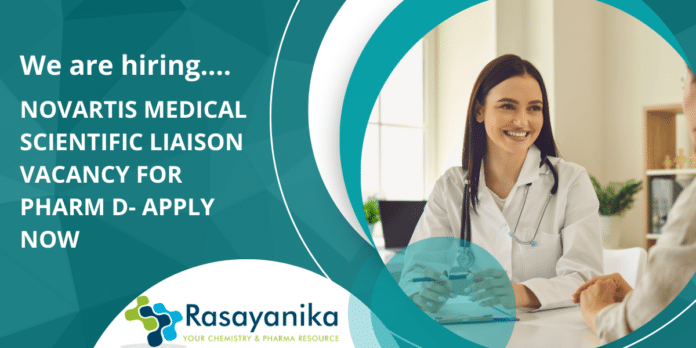 Novartis Latest Pharm D Job.766 million lives were touched by Novartis medicines in 2020, and while we're proud of this, we know there is so much more we could do to help improve and extend people's lives. The details of Novartis job are provided below. Please see the details and apply now for Latest Pharm D Job.
Job role – Medical Scientific Liaison
Job ID – 375487BR
Location – Hyderabad, AP
Responsibilities –
Your responsibilities include, but are not limited to
• Be a strategic internal partner, gather and leverage insights for an impactful contribution to Patient Journey mapping, launch excellence roadmap, integrated evidence generation plans, integrated product strategy and subsequently the medical strategy. Utilize knowledge of assigned therapeutic area and Novartis compounds to serve as the Medical, Clinical and Scientific expert to field matrix colleagues
• Identify data gaps, data generation opportunities (including RWE and implementation science, precision medicine), and key unmet needs and opportunities to help improve patient access and outcomes.
• Ensure appropriate identification and mapping of external stakeholders, aligned to the medical strategy, and in collaboration with other Novartis colleagues. Able to create personalized, flexible engagement strategies and plans, leveraging multiple channels and tailored content to
meet the changing needs of external stakeholders
• Personalize and expand external stakeholder engagement beyond Healthcare Professionals. Support and contribute to innovative partnership models for shared ownership in transforming clinical practice, apply foundational impactful Scientific Engagement principles in stakeholder interactions in alignment with medical strategy and portfolio/pipeline prioritization.
• Communicate the right evidence to the right stakeholder at the right time, enabling stakeholders to make informed decisions, respond to unsolicited requests for information from stakeholders by sharing appropriate data regarding marketed and pipeline compounds in a timely, compliant, and stakeholder-focused manner.
• Support Novartis Clinical Trials, adopt and leverage digital channels for a broader, effective, personalized reach and impact, in addition to leading high level impactful scientific events, exchanges and medical education.
• Manage personal and professional development., manage administrative responsibilities in a timely manner (customer relationship management tool, compliance training and other modules, expense reporting, etc.). Promote and adhere to Ethics and Compliance Professional Practices Policy (P3). Wherever applicable, collaborate with medical teams & HCPs to facilitate MAPs (Managed Access Program) on receipt of unsolicited request.
Minimum requirements for Latest Pharm D Job:
WHAT YOU'LL BRING TO THE ROLE:
• Pharmacist, Masters, or other post-graduate degree in health/life sciences. Doctoral degree preferred (PharmD, PhD, MD),
• Acts with credibility and clarity of purpose to build and maintain effective and collaborative relationships, working knowledge of the Healthcare System and research procedures as well as the guidelines relevant to the pharmaceutical industry.
• Experience in a medical function (2-3 years preferred) in at least one therapeutic area.
• Capable of self-directed learning and having a growth mindset, excellent communication, interpersonal, and influencing skills, with the ability to communicate effectively to a variety of audiences.
• Application of a curious mindset, employing active listening skills and asking open questions to gain insights and uncover current thinking.,capable to adapt, organize, prioritize, and work effectively and collaboratively on multifunctional teams in a dynamic field-based environment.
• Proven ability to successfully leverage new technology/digital/IT solutions for effective stakeholder mapping, development, management, and field medical insights gathering.
• Solid business mentality including innovative, solution-oriented, and critical thinking with performance-focused drive to achieve objectives and execute tactics, Strong personal integrity reflected in all actions and behaviors.
Hey, you can go through the below given expected interview question and answers for your preparation for Latest Pharm D Job. You should prepare well before going for the interview for the Latest Pharm D Job. All the very best!!!!
Interview Question 1:
Can you provide an example of a time when you effectively engaged with external stakeholders to enhance patient outcomes?
Answer:
Certainly. In my previous role as a Medical Affairs Specialist, I collaborated with key opinion leaders (KOLs) and patient advocacy groups to develop an educational program for healthcare professionals and patients about a new therapy for a rare disease. By leveraging their insights and understanding their needs, we created tailored materials that improved the understanding of the therapy's benefits and risks. This ultimately led to better patient adherence and outcomes. I believe that building strong relationships and personalized engagement strategies are crucial for driving positive changes in patient care.
Interview Question 2:
How have you demonstrated the ability to adapt and work collaboratively in a dynamic field-based environment?
Answer:
In my previous role as a Medical Science Liaison, I frequently encountered evolving scientific landscapes and changing stakeholder needs. I successfully adapted by proactively seeking new information, attending relevant conferences, and engaging in continuous learning. Additionally, I collaborated with cross-functional teams to align our strategies with the changing landscape. This adaptability and collaboration allowed me to effectively contribute to scientific discussions and ensure that our engagement efforts were always aligned with the most up-to-date information.
Interview Question 3:
Can you share an example of how you have utilized new technology or digital solutions to enhance stakeholder engagement and insights gathering?
Answer:
Certainly. In a recent project, I utilized data analytics tools to identify trends in healthcare provider preferences for medical information dissemination. By analyzing their digital interactions and preferences, I was able to tailor our engagement strategies to meet their needs effectively. Additionally, I incorporated digital channels to share relevant scientific content and insights, allowing for more personalized and timely communication. This approach not only improved engagement but also provided valuable insights for future strategy development.
Interview Question 4:
How do you ensure compliance with ethical standards and regulations in your interactions with external stakeholders?
Answer:
Maintaining ethical standards and compliance is a top priority in my interactions with external stakeholders. I ensure that all engagements and communications adhere to the relevant industry guidelines and internal policies. I am well-versed in the Ethics and Compliance Professional Practices Policy (P3) and consistently apply it to all interactions. Furthermore, I am diligent in staying updated with any changes in regulations to ensure that our interactions are always aligned with the latest legal requirements.
Interview Question 5:
Can you provide an example of a time when you effectively communicated complex scientific evidence to a non-specialist audience?
Answer:
Certainly. During a medical education event for primary care physicians, I was tasked with presenting the clinical evidence supporting a novel treatment approach. To ensure clarity, I focused on simplifying complex concepts, using relatable analogies, and presenting real-world patient case studies. By breaking down the scientific information into easily understandable terms, I successfully conveyed the therapeutic benefits and mechanism of action to the non-specialist audience. This approach facilitated a productive discussion and enhanced their understanding of the treatment's potential impact on patient care.