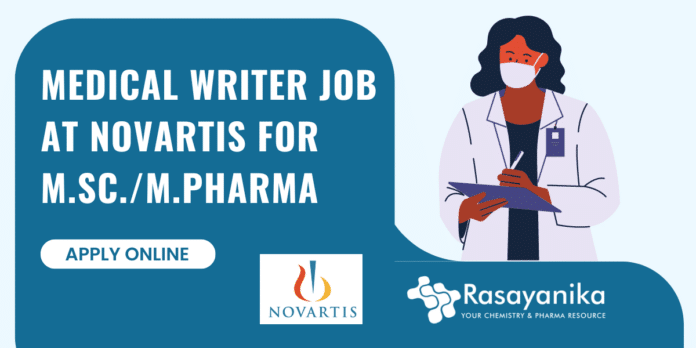 Medical Writer Job At Novartis for M.Sc./M.Pharma
Novartis is a leading global medicines company. Medical Writer Job At Novartis for M.Sc./M.Pharma. Interested candidates check out the details below and Apply Online
Job title: Senior Medical Writer II

Job Location: Hyderabad, AP, India
Job id: 377728BR
Job Category: Research & Development
Job Type: Full Time
Job Description
108,000 people reimagining medicine for more than 799 million people globally. Be part of this journey by representing a group that delivers medical communication solutions across multiple franchises, business units and affiliates. Their services and customized solutions enhance the reach of clinical data about relevant therapeutic advancements and supports in right treatment decisions. They support scientific writing, medical communications plan development, innovative ways of evidence dissemination, supporting our colleagues in medical affairs organization.
KEY RESPONSIBILITIES:
Your responsibilities include, but are not limited to:
• To author, review and independently manage high quality clinical documents: Clinical Study Reports (CSR) including narratives, Protocol, Informed Consent Form (ICF).
• To write CTD modules and other safety documents (DSURs, RMPs) independently. Liaise with medical/clinical experts, statisticians, investigators in concept development when protocol is being developed and work in a collaborative fashion for global/CPOs
• Contribute to planning of
data analyses and presentation to be used in CSRs
• Ensure compliance of documentation to internal company standards and external regulatory guidelines.
• Act as project medical writer for various programs in CPOs/global organization and ensure medical writing resource allocation to studies within these programs.
• Supervise outsourcing to external medical writers, if necessary in conjunction with mentoring medical writer. Follow and track clinical trial milestones and resource requirements for assigned projects
• Training and mentoring of associates as required. Contribute to cross-functional communication to optimize feedback and input towards high quality documents.
• Maintain audit, SOP and training compliance.
Minimum requirements
Essential:
• Minimum science degree or equivalent, B.Sc./equivalent with 10 years Clinical Research (CR) experience, M.Sc./M.Pharma +8 years of clinical research (CR)
• Excellent written and oral English Minimum: Minimum science degree or equivalent, B.Sc./equivalent with 10 years Clinical Research (CR) experience,
Desirable requirements:
M.Sc./M.Pharma +8 years of clinical research (CR) experience Desired
• Doctoral Degree or Qualification in Medical Sciences (MBBS/MD/equivalent) PhD + 6 year of CR experience, MBBS/equivalent + 6 year of CR
Medical Writer Job At Novartis for M.Sc./M.Pharma. Here are five Possible interview questions along with their answers :
1. Question: Can you provide an example of a complex clinical document you've authored or managed in the past? How did you ensure its quality and adherence to regulatory guidelines?
Answer: Certainly, in my previous role, I authored a comprehensive Clinical Study Report (CSR) for a Phase III clinical trial. This involved synthesizing data from multiple sources, collaborating with medical experts, statisticians, and investigators, and ensuring all information complied with both internal company standards and regulatory requirements. I rigorously reviewed the document for accuracy, consistency, and clarity, paying close attention to the organization of narratives and safety-related content. This ensured that the CSR effectively conveyed the study results and conclusions to regulatory agencies and stakeholders.
2. Question: Can you discuss your experience in collaborating with cross-functional teams, especially medical and clinical experts, during the development of protocols and other clinical documents?
Answer: Absolutely, I have extensive experience collaborating with cross-functional teams. For instance, during protocol development, I've worked closely with medical and clinical experts to ensure that the document effectively outlines the study objectives, methodology, and endpoints. This collaboration involved iterative discussions to fine-tune the language to make it scientifically rigorous yet accessible to various stakeholders. By maintaining open communication and integrating feedback, I've been able to contribute to the creation of well-structured and scientifically accurate documents.
3. Question: How do you ensure that clinical documents you write or review are aligned with company standards and regulatory guidelines?
 Answer: Ensuring compliance with company standards and regulatory guidelines is a critical aspect of my work. I meticulously follow internal templates and guidelines while crafting documents, ensuring consistency in formatting and language. Additionally, I stay updated with evolving regulatory requirements to incorporate any changes into my writing. To maintain quality, I conduct thorough reviews, focusing on accuracy, completeness, and the logical flow of information. I am proactive in seeking feedback from peers and subject matter experts to address any potential gaps or inconsistencies before finalizing the documents.
4. Question: Can you describe a situation where you had to manage the work of external medical writers or mentors within your team? How did you ensure successful collaboration and high-quality outcomes?
 Answer: Certainly, in a recent project, I oversaw the work of an external medical writer who was assisting with a complex safety document. I ensured effective collaboration by setting clear expectations, providing detailed guidance, and conducting regular check-ins to address any questions or concerns. To ensure quality, I implemented a review process that involved cross-checking the writer's work against internal standards and regulatory guidelines. This approach allowed us to produce a well-structured, accurate, and compliant document, demonstrating the effectiveness of a collaborative approach.
5. Question: How do you handle situations where timelines are tight, and multiple clinical documents need to be managed simultaneously? Can you provide an example?
 Answer: Handling tight timelines and multiple documents is a challenge I'm familiar with. In a previous project, we faced a situation where several CSRs and safety documents needed to be completed simultaneously due to regulatory submission deadlines. To manage this, I prioritized tasks based on urgency and impact, and I delegated specific responsibilities within my team. Effective communication and clear task allocation allowed us to efficiently manage the workload. I also ensured that quality was not compromised by maintaining a structured review process and fostering a collaborative environment to address any obstacles that arose.
Subscribe Rasayanika for more Chemistry and Pharma job updates.