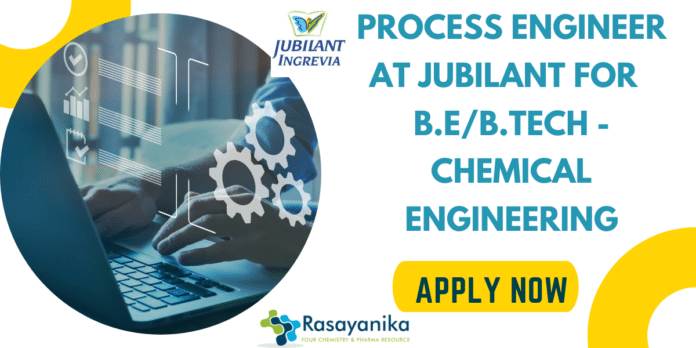 Looking for a exciting opportunities for the position called Process engineer at Jubilant, check all the details given the same below.
Name of the post: Process Engineer-CDMO
Department: CRAMS R & D Noida
1.B.E/B.Tech – Chemical engineering, required with 4 or more years of industrial experience in multi-step organic synthesis and process implementation at pilot plant & commercial scale.
2. Tech-pack preparation knowledge.
3. Safe & Smooth operative process preparation knowledge during optimization stage in R&D.
4. Scale-up knowledge with safe operations.
5. Good command on excel sheet & power point presentation.
6. Expert in preparation of scale-up, sign-off reports after scale-up & commercial campaign.
7. Safety data generation during R&D development.
8. Good knowledge regarding R&D capex generation.
9. Familiarity with cGMP regulations and QbD will be an added advantage.
10. Good time management skills required
Qualifications we seek in you for Process engineer at Jubilant !
Experience: 4-8 years
Roles And Responsibilities
Responsibilities include, but are not limited to:
Leading and assisting with developing synthetic pathways and manufacturing processes toward new high value added pharmaceutical/ chemical intermediates.
2. Documentation of technical packages.
3. Support R&D during process development.
4. Analyze safety parameters of process for scale up & plant commissioning
.
5. From bench to pilot plant scale-up.
6. Planning and executing laboratory research to pilot plant scale-up & plant commissioning.
7. Execute Scale up batches in plant & Co-ordinate between cross functional team.
8. To Enhance knowledge of self and colleagues.
9. Participate on cross functional project teams within Research and Development and other functions like Analytical, Pilot Plant, Technology transfer, EHS at times taking leadership roles for process development and plant support.
10. Utilizing professional concepts to contribute to the development of Company concepts and principles and to achieve objectives in a creative and effective manner.
Possible interview question may be asked for Process engineer at Jubilant 
1.Can you explain your experience in multi-step organic synthesis and process implementation at pilot plant and commercial scale?
Answer: Certainly, I have over [X] years of experience in the field of chemical engineering, specifically in multi-step organic synthesis. I have successfully developed and implemented processes at both pilot plant and commercial scale for various pharmaceutical and chemical intermediates. This includes optimizing reactions, ensuring safety protocols, and collaborating with cross-functional teams to achieve smooth operations.
2. Tell us about your familiarity with cGMP regulations and Quality by Design (QbD) principles?
Answer: I am familiar with cGMP regulations and understand the importance of adhering to quality standards in pharmaceutical manufacturing. Regarding QbD principles, I understand the significance of designing quality into the process from the beginning. This involves systematically analyzing risks and variables to ensure a robust and reproducible manufacturing process.
3. How do you prepare technical packages and documentation for synthetic pathways and manufacturing processes?
Answer: I have a strong background in preparing technical packages. This involves documenting the entire process, from the initial synthetic pathway to optimization and scale-up details. It includes information about reaction conditions, safety protocols, analytical methods, and any modifications made during the development stages.
4. Can you provide an example of a challenging scale-up project you have worked on? How did you overcome any difficulties?
Answer: One notable project involved scaling up a complex synthesis from bench to pilot plant. During the process, we encountered unexpected yield reductions due to mass transfer limitations. To address this, we adjusted reaction parameters and optimized mixing conditions. By collaborating closely with the process engineering team, we were able to overcome these challenges and achieve successful scale-up.
5. How do you ensure safety parameters during process scale-up and plant commissioning?
Answer: Safety is a top priority during scale-up and commissioning. I ensure that all safety protocols are followed, including hazard assessments and process hazard analyses. Additionally, I collaborate with the EHS team to identify potential risks and implement necessary precautions to ensure a safe and smooth operation.