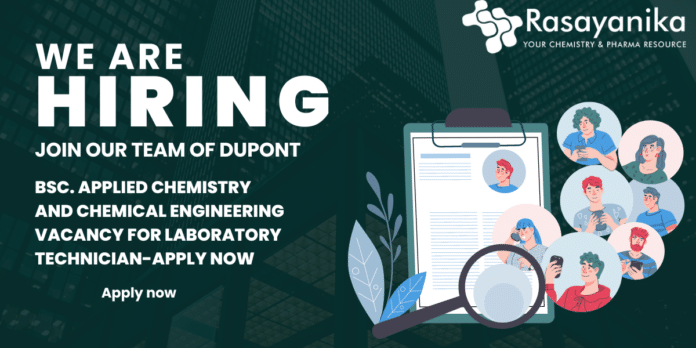 At DuPont, we are working on things that matter, whether it's providing clean water to more than a billion people on the planet, producing materials that are essential in everyday technology devices from smartphones to electric vehicles, or protecting workers around the world. ​The details for BSc Chemistry Laboratory Job are here for your reference. Please go through it and apply now if you are interested for BSc Chemistry Laboratory Job.
Location – Hyderabad, Telangana, India
Working mode – Hybrid
Role definition – 
DuPont Electronics & Industrial business has an open position as a Laboratory Technician for MOLYKOTE® Specialty Lubricants. This position will be located in Hyderabad, India. MOLYKOTE® specialty lubricants are designed and engineered to solve lubrication-related problems and save energy by reducing friction and wear. We offer a broad portfolio of specialty lubricants including greases, anti-seize pastes, multipurpose oils, specialty compounds, dispersions, anti-friction coatings and more, for a wide range of applications in automotive, industrial, appliance and maintenance.
The Laboratory Technician will work within the MOLYKOTE® Specialty Lubricants Technical Service and Development (TS&D) team that supports MOLYKOTE® business growth in India. The incumbent will conduct lubricant testing and support new application and product development, assessment of new materials
, technologies and applications, performance evaluation, process improvement and troubleshooting, etc. The incumbent will also be responsible for lab management, including lab documentation, equipment maintenance and chemical inventory, and help build new lab capabilities to support business growth needs.
Key Responsibilities:
Conduct a variety of tribology (friction and wear) testing, support new application and product development, assessment of new technologies, materials and applications, performance evaluation, process improvement and troubleshooting, etc., and document/analyze data properly.
Conduct technical training and demos for end-users/customers on all lubricant tests.
Work with TS&D to provide technical support for the complete range of lubricant products to existing and new customers.
Occasionally visit customers (individually or as a team with TS&D) to address, troubleshoot and solve technical issues.
Collaborate with TS&D in the development of new experiments and test methods.
Support TS&D to build lab capabilities including new equipment and processes where needed.
Responsible for equipment set-up, maintenance, calibration, and documentation. Liaise with vendors and coordinate the acquisition/installation of new equipment. Responsible for procurement of chemicals and lab supplies.
Maintain chemical inventory, lab records, and documentation. Ensure lab operation compliant with SHE and site requirements.
Maintain a high level of safety awareness. Seek opportunities to improve the safety of lab operation and efficiency of tasks.
Qualifications for BSc Chemistry Laboratory Job-
Required Education, Experience and Qualifications:
A Bachelor's Degree in Applied Chemistry, Material Science, Chemical Engineering, or related science background is required. Experience with tribology testing, specialty lubricant products, technologies and applications is a plus.
Ability to define, organize and plan an experimental approach in collaboration with TS&D.
Strong background in problem solving.
Ability to prioritize activities and handle multiple tasks.
Meet deadlines and be able to respond in a professional manner.
Good interpersonal skills and English communication skills.
Highly motivated, self-directed, well organized, and attentive to the quality of work.
Must be able to work well in teams and to work independently with limited supervision.
Hello there, You can prepare for the interview using the expected interview questions and answers provided below. Once you are applied for the BSc Chemistry Laboratory Job, prepare well and attend the interview. Good luck!!!
Question 1:
Can you provide an example of a situation where you conducted tribology testing to support product development and troubleshooting? How did you document and analyze the results effectively?
Answer:
Certainly. In a previous role, I was tasked with evaluating a new specialty lubricant for an industrial application. I conducted tribology tests to assess its friction and wear properties. I organized the testing process by defining clear experimental parameters in collaboration with the Technical Service and Development (TS&D) team. After performing the tests, I meticulously documented the test conditions, methods, and observed outcomes. I then analyzed the data using statistical methods and visualizations, which allowed us to understand the lubricant's performance characteristics and identify areas for improvement.
Question 2:
How do you approach providing technical support to customers for lubricant products? Can you share an experience where you effectively addressed a customer's technical concern?
Answer:
Of course. In my previous role, a customer encountered issues with the performance of a lubricant in their automotive application. I promptly visited the customer site along with the TS&D team to troubleshoot the problem. Through detailed discussions and on-site testing, we identified that the lubricant was not well-suited for the specific operating conditions. We provided technical insights to the customer, explaining the limitations and suggesting an alternative lubricant that aligned better with their requirements. This collaborative approach not only resolved the customer's concern but also strengthened the customer relationship.
Question 3:
Can you describe how you maintain a high level of safety awareness in a laboratory setting? How do you seek opportunities to improve safety and operational efficiency?
Answer:
Safety is paramount in a laboratory environment. I adhere to strict safety protocols by wearing appropriate personal protective equipment, handling chemicals cautiously, and following proper disposal procedures. To improve safety and efficiency, I actively participate in safety audits and meetings. For instance, I proposed the implementation of an additional safety training module focused on specific equipment handling, which helped prevent potential accidents. Additionally, I recommended process optimization for chemical procurement and storage, minimizing the risk of exposure and ensuring compliance with safety regulations.
Question 4:
How do you balance multiple tasks and prioritize activities in a fast-paced laboratory environment? Can you provide an example of a time when you successfully managed multiple tasks with tight deadlines?
Answer:
In a laboratory environment, multitasking and prioritization are essential. I establish a clear task list and categorize tasks based on urgency and impact. For instance, during a project involving simultaneous testing for different lubricant formulations, I organized tasks by their significance to ongoing projects. I allocated time slots based on the complexity and deadline proximity of each task. By effectively managing my time and resources, I ensured that all tests were completed on schedule, contributing to the timely release of a critical product batch.
Question 5:
How do you stay motivated and organized while working both independently and within a team? Can you share an experience where you demonstrated effective teamwork and independent initiative?
Answer:
I thrive in both collaborative and independent settings. Within a team, I actively participate in brainstorming sessions, sharing insights and contributing to discussions. I am receptive to feedback and embrace a collective approach to problem-solving. On the other hand, during a project where I was assigned the task of setting up a new tribology testing equipment, I took the initiative to research and identify the best practices for equipment calibration. I independently coordinated with vendors, oversaw the installation process, and ensured that the equipment was operational. This proactive approach reflects my motivation to contribute positively to team goals while demonstrating self-directed initiative.