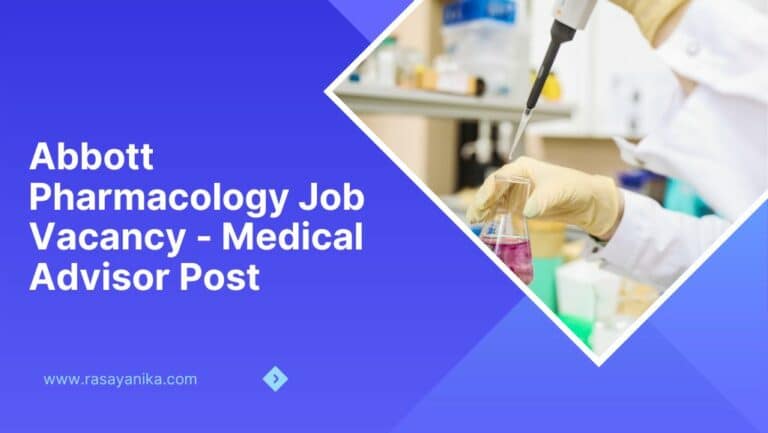 Abbott Pharmacology Job Vacancy. MSc Pharmacology job opening 2023, Medical Advisor job opening 2023, Medical job opening 2023, Intrested and eligible candidates may check out all the details on the same below:
Job Title: MEDICAL ADVISOR
LOCATION INDIA – MUMBAI
CATEGORY MEDICAL AND CLINICAL AFFAIRS
Eligbility Criteria:
Graduate or Post Graduate Medical Degree in Pharmacology (Preferable) or Allied Sciences Keen interest in developing and maintaining expert knowledge for assigned therapeutic area/product and in medical research in general.
• Knowledge of the scientific methods applied to clinical research and the current legislative/regulatory controls.
• Solid knowledge of the pharmaceutical environment and excellent skills to build stake-holders relationship.
• Strong commitment to compliance with the relevant rules and procedures, and to scientific quality and integrity.
• A good command over spoken and written English.
CAREER DEVELOPMENT:
Possible career development roles:
• Manager-Medical Affairs or Medical Advisor
• Head of Affiliate Medical
• Area Medical Advisor
• EPD Strategic Medical Affairs
• Clinical Development, GPRD, I & D
• Product Management
JOB RESPONSIBILITIES:
• Ensure that all activities and interactions are conducted with due regard to all applicable local, global and national laws, regulations, guidelines, codes of conduct, Company policies and accepted standards
of best practice.
• Provide scientific and technical support for, and help maintain professional and credible relationships with, key opinion leaders and academic centers to ensure access to current medical and scientific information on the products and areas of therapeutic interest.
• Ideate, design, develop and deliver innovative and engaging high science activities for Physicians and Key Opinion Leaders, to help drive Therapy Shaping in the area the RMA is assigned to, in collaboration with the Medical Affairs & the Commercial team.
• Assist in the initiation, oversight and follow up of assigned clinical studies and medical projects initiated within the relevant therapeutic area for which the RMA carries responsibility (e.g. post marketing clinical activities such as registry/database projects, epidemiological surveys, post-authorization studies (phase IV), IIS projects, etc.): all activities to comply with applicable local laws, guidelines, codes of practice, SOPs, and
, I& D * SOPs.
• Deliver high science, unbiased and accurate scientific presentations to physicians, individually or in groups (meetings, clinical sessions, etc.), when requested.
• Participate in the selection process to identify appropriately qualified physicians the Company would wish to engage in collaborative efforts – such as potential research collaborations, or lecture/meeting support (Round Tables, Congresses, Symposia, etc.); and to ensure a high level of scientific or educational integrity in these collaborative efforts.
JOB DESCRIPTION
Regional Medical Advisor
• Develop awareness and understanding of competitor issues/intelligence – for example, product strategies, studies, commercial messages, positioning, etc – and communicate, where appropriate, within the Company.
• Continuous and consistent support to the Medical / Marketing teams in gathering Insights and feedbacks from HCPs and Patients for more impactful brand plans / New products
• Attend relevant Scientific Societies meetings and Conferences, and develop summaries of key messages for use within the Company – such as key areas of scientific/company interest, new trends in diagnosis, monitoring and treatments in the therapeutic area, etc.
• Upon request, assist physicians to appropriately direct requests for access to Company products on a named patient or compassionate use basis, subject to all applicable legal and regulatory requirements.
• Support sales/marketing/internal team areas to develop their scientific and technical expertise through the delivery of scientific update presentations.
• Ensure up to date knowledge of products uses and external data.
• Provide key opinion leaders and internal medical and clinical teams with scientific and technical support for publications of scientific or medical interest.
• Support in Digital engagement of HCPs & patients through specific programmes as and when required
• Participate along with Medical Affairs & Clinical Operations team in real world data collection programmes
Abbott Pharmacology Job Vacancy Looking for latest chemistry and Pharma job openings, follow Rasayanika Facebook and Telegram and subscribe to our youtube channel for the latest updates on chemistry and Pharma job