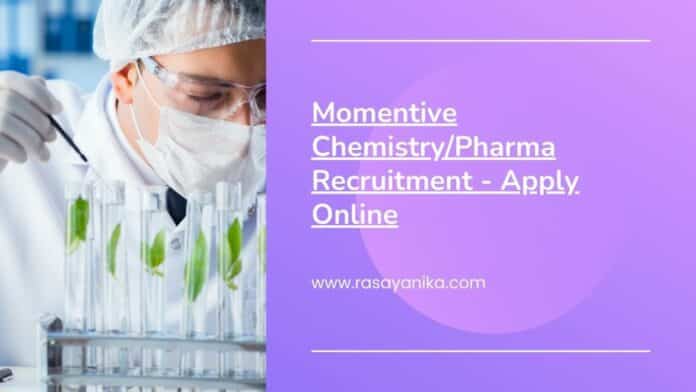 Momentive Chemistry/Pharma Recruitment. MSc job opening 2023, Pharmacy job opening 2023, Pharma job opening 2023, Pharma job. Chemistry job opening 2023, Interested and eligible candidates may check out all the details on the same below:
Job Title: Senior Associate – HazCom
Eligbility Criteria:
Bachelors of Engineering / Pharmacy / Masters' degree in Chemistry, Biology, Life Science, Environmental Science, Industrial Hygiene or equivalent
5+ years of relevant experience working in/ for a chemical/petrochemical or related industry with 3+ years of Product Stewardship and Regulatory Compliance/ Environmental Health and Safety/Occupational Safety and Industrial Hygiene or other applicable experience
SDS authoring experience with good understanding of GHS and applicable regional regulations
Expertise to define requirements and implement processes in the systems and tools relevant for the function
Good English verbal, written and presentation skills
Computer literate in standard office systems
Excellent interpersonal skills and the ability to work effectively with all levels of the organization
Position requires availability for global calls and interactions, may have to be open to flexible working hours to overlap with the business day in case of supporting different time zones.
Preferred Qualifications:
SAP EHS experience
Knowledge on Dangerous good regulations (IATA preferred)
Experience in troubleshooting to allow development of sound resolution of issues
Continuous Improvement/ Project management skills
Position Summary:
This position assures continuity and growth of the business by complying with regulations applicable to the company's products and business activities. Executes transactional processes as necessary, to ensure day-to-day compliance with applicable hazard communication regulations associated with raw materials, intermediates and finished products. Responsible for Safety Data Sheet and label generation and maintenance. Participates in the screening of new raw materials and Management of Change (MOC) processes. Provides regulatory approval in the New Product Introduction (NPI), product extension, and product translation processes. This role will provide regulatory support to both internal and external customers, lead/ contribute to development of new concepts, techniques, and standards and ongoing implementation and continuous improvement of product safety, hazard communication, and regulatory processes and system support.
Job Description:
Safety Data Sheets and Label Generation and Maintenance
Responsible for the preparation and update of Safety Data Sheets and labels using standard systems and processes and assures that they reflect finished product compositions and properties and comply with regional regulatory requirements for raw materials, intermediates, and finished products.
Responsible for material introduction, classifications and labeling (includes dangerous goods classifications with SME inputs).
Initiates Notification of Change (NOC) processes.
Responds to routine customer inquiries using standardized responses and processes. Drafts new templates as necessary using existing templates as reference, as per the requirement.
Interacts with and responds to global customers, suppliers, and other applicable functions in supporting hazard communication and regulatory compliance needs
Develops relationships with key customers (internal and external) to assure effective communication and responses are provided
Complete understanding and application of regulatory principles, concepts, practices and in-depth knowledge of industry practices. Initiates necessary actions related to changing chemical regulations in various world regions.
Drives projects related to SDS creation and maintenance as identified.
Workflow Approval
Provides regulatory approval in the material master workflow for product creation, product extension, and product translation processes by ensuring that the regional hazard communication needs have been satisfied.
Works closely with Product Stewards to assure efficient interfaces with the material master workflow processes product extensions and product translations across regions.
Ensures compliance through management of regulatory checks/blocks.
Product and Substance Data Management / Systems Management
Contributes to SAP data management and system integrity.
Participate in Management of Change (MOC) processes.
Establishes, manages, and/or reports metrics for work and/or tie into global reporting to assure progress with respect to compliance and business growth is measured and communicated
Reporting responsibilities to support broader PS team
Expected to be up-to-date on key trends, and opportunities
Provides continuous reinforcements to continuously improve processes
Contributes to building the repository of learning and insights from formal and informal events
Other site and regional support
Supports the site's Product Stewardship and Regional Business needs
Fostering Team work
Professional Development
Establishes robust development plan and development goals for self, and tracks progress quarterly. This includes developing plans for targeted development, attending activities, and debriefing afterward with an action plan.
Explores solutions that are different from standard operating procedures to meet the requirement
Additional Details:
​Key Metrics Role is Accountable For:
Timely and accurate Safety Data Sheets and labels creation and maintenance and Workflow approvals
Development and implementation of streamlined processes and operating procedures to ensure compliance, lack of business interruption and appropriate documentation. Support Risk Reviews
Proactive communication of changes with global team members, businesses, technology, and other functions
Maintenance of EHS SAP data
Momentive Chemistry/Pharma Recruitment, Momentive Chemistry/Pharma Recruitment, Looking for latest chemistry and Pharma job openings, follow Rasayanika Facebook and Telegram and subscribe to our youtube channel for the latest updates on chemistry and Pharma job