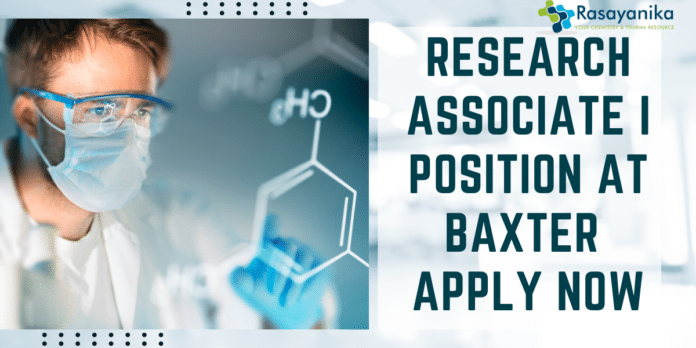 Looking for a Exciting opportunities…! check out the Research Associate I at Baxter given the same below:
Job Title: Research Associate I
Job location: Bengaluru, Karnataka, India
Job Category: Research and Development
 About company: 
At Baxter, we are deeply connected by our mission. No matter your role at Baxter, your work makes a positive impact on people around the world. You'll feel a sense of purpose throughout the organization, as we know our work improves outcomes for millions of patients.
Baxter's products and therapies are found in almost every hospital worldwide, in clinics and in the home. For over 85 years, we have pioneered significant medical innovations that transform healthcare.
Together, we create a place where we are happy, successful and inspire each other. This is where you can do your best work.
Join us at the intersection of saving and sustaining lives—where your purpose accelerates our mission.
Job Description for Research Associate I at Baxter :
Baxter has long been on the forefront of developing innovative solutions for patients with kidney disease. This job offers a unique and exciting opportunity to contribute in the development and life cycle management of Baxter's dialysis systems.
This position will be responsible for the execution of development, validation, transfer and other exploratory studies for Renal care and Acute CRRT analytical methods, the successful candidate will possess solid "hands-on" technical abilities, an excitement, a passion for their work and the impact it has on meeting the needs of patients.
Summary
Lab analyst for analytical chemistry: Responsible for execution and designing strategy for development, validation, and transfer of analytical methods and other exploratory studies. This person will also play the role of a junior analytical lead to support analytical program within Baxter and with external partners.
Essential Duties and Responsibilities:
Hands-on experience with analytical instruments such as HPLC, UPLC, GC, IC, UV, Potentiometer, ICP-OES and other general techniques along with its data interpretation.
Execute analytical method development, validation, transfer of methods for new product development and sustaining product projects. Provide some analysis/re-design of key experimental procedures. Independently select techniques and procedures to solve problems within area of responsibility.
Execute routine analytical activities in accordance with global/local procedures within negotiated deadlines.
Recommend appropriate designs, techniques, and processes for a specified sequence of tasks where needed including drafting analytical plan.
Preparing analytical strategies/identify and review gaps in analytical methods, drafting method of analysis.
Responsible for qualification and calibration of laboratory instruments/equipment's/procedures.
Preparations of Validation/Transfer protocols, reports for execution of Class B studies.
Demonstrate ability to apply technical theories and principles to projects within area of expertise for non-routine tasks. Analyze and determine best solutions to non-routine experimental design or research problems with minimal assistance. Accurately assess results for validity and conformance to specifications.
Planning and execution of laboratory experiments associated with assigned projects.
Support Laboratory investigation (OOS/OOT/Incidents/NCR)
Good analytical and research skills.
Maintain lab equipment and troubleshoot or report on malfunctions.
Ensure compliance with laboratory health and safety guideline.
Good knowledge of laboratory health and safety standards.
Coordinate and ensure follow-up of technical activities in collaboration with key stakeholders, with respect of project commitment, quality procedures and business needs.
Establish, maintain and update technical documentation according to Good
Documentation Practices and follow all other laboratory compliance.
Participate to multi-functional and international project team for effective collaboration and deliverables.
Ensure good internal and cross-functional communication and regular status update of activities.
Qualifications we seek in you for Research Associate I at Baxter ! 
To perform this job successfully, an individual must be able to perform each essential duty satisfactorily. List knowledge, skills, and/or abilities required.
Master's degree in relevant scientific discipline (Analytical chemistry/Pharmaceutical chemistry) with 2 to 4 years' experience in relevant industries.
Theoretical and practical knowledge of the required analytical techniques.
Good learning agility.
Effectively able to contribute on a project team.
Ability to objectively assess, organize, and clearly communicate complex information.
A fair understanding of ICH, Ph. Eur, USP guidelines and cGxP practice.
Interpret available information and make recommendations to resolve technical challenges.
Appropriately prioritize assignments to meet project timelines.
Possible interview question may be asked for Research Associate I at Baxter 
Can you tell us about your experience with analytical instruments and techniques such as HPLC, UPLC, GC, IC, UV, Potentiometer, and ICP-OES?
Answer: I have hands-on experience with various analytical instruments, including HPLC, UPLC, GC, IC, UV, Potentiometer, and ICP-OES. I have used these instruments for method development, validation, and transfer in the context of new product development and sustaining product projects.
2. How do you approach method development and validation for analytical techniques? Can you share an example of a successful method development you have worked on?
Answer: When approaching method development and validation, I first review the requirements and objectives of the analysis. I then select appropriate techniques and procedures and conduct a series of experiments to optimize the method. One successful example is when I developed a robust HPLC method for the quantification of a specific drug in a pharmaceutical product. Through systematic experimentation, I optimized the chromatographic conditions to achieve excellent peak resolution and sensitivity.
3. How do you ensure compliance with laboratory health and safety guidelines in your work?
Answer: I place a high priority on laboratory health and safety. I ensure that I am familiar with all relevant safety protocols and procedures. I regularly inspect and maintain lab equipment to ensure it is in proper working condition. Additionally, I report any malfunctions or safety concerns promptly.
4. How do you handle non-routine experimental design or research problems that may arise during your work?
Answer: When facing non-routine challenges, I analyze the situation and determine the best approach based on my technical expertise and knowledge of the analytical techniques. I am adept at objectively assessing complex information and making informed decisions. If needed, I consult with my colleagues or supervisor to brainstorm solutions collaboratively.
5. Can you describe a situation where you had to work effectively as part of a project team?
Answer: In a previous role, I was part of a team responsible for developing and validating a new analytical method for a critical product. Each team member had specific tasks, and I effectively communicated and coordinated with them to ensure smooth progress. We held regular meetings to discuss results, troubleshoot issues, and make collective decisions to meet project timelines successfully.