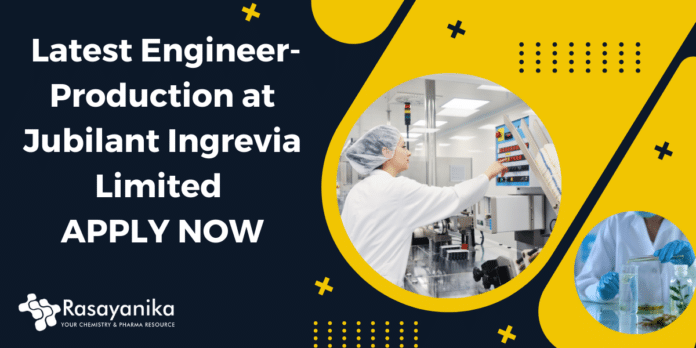 Looking for a exciting opportunities for a role as Engineer Production at Jubilant, check out all the details given the same below.
Job title: Engineer- Production
Location: Nira, Maharashtra
Job description: 
Operating the plant as per the instruction of the SIC.
Operation and cleaning of equipment's used in the process area.
On line monitoring of the environment conditions in process area.
To note down all the plant reading regularly.
Taking raw material transfer.
Loading / unloading of the material from drums, tanks and receives as per the instructions.
Collecting all the process samples as per instructions of shift in-charge along with all necessary safety precautions.
Safety of man and machine and housekeeping of the plant.
Ensuring strict adherence to the permit system.
Operating knowledge of Continuous chemical process.
Working knowledge of Reactors
Adherence to quality / Safety norms.
Knowledge of DCS / PLC based plant operation.
 Qualification we seek in you for Engineer Production at Jubilant :
BE – Chemical Engineer with 5 – 8 years of experience in Continuous chemical process.
Jubilant Life Sciences Limited is one of the India's leading corporate and a highly treasured brand throughout the world. The organization has a presence in the fields of
Pharma and Life Sciences, Agri & Performance Polymers, Food & Retail, Oil & Gas and Services.
Jubilant Life Sciences Limited is an integrated global pharmaceutical and life sciences Company engaged in Pharmaceuticals, Life Science Ingredients and Other businesses including Drug Discovery Solutions and India Branded Pharmaceuticals.
The Pharmaceuticals segment, through its wholly owned subsidiary Jubilant Pharma Limited, is engaged in manufacturing and supply of APIs, Solid Dosage Formulations, Radiopharmaceuticals, Allergy Therapy Products and Contract Manufacturing of Sterile Injectable and Non-sterile products through 6 USFDA approved manufacturing facilities in the US, Canada and India and a network of over 50 radio-pharmacies in the US.
The Life Science Ingredients segment, is engaged in Specialty Intermediates, Nutritional Products and Life Science Chemicals through 5 manufacturing facilities in India.
The Drug Discovery Solutions business, provides proprietary in-house innovation & collaborative research and partnership for out-licensing through 2 world class research centers in India.
Jubilant Life Sciences Limited has a team of around 7,700 multicultural people across the globe and is committed to deliver value to its customers across over 100 countries.
The Company is well recognized as a 'Partner of Choice' by leading pharmaceuticals and life sciences companies globally.
Ranked No. 6 amongst top 10 Global Pharmaceutical outsourcing players as per UNCTAD World Investment Report 2011
Reputed and High Quality relationships with 19 out of the top 20 Pharmaceutical companies, and 6 out of the top 10 Agrochemical companies globally
Vision
To acquire and maintain global leadership position in chosen areas of businesses
To continuously create new opportunities for growth in our strategic businesses
To be among the top 10 most admired companies to work for
To continuously achieve a return on invested capital of at least 10 points higher than the cost of capital.
Possible interview may be aske for Engineer Production at Jubilant
1. Can you tell us about your experience in operating a plant and your familiarity with continuous chemical processes?
Answer: Sure! I have a Bachelor's in Chemical Engineering and have been working in the field for 5 to 8 years. During my career, I have gained hands-on experience in operating plants and have specifically worked with continuous chemical processes. I am well-versed in the various aspects of plant operations, including monitoring environmental conditions, handling raw materials, and adhering to safety and permit systems.
2. How do you ensure strict adherence to safety and quality norms while operating the plant?
Answer: Safety and quality are of utmost importance in the chemical industry. To ensure strict adherence to safety norms, I follow all safety protocols, wear appropriate personal protective equipment (PPE), and conduct regular safety checks. For maintaining quality, I am diligent in monitoring process parameters, following standard operating procedures (SOPs), and collecting process samples as per instructions.
3. What kind of continuous chemical processes have you worked with, and what are some of the challenges you've encountered?
Answer: I have experience in working with various continuous chemical processes, including reactors and DCS/PLC based plant operations. One of the challenges I have encountered is maintaining process stability and controlling variables in complex reactions. However, with strong analytical skills and problem-solving abilities, I have been able to overcome such challenges and optimize the processes.
4. How do you ensure smooth coordination and communication within the plant team during the operation?
Answer: Effective communication is vital for smooth plant operation. I ensure regular communication with shift in-charges and team members, discussing operational plans and any specific instructions. Additionally, I encourage open communication and teamwork to address any issues that may arise during the process.
5. How do you stay updated with the latest advancements and technologies in continuous chemical processes?
Answer: As a chemical engineer, I understand the importance of staying updated with the latest developments in the field. I regularly attend industry conferences, workshops, and webinars to learn about new technologies and best practices. Furthermore, I actively engage with professional networks and publications to stay informed about advancements in continuous chemical processes.