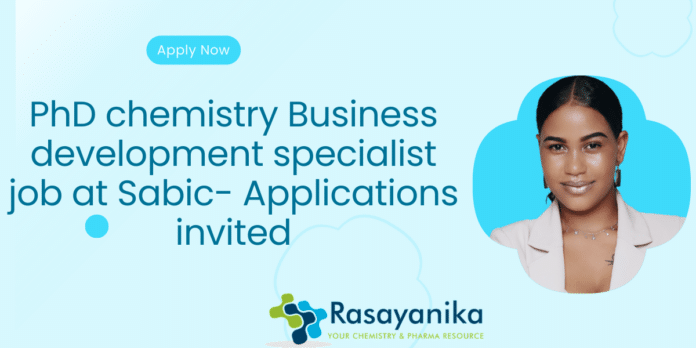 Sabic is a global diversified chemicals company, headquartered in Riyadh, Saudi Arabia. Sabic manufactures on a global scale in the Americas, Europe, Middle East and Asia Pacific, making distinctly different kinds of products: chemicals, commodity and high performance plastics, agri-nutrients and metals. The Latest PhD chemistry Vacancy details are provided below. Please go through the details and apply online.
Position : Sr. Specialist, Business Dev.,South Asia
Org Unit Name: South Asia Region
Location: India-Gurugram
Job purpose:
Deliver internal & external growth opportunities for the SABIC business through business planning & development activities in the areas of portfolio optimization, asset optimization, vertical integration & knowledge management through various potential structures.
Job Responsibilities of Latest PhD chemistry Vacancy :
Primary focus Indian sub-continent region with support to ASEAN Region.
Partner with SBU and BU leadership teams to define opportunities for profitable business growth beyond existing offerings
Participation and proactive contribution to key SBU strategic planning sessions to determine opportunity spaces
Analyze and map attractive opportunities for investment, M&A determine potential areas of synergy with SABIC strategy team.
Pursue alongwith RH, opportunities for investments, JV's and collaborate with Business
Planning & Investment team to bring business case to Gate zero.
Support Project management of potential & active projects through the whole phasegate steps.
Provide leadership & expertise in critical portfolio, operations and industry knowledge
Manage internal and external relationships and alignment with internal & external business partners, including Company staff, BUs, other SBUs, Corporate Controls,
Shared Services, SABIC M&A, current & potential business partners
Competencies:
Demonstrated leadership driving change and mobilizing resources in a global environment
Demonstrated business acumen, operational and commercial mindset
Ability to independently communicate with potential partner's senior management
Ability to interface and influence BU Leaders, SABIC business & SABIC leadership
Strong project management skills
Ability to independently & proactive deliver in a complex internal & external environment
Strong and effective communication skills across a multi-national and cross-functional organization.
Minimum educational qualification  & Experience:
Engineering Degree or PhD in Chemistry
Minimum 10 years of progressive business development experience out of 15 yrs. total experience. Thereof Minimum 5 years of direct leadership experience.
We are providing you with the expected interview question and answers for your reference. Once you applied for the Latest PhD chemistry Vacancy, please go through the same and prepare well for your interview for the Latest PhD chemistry Vacancy. Best of luck!!!
Interview Question 1: Can you describe your experience in business development and how it aligns with the responsibilities of the Sr. Specialist, Business Development role in the South Asia region?
Answer: Certainly. I have over 15 years of professional experience, with the last 10 years focused on business development. Throughout my career, I have worked on various aspects of business planning and development, including portfolio optimization, asset optimization, and vertical integration. I have successfully identified and pursued growth opportunities for organizations beyond their existing offerings. Additionally, I have experience in analyzing investment opportunities, engaging in potential joint ventures, and collaborating with teams to develop robust business cases. I believe my expertise aligns well with the responsibilities of the Sr. Specialist, Business Development role in the South Asia region, where my focus would be on delivering internal and external growth opportunities for SABIC's business.
Interview Question 2: How would you approach identifying and mapping attractive opportunities for investment and M&A in the Indian sub-continent region and ASEAN Region?
Answer: Identifying attractive opportunities for investment and M&A requires a comprehensive approach. Firstly, I would closely collaborate with the SBU and BU leadership teams to gain insights into their strategic objectives and determine potential opportunity spaces. I would actively participate in key strategic planning sessions to understand the direction the organization wants to take. Subsequently, I would conduct in-depth market research and analysis to identify potential areas of synergy with SABIC's overall strategy. Building strong relationships with potential partners would be essential to communicate and explore opportunities effectively. Through a proactive and data-driven approach, I would aim to map out the most promising investment and M&A prospects in both the Indian sub-continent and ASEAN regions.
Interview Question 3: How would you ensure effective project management of potential and active projects throughout the phase gate steps?
Answer: Effective project management is crucial to the success of any initiative. To ensure smooth progress through the phase gate steps, I would employ a structured and detail-oriented approach. Firstly, I would assemble a capable project management team to oversee the process. Clear project objectives and timelines would be established, and regular milestone reviews would be conducted to track progress. I would foster open communication within the team to address any challenges proactively. Risk assessment and mitigation plans would also be put in place to tackle unexpected hurdles. Collaboration with stakeholders and cross-functional teams would be prioritized to ensure alignment and support throughout the project's lifecycle.
Interview Question 4: How do you demonstrate leadership in driving change and mobilizing resources in a global environment?
Answer: As a leader, I believe in leading by example and fostering a culture of collaboration and innovation. In a global environment, I ensure that I communicate effectively with team members and potential partners at all levels, including senior management. I encourage open dialogue, active listening, and understanding diverse perspectives to drive positive change. I am proactive in identifying opportunities and challenges and mobilizing the necessary resources to address them. My leadership style promotes adaptability and resilience, allowing the team to navigate through complex situations successfully. By fostering a global mindset and leveraging the strengths of a diverse team, I strive to drive change and achieve the organization's objectives.
Interview Question 5: Can you provide an example of a complex internal or external environment in which you proactively delivered successful outcomes?
Answer: Certainly. In a previous role, our organization was exploring a potential joint venture with a key player in a new market. The business landscape was highly competitive, and there were significant regulatory challenges to navigate. To proactively deliver a successful outcome, I led a dedicated team that conducted a thorough market analysis, identifying potential risks and opportunities. We engaged in extensive discussions with the potential partner's senior management, addressing their concerns and aligning our objectives. Moreover, I ensured regular communication and collaboration with the SABIC leadership and other relevant stakeholders throughout the process. Our efforts paid off, and we successfully established a joint venture that enabled us to enter the market and achieve significant growth within a short time frame. This experience demonstrated my ability to deliver in a complex environment and effectively manage internal and external relationships to achieve strategic goals.