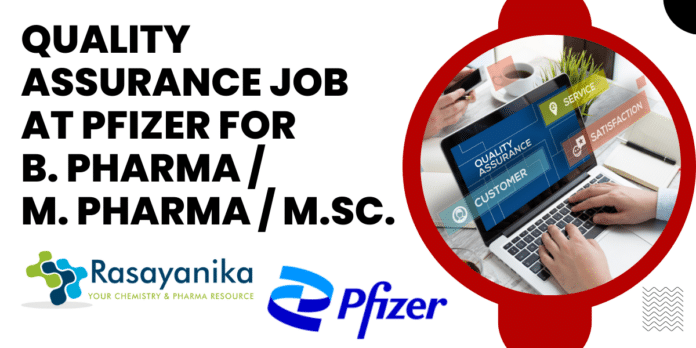 Quality Assurance Job At Pfizer B. Pharma / M. Pharma / M.Sc. Candidates
Pfizer is a multinational pharmaceutical is hiring Quality Assurance Job At Pfizer B. Pharma / M. Pharma / M.Sc. Candidates. Interested Candidates check out the details below and Apply Online.
Job title: Associate – Quality Assurance
Job Location: Vizag, India
Job id: 4890255
Job Category: Quality Assurance
Job Type: Full Time
JOB DESCRIPTION:
Responsible for ensuring operating state of cGMP compliance in solution/emulsion preparation, vial/ampoule washing, depyrogenation, filling and capping operations.
Maintain regulatory compliance in accordance with cGMP practices.
Ensure manufacturing policies and procedures conform to Pfizer standards.
Knowledge and hands on experience in reviewing eBR and assessing the impact of AMPs exceptions with technical support/inputs from supervisor.
Review of batch reports and equipment audit trails.
Perform EMS alarm impact assessments and monthly trend reports.
Ensure start-up and in-process activities performed as per batch record and SOP compliance.
Monitor and adherence manufacturing practices with respective standards and approved procedures.
Perform daily walk throughs and report observations to the supervisors and ensure appropriate closer of those incidents.
Perform equipment breakdown assessments w.r.t to product quality and patient safety independently.
Review and approval of equipment alarms and review of alarm trends.
Report any non-compliance to the supervisor.
Should have trouble shooting abilities in manufacturing area, which helps the organization to develop, implement and achieve its mission, vision and values.
Identify gaps and involve in process and procedure simplification, thereby reduce downtime and increase the efficiency.
Experience in handling regulatory, corporate and internal auditors / inspectors.
Responsible for assisting manufacturing investigators w.r.t collection of data, information and technical support and may perform in conducting investigations.
Education: B. Pharma / M. Pharma / M.Sc.
Experience: 1-5 years' experience in Manufacturing Quality Assurance / Quality Assurance/ Production of a pharmaceuticals manufacturing facility.
 Quality Assurance Job At Pfizer. Here are Possible interview questions and answers:
1. Question: Can you explain your understanding of cGMP compliance and its significance in pharmaceutical manufacturing?
Answer: cGMP stands for Current Good Manufacturing Practices, which are guidelines and regulations set by regulatory authorities to ensure the quality, safety, and efficacy of pharmaceutical products. As an Associate in Quality Assurance, my role would be to ensure that all manufacturing processes, such as solution preparation, filling, and capping, adhere to cGMP standards. This involves maintaining a clean and controlled environment, following approved procedures, and documenting all activities. Compliance with cGMP is essential to produce high-quality drugs that meet regulatory requirements and are safe for patients.
2. Question: How would you approach reviewing electronic batch records (eBR) and dealing with exceptions or discrepancies?
Answer: When reviewing eBR, I would meticulously check each step of the manufacturing process to verify its compliance with standard operating procedures (SOPs) and Pfizer's internal policies. If any AMPs (anomalous manufacturing processes) exceptions are identified, I would consult with my supervisor and technical experts to assess their impact on product quality and patient safety. My focus would be on ensuring that any deviations are properly investigated and resolved before the product is released. Accurate and comprehensive eBR review is crucial for maintaining data integrity and complying with regulatory requirements.
3. Question: How do you handle equipment breakdowns in a manufacturing setting to minimize the impact on product quality?
Answer: When faced with equipment breakdowns, I would act promptly to assess the situation and evaluate the impact on product quality and patient safety. If the issue is within my expertise, I would attempt to troubleshoot and resolve the problem following approved procedures. If the problem requires technical expertise beyond my capabilities, I would notify my supervisor and the maintenance team to initiate timely repairs. My priority would be to prevent any compromise in product quality and adhere to the batch record and SOPs during the resolution process.
4. Question: How do you ensure effective communication with manufacturing investigators during data collection and technical support for investigations?
Answer: Effective communication with manufacturing investigators is crucial during investigations to identify root causes and implement corrective actions. I would maintain open and transparent communication channels with investigators, providing them with the necessary data and information promptly. I would collaborate with them to understand the context of the investigation fully and offer technical support based on my knowledge and experience. My goal would be to facilitate a smooth and comprehensive investigation process, leading to actionable outcomes and continuous improvement in our manufacturing practices.
5. Question: Can you share an example of a situation where you demonstrated your ability to handle regulatory audits or inspections?
Answer: In my previous role as a Quality Assurance Associate, I was actively involved in preparing for a regulatory audit by [mention relevant regulatory authority]. I coordinated with cross-functional teams to ensure that all documentation, including batch records, equipment logs, and training records, were up-to-date and in compliance with cGMP requirements. During the audit, I assisted the auditors, providing them with the requested information and guiding them through our processes. As a result of our thorough preparations and cooperation, we successfully passed the audit with no major findings. This experience has reinforced my understanding of the importance of regulatory compliance and my ability to handle audits effectively.
  Subscribe Rasayanika for more Chemistry and Pharma job updates..