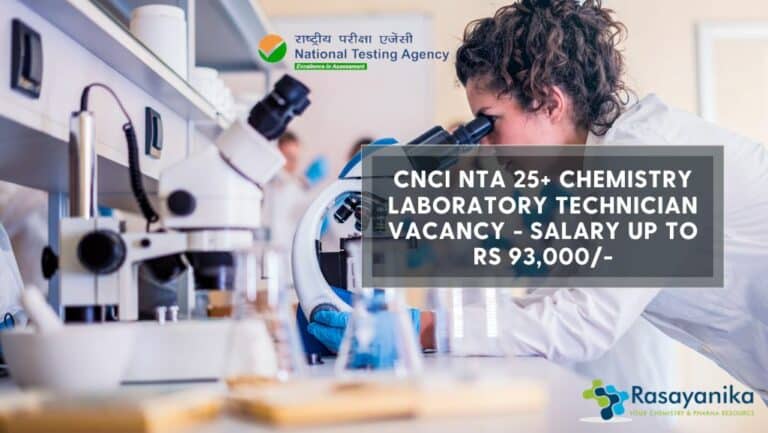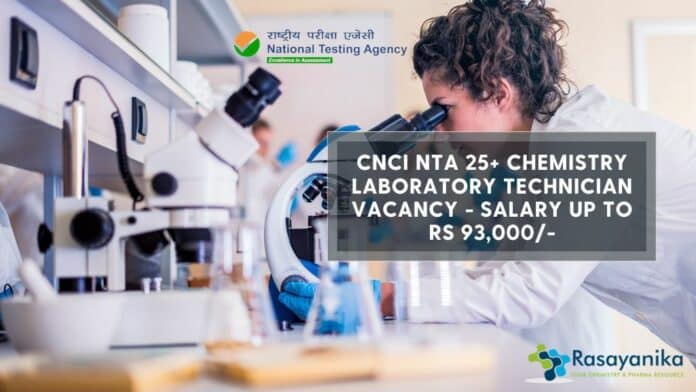 CNCI NTA 25+ Chemistry Laboratory Technician Vacancy
CNCI Proposes for Collaboration with National Testing Agency (NTA), Ministry of Education the conduct of Computer Based Test (CBT) and Typing Test/Skill Test for the recruitment of various posts as given below and manage the recruitment process.
Job Title: Laboratory Technician Level-5
No.of posts: 30
Category wise Break-up
OBC:08
ST:03
SC:05
UR:11
EWS-03
Nature of Recruitment: CBT and Skill Test
Pay Matrix Level 5 (Rs.29, 200- 92, 300/-)
Eligbility Criteria: 
BSc Chemistry Plus Diploma in Medical Laboratory technology from a Govt.
recognized Institute with 2(two) year certified experience post Diploma in a govt. recognized Laboratory / Medical Institute.
How To Apply: 
1. Candidates can apply through "Online" mode only for the post(s) as per the advertisement/vacancy circular.
2. Submission of Online Application Form may be done by accessing NTA website:
https://recruitment.nta.nic.in/ and https://www.cnci.ac.in/career/ The Application Form in any other mode will not be accepted.
3. Only one application is to be submitted by a candidate for one or more post(s) for which he/she is eligible for, with online payment of prescribed application fee (multiple of number of posts applied for). However, if it is found at a later stage that a Candidate has
submitted more than one Application Forms for one or more post(s), his/her candidature shall be summarily rejected for all post(s)
4. Candidates must follow the instructions given in the Information Brochure/Vacancy Circular and on the Portal: https://recruitment.nta.nic.in/ and https://www.cnci.ac.in/career/ strictly. Candidates not complying with the instructions shall be summarily disqualified.
5. Candidates must ensure that e-mail Address and Mobile Number provided in the Online Application Form are their own, as all information/ communication will be sent by NTA through e-mail on the registered. e-mail address or SMS on registered Mobile Number only.
6. Instructions to the Candidates for filling Online Application Form:
a. Download Information Brochure and Replica of Application Form. Read these carefully to ensure your eligibility. A candidate can apply for more than one posts for which he/she is eligible for, with online payment of prescribed fee (in multiple of no. of posts applied for). However, in case a candidate is found of having filled up more than one application forms for one or more posts, the Admit Card will be cancelled, his /her result will be withheld and /or his/her candidature will be forfeited for this/ future examination.
b. Follow the steps given below to Apply Online:
Step1. Apply for Online Registration using your unique Email Id and Mobile Number.
Step2. Fill in the Online Application Form and note down the system generated Application Number.
Step3. Upload the scanned images of: (i) your latest passport size photograph (file size: 10 kb to200 kb); (ii) own signature (file size: 4kb – 30kb) in jpg/jpeg format/file. (iii) Pass out Certificate and Marksheet of Higher Secondary Examination and Degree/Diploma Certificate wherever applicable. (iv) Document of 5 Date of Birth.
Step4. Pay fee using Payment Gateway through Debit Card/Credit Card/Net-banking/UPI/Wallet and keep proof of fee paid safely for future reference.
c. All the 3 Steps can be done together in one go or at different times.
i. In case the Confirmation Page is not generated after payment of prescribed Fee, then the
candidate should approach the concerned Bank/Payment Gateway integrator (in the helpline number and email given in Annexure-2 of the Information Brochure), for ensuring the s successful payment.
ii. In spite of above, if successful transaction is not reflected on the Portal, the candidate may contact NTA Helpline. If the payment issue is still not resolved, the candidate may pay second time.
iii. However, any duplicate payment received from the candidate by NTA in course of said
transactions will be refunded through the same payment mode through which the duplicate
payment is received, after fee reconciliation by NTA.
d. Download, save and print Copies of the Confirmation Page of your Application Form after successful remittance of fee and keep the same safely for future reference.
7. The Candidates have to appear at their own cost at the Examination Centre on Date and Timing, indicated on their Admit Card issued by the NTA.
8. Any request to change the Examination Centre, Date and Time provided on the Admit Card, shall not be considered under any circumstances.
9. Candidates are advised to visit the websites :https://recruitment.nta.nic.in/& https://www.cnci.ac.in/career/ at regular intervals and also to check their e-mail/ SMS for updates.
Note:
1. The final submission of Online Application Form will remain incomplete if step-2 and step-3 under point 6 are not completed and fee has not been submitted. Such forms will stand rejected and no correspondence on this account will be entertained.
2. No request for refund of fee once remitted by the candidate will be entertained by NTA under any circumstance (except to the Candidates who might have ended up in paying application fee more than once due to any technical issue with the server of the bank/ payment gateway concerned. However, such refund would be made only after ascertaining the actual receipt of payment of prescribed application / exam fee more than once, which would be possible only after reconciliation of fee data as received from the banks
concerned with the fee data recorded in the NIC Server.
3. The entire application process of the CNCI Recruitment Exam-2023 is online, including uploading of scanned images, payment of fees, and printing of confirmation page, etc. Therefore, candidates are not required to send/submit any document(s) including Confirmation Page to NTA through Post/Fax/by Hand/E-mail.
Cities for Examination Centres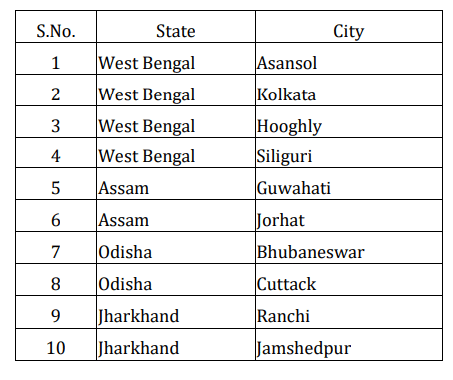 Important Dates and Fee Details: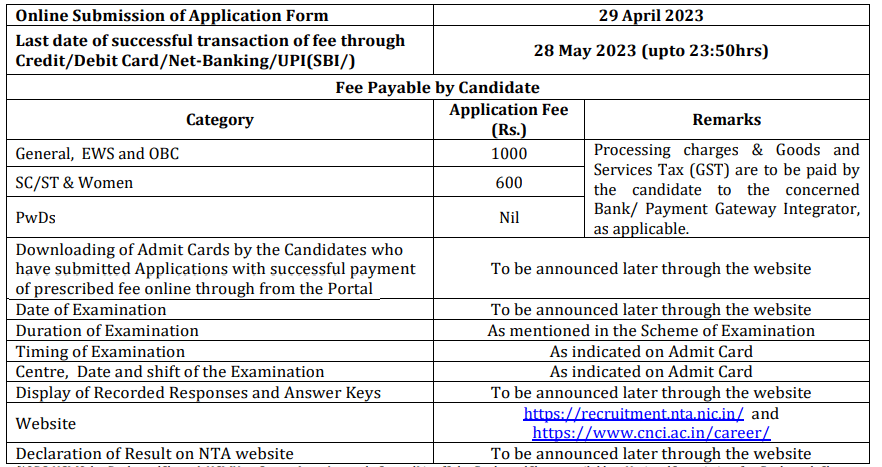 View Main Notification
CNCI NTA 25+ Chemistry CNCI NTA 25+ Chemistry Laboratory Looking for latest chemistry and Pharma job openings, follow Rasayanika Facebook and Telegram and subscribe to our youtube channel for the latest updates on chemistry and Pharma jobs and much more