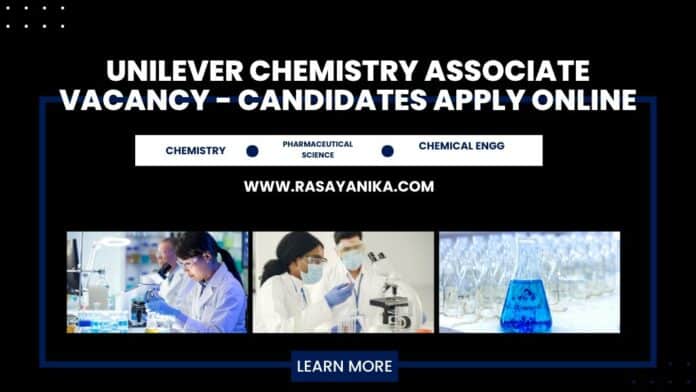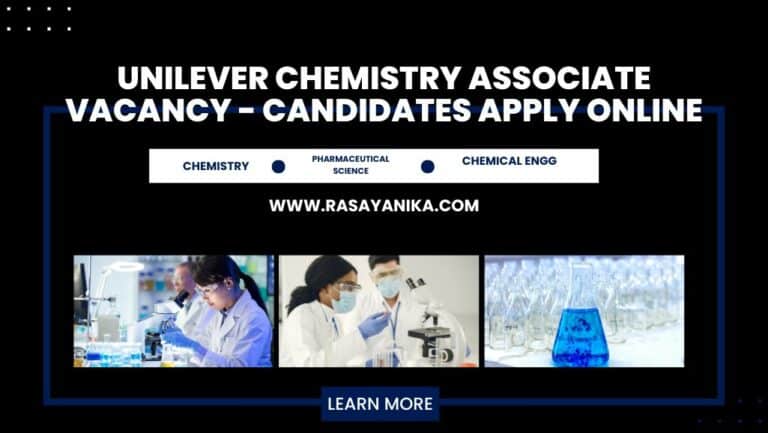 Unilever Chemistry Associate Vacancy – Candidates Apply Online
Chemistry job 2023, Unilever recruitment 2023, Chemistry job opening 2023, chemistry job opening 2023, MSc chemistry job opening 2023, Chemistry job opening 2023, MSc Chemistry job opening 2023. Check out all the details on our website Rasayanika.com
Job Title: Sr. Product Development Associate, Skin Care BG
Location: Mumbai HURC
Eligbility Criteria & Experience
Postgraduate with knowledge of chemistry (preferably Pharmaceuticals/chemical engineering) with 4-6 years' experience. Preferably on Skin care/ Personal care product development.
Well versed with the Product Development Principles – formulation science, material understanding, product testing methodologies, etc.
Well versed with R & D Processes and Protocols – stability protocols and formulation assessments with basic laboratory tools, analytical tests and instrumentation.
Tech Savvy – Well versed with handling digital tools and platforms.
Required Professional skills.
Effective communication skills (verbal/ written)
Dealing with people from multicultural backgrounds
Good interpersonal skills and a team player,
Ability to work independently with Cross-functional team members.
Project management skills & Multitasking ability
Drive, energy to make a real contribution.
Agile, proactive and enthusiastic working style
Design thinking & Creativity.
Proactive, clear, and impactful communication to drive informed decisions and actions.
Purpose of the Job
This is
an opportunity to work as a Sr. R&D Associate for the Skin care brand "Simple" and you will be a part of the Global Skin care Business Group. In this role you are required to provide end to end support with all aspects of formulation development work for India specific design projects and for the Global roll Out projects. You will also be supporting the Global Skin care design team in building our Global Simple brand. Simple is one of our Accelerated Brands for which we will harness the power of R&D to turn around the brand's global performance.
In this role you are required to have technical understanding of various skin care formats and related chemistries, upstream S&T technologies, market/consumer/customer insights, PETA NAT/VEGAN, product biodegradability and sustainability, and natural preservatives. This is a high visibility role requiring independence, creativity, excellent communication with partner functions in India as well as Globally.
Who You Are & What Will You Do
You will join the global Skin Care Design team. As a Senior Associate in India, you will be responsible for Product Design and Development for Simple. S(he) would be working on India Specific and Global projects. The job needs continuous interaction with Global & regional R&D teams, Marketing teams, Supply Chain, Procurement, Quality, Legal, Regulatory teams as well as external agencies as part of innovation product developments. It is expected that the incumbent, during his/her work, will need to deliver to the following key goals:
Carry out a holistic end-to-end product design, working on all aspects of product development: formulation design to fit to insight, meet benchmarks, sensory, assess product stability, efficacy, formulation interaction with packaging and scale up for manufacturing.
Work with the Science and Technology, Category design teams to develop and land innovations and new technologies and formats.
Understand the consumer habits & needs and translate to develop product solutions as needed by the business project briefs.
Formulation Development: deliver to new product development briefs by designing experiments, prototyping and lab experiments, and delivering to finished product.
Independently Scale-up formulations (Planning & Executing) from bench to Pilot Scale & from Pilot to Main Plant manufacturing levels.
Design of stability testing and monitoring, interfacing with analytical laboratory, execution of basic analytical tests, in line with the global stability protocol
Write formulation and process specifications and independently support the Technology Roll-out to the Sourcing Units, by implement processes at Unilever and third party manufacturing facilities.
Design and execute trial proposals for manufacturing trials.
Technology roll-outs, technical transfer dockets preparations.
Operational interactions with Factories/Suppliers, Global R&D teams, etc.
Contributes to patents and papers as per the need of the work/research
Contribute pro-actively in identifying & supporting value improvement opportunities for portfolio of products.
Support the Team in business savings agenda mainly alternate vendor (or 3P) development process including RM Specification Evaluations.
Ensuring compliance to Internal Unilever protocols while developing product solutions with respect to commitment to safety, environment, claim support, specification management etc.
Understand risks and manage & mitigate those as appropriate.
Independently Manage all interfaces (Brand development, Procurement, Supply Chain, Quality) in cooperation with the technical project Leader.
Work closely with other functions (marketing, Regional R&D teams) to develop the product and communication claims and claim support, ensuring strong consumer relevance and engagement.
Work and communicate effectively with different departments and functions to deliver against the project network timings and identify and manage risks.
Unilever Chemistry Associate Vacancy Looking for latest chemistry and Pharma job openings, follow Rasayanika Facebook and Telegram and subscribe to our youtube channel for the latest updates on chemistry and Pharma jobs and much more