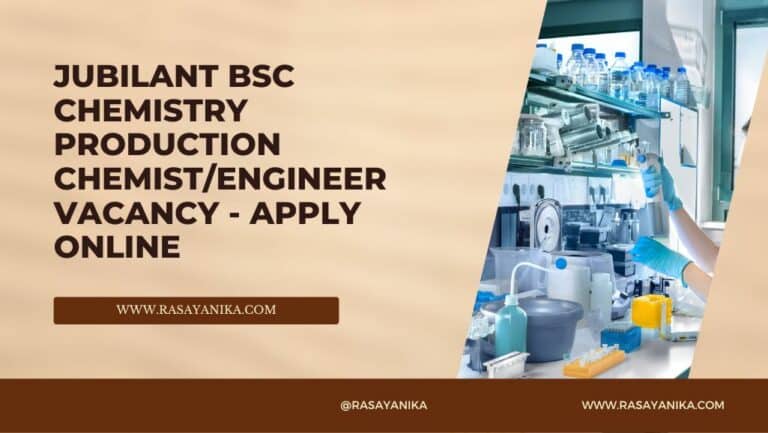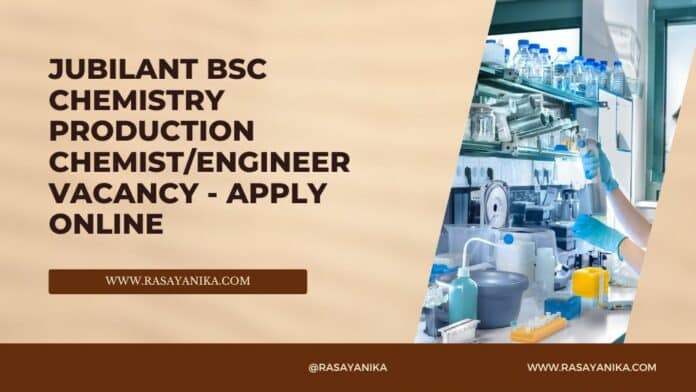 Jubilant BSc Chemistry Production Chemist/Engineer Vacancy
Jubilant life science is looking for Production Chemist/Engineer for the Chemistry department, Bharuch. Chemistry job opening 2023, Chemistry job opening 2023, BSc Chemistry job opening 2023, Chemistry job opening 2023, Intrested and eligible candidates may check out all the details
Dont forget to check out possible interview questions for this job below
Job Title: Production Chemist/Engineer
Location: Bharuch, Gujarat, IND
Qualification & Experience
3 – 5 years of experience in Continuous chemical process / batch process plant
Diploma – Chemical Engineer or B. Sc in Chemistry.
Key Competencies (Technical, Functional & Behavioral)
Operating knowledge of Continuous chemical process / batch process.
Working knowledge of Reactors, filters, centrifuges in the batch process.
Adherence to quality / Safety norms.
Knowledge of DCS / PLC based plant operation.
Knowledge of distillation operation.
Material handling (Toxic / hazardous).
Key Responsibilities
(Performance Indicators)
To ensure smooth and safe plant operation
To perform CTCMP Distillation/MEE operation & maintain process parameters as per the defined SOP.
To ensure safety compliances & housekeeping of the area.
To ensure strict adherence of work-permit system & follow the shift schedule.
To ensure filling of BPR, log sheets and noting of all plant reading regularly.
Loading / unloading of the material from drums, tanks and receives as per the instruction
Inform any deviation/ abnormality to Shift In Charge and do the trouble shooting in the section.
To co-ordinate with Shift In Charge & perform maintenance work.
To undertake any non-routine work from their seniors.
Awareness about responsible care (Environment, Health, Safety and Security )
Possible Interview Questions and Answers For the above post:
Can you explain your experience with continuous chemical process plants and batch process plants?
Answer: I have worked in both types of plants for around 4 years. In a continuous chemical process plant, the process runs continuously and produces a constant stream of product, while in batch process plants, each batch is produced individually.
2. What is your knowledge of DCS/PLC based plant operation, and how have you used it in your work?
Answer: DCS/PLC systems are used to control and monitor plant operations. I have worked with DCS/PLC systems to monitor plant parameters such as temperature, pressure, and flow rates. I have also used these systems to control the operation of equipment such as reactors and centrifuges.
3. How do you ensure adherence to safety and quality norms in a production plant?
Answer: Safety and quality are critical aspects of any production plant. I ensure adherence to safety norms by following safety procedures such as work-permit systems, using personal protective equipment (PPE), and maintaining a clean and organized work area. For quality control, I follow defined standard operating procedures (SOPs), fill out batch production records (BPRs), and maintain accurate logs of plant readings.
4. What is your experience with material handling, especially with toxic or hazardous materials?
Answer: Material handling involves loading and unloading raw materials and finished products from storage tanks, drums, and other containers. I have experience working with toxic and hazardous materials and strictly follow safety protocols while handling them. I have also received training in handling such materials and am familiar with the use of protective gear and safe handling practices.
5. Can you describe a time when you had to troubleshoot a problem in the plant section and how you resolved it?
Answer: In my previous role, there was an issue with the reactor, which was not operating as per the defined SOPs. I immediately informed the shift in charge and identified the cause of the problem, which was a malfunctioning valve. I took the necessary steps to repair the valve, and once it was fixed, the reactor resumed normal operations. I ensured that all the necessary documentation was completed, and the issue was resolved within the shortest time possible, minimizing any production downtime.
Editors Note: Jubilant BSc Chemistry Production Subscribe to Rasayanika for the latest chemistry and Pharma job openings, follow us on Facebook and Telegram and subscribe to our youtube channel for the latest updates on chemistry and Pharma jobs and much more.