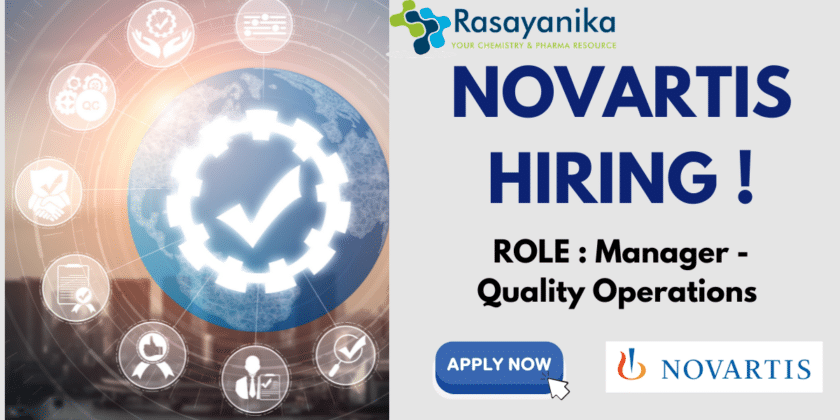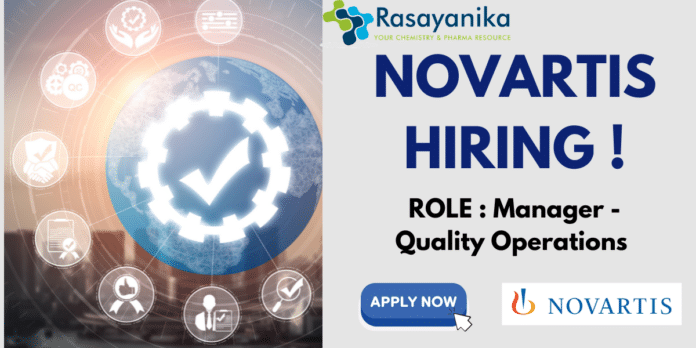 Manager – Quality Operations – Sandoz HIRING – apply now 
Role : Manager – Quality operations
Job ID : 379753BR
Division : SANDOZ
Business Unit : Quality STO
Work Location : Hyderabad, AP , India
Functional Area : Quality
Employment Type : Regular
Educational qualification : Sound technical & scientific knowledge of pharmaceutical/ chemical analytics/QC/ equivalent Post-Grad degree (MSc.,) in Chemistry, Pharmacy or other Natural Science degree with proficient program in organic chemistry with 8 years of relevant experience
Position Purpose:
Responsible for managing quality aspects within area of responsibility and to ensure that the operational business is in compliance with cGMP (Current Good Manufacturing Practices), the Quality Assurance Agreement, regulatory requirements & the Novartis Quality Manual and is conducted according to the relevant Standard Operating Procedures
Major Accountabilities for the role of Manager – Quality Operations :
Oversight of all production & testing activities, ensures compliance with cGxP, incl. data integrity and eCompliance
Support exception investigations
Review and approval of production, QC, and AS & T records -MBR review
Support OpEx improvement projects
Executes batch release in compliance with registration
Reporting of technical complaints / adverse events / special case scenarios related to Novartis products within 24 hours of receipt
Distribution of marketing samples (where applicable) Responsible for the evaluation of chemical synthesis routes to identify, categorize and control possible mutagenic impurities in active pharmaceutical ingredients (API) and drug products
Assessment of potential degradation pathways of APIs in final drug products with the purpose to identify and assess possibility for the formation of potentially mutagenic impurities and ways to prevent this.
Participate in cross- functional technical teams as required to deliver on projects. Involved in paper- based assessment of toxicological data for mutagenic, genotoxic and nitrosamines
Conduct of feasibility studies for generic API synthesis and synthesis of by-products, degradation products and related substances.
Protection of intellectual property in the field of organic synthesis.
Utilize scientific expertise and chemical database to generate solutions to problems.
Maintaining laboratory logbooks and other project documents in accordance with good documentation practice (data integrity) and HSE requirements.
Co-ordination of laboratory work performed by technicians.
Creation of relevant instructions, protocols and reports in accordance with scientific and regulatory standards.
Other tasks as assigned by the supervisor and tasks based on a specific appointment.
Implementation of and adherence to all the instructions and requirements for safe work, environment protection and property protection. Responsibility for personal and professional development, willingness
Minimum requirements for the role of Manager – Quality Operations :
Sound technical & scientific knowledge of pharmaceutical/ chemical analytics/QC/ equivalent Post-Grad degree (MSc.,) in Chemistry, Pharmacy or other Natural Science degree with proficient program in organic chemistry with 8 years of relevant experience.
Excellent theoretical knowledge of Organic chemistry and mechanisms of chemical reactions, advanced knowledge of medicinal chemistry advantageous.
Proven track record as a successful synthetic Organic Chemist and other complex synthetic chemistry experience.
Priority will be given to candidates with relevant industrial experience in the field of active pharmaceutical ingredient synthesis and PhD from the field of Organic or Medicinal chemistry.
Excellent communication, presentation and interpersonal and analytical skills Experience of working closely with the global stakeholders.
Project Management skills
CHECK OUT RASAYANIKA FOR MORE UPDATES
Here are some interview questions and sample answers for the role of Manager – Quality Operations :
Question: Can you explain your experience in managing quality aspects and ensuring compliance with cGMP and regulatory requirements in your previous roles?
Answer: In my previous role as a Quality Operations Manager, I was responsible for overseeing all production and testing activities to ensure compliance with cGMP standards and regulatory requirements. I implemented robust quality assurance procedures and Standard Operating Procedures (SOPs) to maintain high-quality standards throughout the manufacturing process. Additionally, I conducted regular audits and inspections to identify and rectify any deviations from the required quality standards, ensuring that the operational business remained in compliance with industry regulations and the Novartis Quality Manual.
Question: How do you handle exception investigations in a GMP environment?
Answer: When handling exception investigations, I follow a systematic approach to identify the root cause of the issue and implement appropriate corrective and preventive actions (CAPAs). I gather relevant data and evidence, conduct thorough analyses, and involve cross-functional teams as necessary to address the deviations effectively. Throughout the process, I maintain clear documentation of the investigation steps and outcomes, ensuring that data integrity and eCompliance are upheld. Effective communication with all stakeholders is crucial during this process to ensure transparency and timely resolution.
Question: How do you ensure batch release is conducted in compliance with registrations and reporting of technical complaints or adverse events?
Answer: Batch release is a critical step in ensuring product quality and compliance. To achieve this, I closely collaborate with regulatory affairs teams to ensure that all necessary registrations and documentation are complete and accurate before batch release. I work with Quality Control (QC) and production teams to review and approve relevant records, including Master Batch Records (MBRs). In case of any technical complaints or adverse events related to Novartis products, I adhere to the regulatory requirement of reporting such incidents within 24 hours to the relevant authorities and internal stakeholders, ensuring prompt and appropriate actions are taken.
Question: How do you approach OpEx improvement projects to enhance quality operations?
Answer: For OpEx improvement projects, I believe in a data-driven approach. I start by identifying key areas for improvement, often through the analysis of process metrics, feedback from stakeholders, and identification of pain points. I then lead cross-functional teams to brainstorm solutions and develop actionable plans. Throughout the project, I emphasize the importance of collaboration and open communication to ensure successful implementation. Regular monitoring of progress and continuous improvement efforts are essential to achieve sustainable enhancements in quality operations.
Question: Can you describe a situation where you had to protect intellectual property in the field of organic synthesis?
Answer: In a previous project, we developed a novel synthetic route for a critical active pharmaceutical ingredient (API) that significantly improved its efficiency and reduced production costs. To protect this valuable intellectual property, we followed strict confidentiality protocols within the team and with external partners. We also engaged with the legal department to file patent applications to safeguard our innovation. Additionally, I ensured that all lab work and documentation related to this project were handled with utmost confidentiality and in compliance with data integrity standards.
Good luck with your interview!