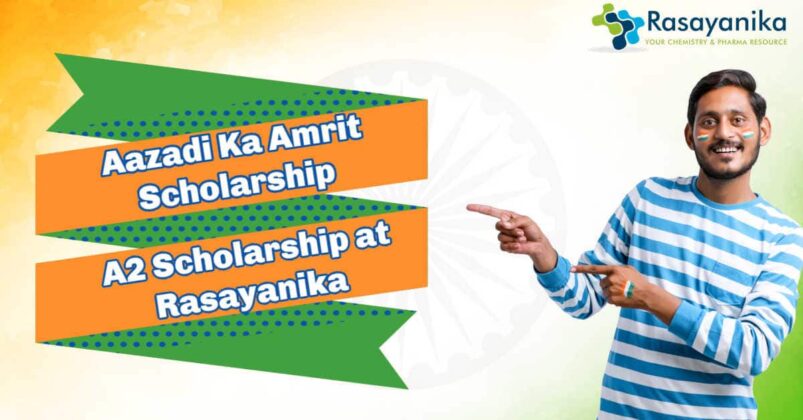 Aazadi Ka Amrit Scholarship – A2 Scholarship at Rasayanika
Dear Rasayanikans,
We are fresh off the celebration of Azadi Ka Amrit Mahotsav. Celebrating the glorious 75 years of Independence our nation had fought for tirelessly. We can all enjoy the taste of freedom thanks to all our nation's heroes. Freedom as a concept is different for every individual and when it comes to CSIR NET & GATE Exams – the goal is common. Freedom from worries, stress, fear and tension is what we all look for. 
To help you bring back that Aazadi, Biotecnika is proud to launch the Aazadi Ka Amrit Scholarship or A2 Scholarship exclusively for CSIR NET & GATE Aspirants. 
What is Aazadi Ka Amrit Scholarship or A2 Scholarship?
Applications are invited from interested and eligible students who wish to enhance their careers in research and development. If you are looking to make a difference in the world of research and need a boost to get to that dream, Aazadi Ka Amrit Scholarship or A2 Scholarship will help you get one step closer to achieving those goals. 
Scholarship Details
75 scholarships are up for grabs. If you want to be among the lucky 75 to win this scholarship, then fill up the form below as soon as possible. Winners will be chosen on a first come first serve basis and based on your marks in MSc. Time is of the essence, so your quick thinking can help you win. A golden opportunity is knocking at your door, so the choice is yours to answer it!
🤩 GRAB THIS OPPORTUNITY HERE 🤩
Scholarship Breakdown
The following is the breakdown of the scholarships that will be awarded based on your eligibility.
100% Scholarship – 5 Students

75% Scholarship – 15 Students

50% Scholarship – 25 Students

25% Scholarship – 30 Students
For applicants who will be awarded the 25%, 50% and 75% scholarships, you will be contacted by our representatives by phone. The winners of the 100% Aazadi Ka Amrit Scholarship or A2 Scholarship will be announced on September 5th 2022. 
Some Salient Features of Aazad Batch
Exam Focussed Daily classes- take classes in the comfort of your home

Raftaar 2.0 Crash Course for September 2022 Exam

Advanced Bioinformatics and Proteomics Virtual Internship 

Printed  Hard copy Study Material- Specially designed materials 

Unlimited Expert Assistance & Doubt Solving via chat

Class tests, Monthly practice exams, All India level test series

Video Backups of all classes & Much Much More

Various other tools to help you revise better.
So if you wish to have these tools handy while preparing for your goals and dreams then apply for the Aazadi Ka Amrit Scholarship or A2 Scholarship today and give yourself the chance to fulfil your dreams.
Aazadi Ka Amrit Scholarship Registration Form