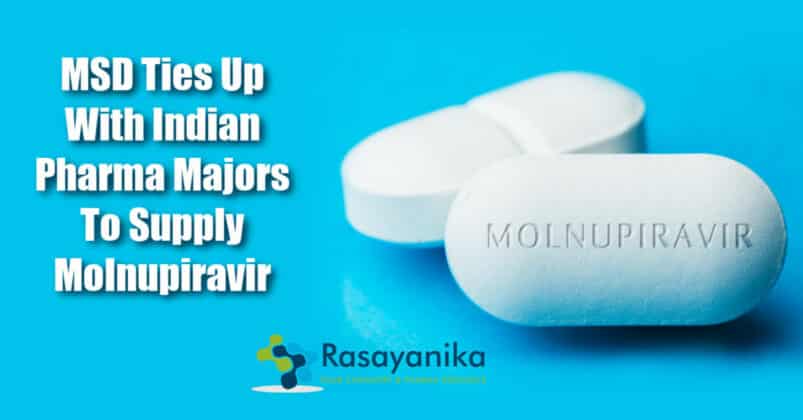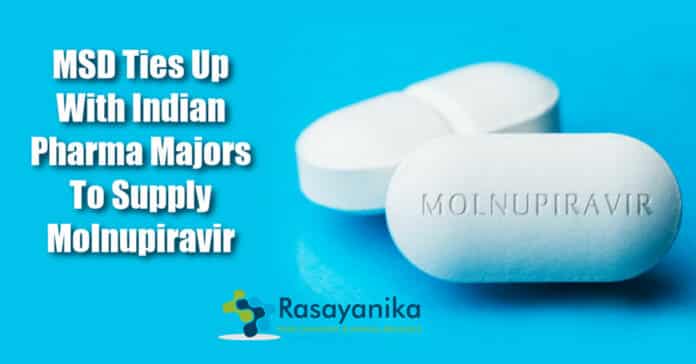 Oral COVID-19 Drug Molnupiravir: MSD ties up with 5 Indian pharma majors for supply
MSD Pharmaceuticals Pvt. Ltd., a fully-owned subsidiary of Merck & Co., Inc., has entered into non-exclusive voluntary licensing deals with 5 top Indian generic manufacturers for the supply of molnupiravir. Molnupiravir is an investigational oral antiviral agent presently being examined in a Phase-3 trial to treat non-hospitalized COVID-19 individuals in India.
MSD, which is developing molnupiravir in partnership with Ridgeback Biotherapeutics, has become part of these contracts to speed up the availability of molnupiravir in India and other low- and middle-income nations complying with approvals or emergency authorization by local regulatory agencies.
Kenneth C. Frazier, chairman, and CEO, Merck & Co., Inc., U.S, stated that these deals, toward which they have been working as they have been researching molnupiravir, will aid to increase the accessibility of molnupiravir in India and across the globe.
The chairman and CEO stated that they are staying dedicated to help the international response that will bring alleviation to individuals of India and, inevitably, bring an end to the pandemic.
The contracts have been signed with Cipla Ltd., Dr. Reddy's Laboratories, Emcure Pharmaceuticals Ltd., Hetero Labs Ltd., and Sun Pharmaceutical Industries Ltd
.
According to the contracts, Merck & Co., Inc., U.S will give permissions to these manufacturers to provide molnupiravir to India.
Merck & Co. is also in conversations with the Medicines Patent Pool to examine the possibility of further licenses.
Rehan A. Khan, managing director, MSD-India Region, stated that through collaborations with established Indian generics manufacturers, they are strengthening their commitment to broadening access to molnupiravir in India.
He further stated that they eagerly anticipate working together with these partners and sustaining them in advancing their aim of enhancing lives. They are in discussions with the government and other crucial stakeholders as they remain dedicated to increasing equitable access to drugs and bringing ingenious treatments to the nation.
Molnupiravir (EIDD-2801/ MK-4482) is an experimental, orally bioavailable form of an effective ribonucleoside analog that hinders the duplication of several RNA viruses consisting of SARS-CoV-2.
Oral COVID-19 Drug Molnupiravir: MSD ties up with 5 Indian pharma majors for supply
---
Read also: