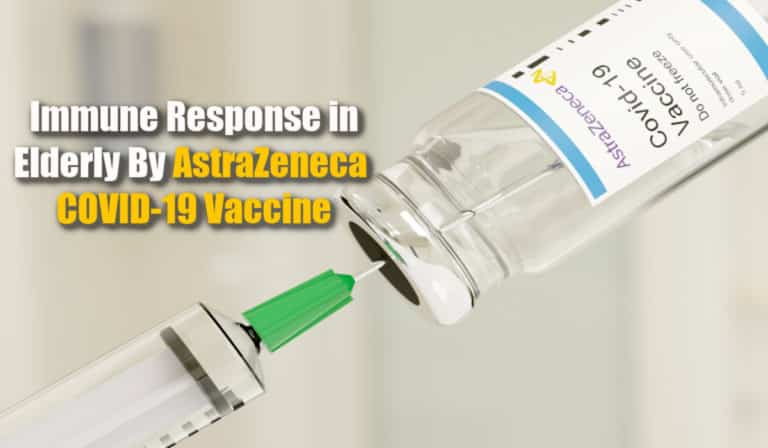 AstraZeneca-Oxford COVID-19 Vaccine Develops Immunological Response in Older People
Prospective coronavirus vaccine by collaborative works of Oxford University and AstraZeneca generate an immune reaction in the elderly group according to publications on Thursday. In addition to that, scientists are anticipating to launch of the final phase trial outcomes of the AstraZeneca COVID-19 Vaccine by the end of December.
The data, reported partially last month but released fully in The Lancet medical journal on Thursday, recommend that those beyond the age of 70, who are at greater threat of severe illness and death from COVID-19, can develop robust resistance.
Maheshi Ramasamy, a consultant, Oxford Vaccine Group (OVG), said that the strong immunological response of AstraZeneca COVID-19 Vaccine induced by antibody and T-cells in the elderly are promising.
Even though a more explicit study has to be conducted to confirm the effect of the AstraZeneca COVID-19 Vaccine, they believe that their treatment will be of assistance to the weakest communities, Ramasamy, co-lead researcher, added.
The investigator mentioned that the final Phase III clinical trial of AstraZeneca COVID-19 Vaccine is in progress for verifying the research and to check whether the vaccine has broad-spectrum protection against SARS-COV2 in all people, especially with the ones having long term illness.
These late-stage trial results of AstraZeneca COVID-19 Vaccine will positively be out by Christmas, according to Andrew Polland, Director of OVG. He also stated that it is way too soon to identify and understand the working efficiency of the vaccine.
In BBC radio he claimed that they haven't reached the ultimate result and they definitely are not going to hurry for that. He also told that they are not much farther from the target and surely will release the results prior to Christmas.
The number one vaccine contender for worldwide trials developed by the Oxford-AstraZeneca group was named AZD1222 or ChAdOx1 nCoV-19.
However, competitor vaccine companies, specifically Pfizer, Moderna, and BioNtech have progressed further with the launch of Phase III trial results proving 90% efficiency.
AstraZeneca COVID-19 Vaccine is unique from both Moderna and Pfizer-BioNtech shots, as it happens to be  a viral vector vaccine base on an attenuated form of the common cold virus seen in chimpanzees
Author : Geema George