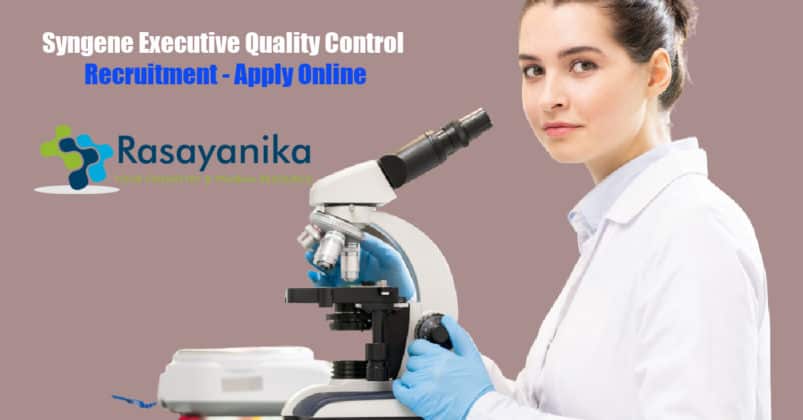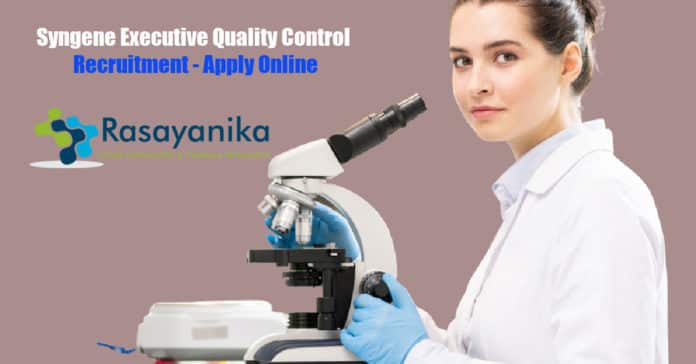 Syngene Executive Quality Control Recruitment – Apply Online
Syngene Pharma.Syngene Job. Pharma & chemistry Candidates with MSc are encouraged to apply online at Syngene for vacancies that are available. Syngene is hiring chemistry & pharma candidates. Interested and eligible candidates may apply online. Pharma job opening 2020.
Job Title: Executive
Job Location: Bangalore
Department: Quality Control
Educational Qualification: M.Sc. Chemistry / M. Pharma
Technical/Functional Skills:
Familiar with Chromatography and Non-Chromatography analysis of Drug Substances and Drug Product.
Well experienced in analytical techniques using scientific instruments like HPLC, GC, FTIR, UV, NMR, polarimeter, KF/ Auto titrator, ICP-MS, ICP-OES, coulometry and conventional methods.
Hands-on experience in LIMS (Labware), Chrome Leon as an added advantage.
Experience: 1 to 3 Years Industrial Experience in reputed Pharmaceutical Quality Control Department
Behavioral Skills:
Should have good communication skill and should be a good team player.
Ability to work successfully in a dynamic, ambiguous environment.
Ability to meet tight deadlines and prioritize workloads.
Ability to develop new ideas and creative solutions.
Should able to work in team and flexible for working in shifts.
Should be a focused employee.
Job Description:
Key Responsibilities:
Good experience in Quality Control with a reputed pharmaceutical company.
Experience in sampling and chemical analysis of Raw Materials, packaging materials, in-process, cleaning samples, Intermediates, Finished Product Samples and validation.
Perform analysis as per the written procedures and recording the observations contemporaneously in the respective records.
Knowledge on 21 FR part 11 compliance requirement, ICH and FDA guidelines.
Awareness about Data Integrity policies/procedures, lab safety and personnel safety
Experience in the handling of QMS (laboratory incidents, deviations, OOS and OOT).
Preparing the QC Specifications, protocols and performing the calibration of the QC Instruments.
Following Good Laboratory Practices while working in QC Laboratory.
To maintain and clean responsibility allotted for the individual instrument.
Reviewing of Change controls, Validation documents protocols and reports.
Use of required safety apparels while sampling, analysis and working in the laboratory. Ensure safety compliance as per Company policy and EHSS requirement.
Responsible to perform the analytical activities as per the approved Specification, MOAs, IOP, GP or protocol wherever applicable and generation of raw data with respect to its correctness, authenticity, completeness and other aspects of data integrity as per Data Integrity policy.
Laboratory Instrument calibration as per the written procedure.
Troubleshooting of instruments like HPLC, GC, water content of KFT, KFC and Potentiometer.
Responsible for training to new joiners and reviewing of training documents and qualification documents.
Interaction with Production, R&D, QA and other departments for the smooth functioning of the activities.
Initiation of laboratory incident and deviation.
Preparation of draft reports and calculation sheets.
Disposal of sample for analysis after use.
Taking any other job allocated by HOD or Section Head.
Analysis of Intermediate finished product and Working standard qualification as per the specification.
Ensuring, verifying and reviewing the instrument usage log periodically and accordingly checking the labels as per SOP.s
Follow environment, health, and safety (EHS) requirements at all times in the workplace ensuring individual and lab/plant safety.
Ensure environment, health, and safety (EHS) measures are imparted via training and adhered within the team.
Editors Note: Syngene Executive Quality Control Subscribe to Rasayanika for latest chemistry and Pharma job openings, follow us on Facebook and Whatsapp and subscribe to our youtube channel for latest updates on chemistry and Pharma jobs and much more.