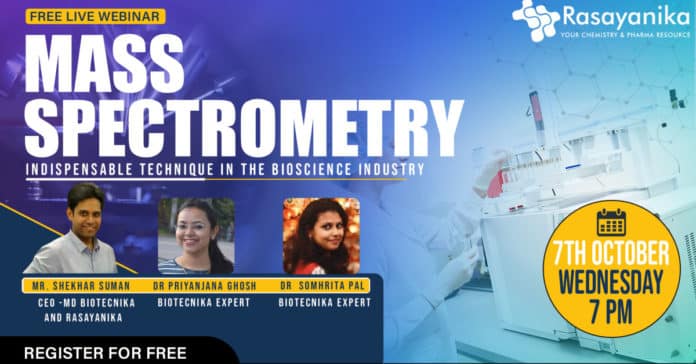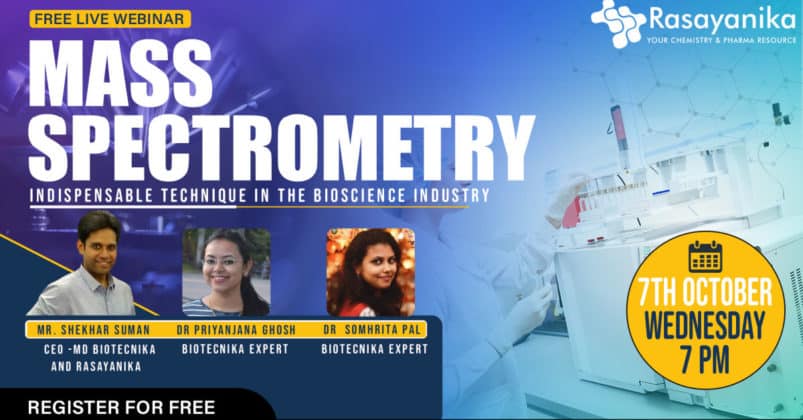 Webinar On Mass Spectrometry
FREE WEBINAR 
Indispensable Technique in the Bioscience Industry –Mass Spectrometry
Dear Members
After the successful completion of the Live webinar on the PCR Technique, we are back with yet another important and necessary technique that all researchers must know.
Advanced Class on Mass Spectrometry
Mass spectrometry (MS) is an advanced analytical technique for accurate mass measurement. Using this analytical technique chemical substances are identified by the sorting of gaseous ions in electric and magnetic fields according to their mass-to-charge ratios. Over the last few decades, Mass-spectrometry has evolved and is now widely being used in drug testing and discovery, food contamination detection, pesticide residue analysis, isotope ratio determination, protein identification, carbon dating, and many more.
Even though this technique is of great importance to Life Science, Chemical science, and pharma students, many fail to understand the technology involved. To dig deeper and understand the science behind Mass Spectrometry Biotecnika & Rasayanika presents Advanced Class on Mass Spectrometry.
Webinar Details:
Date: 7th October 2020
Time: 7 PM IST
Mode Of Webinar: Online
Duration: 90 Mins approximately
Registration Fee: Free of cost for all Rasayanika Members, Students, Teachers, and Bio-professionals
Speakers: Mr. Shekhar Suman, Dr. Priyanjana Gosh & Dr. Somrhita Pal
Who should attend?
All Chemical science, and pharma graduates, postgraduates, teaching & industry professionals along with research enthusiasts should attend this exciting Webinar On Mass Spectrometry.
One time opportunity to interact with the experts and clear your doubts regarding this significant technique.
Knowledge is the new rich, arm yourself with it.
**Surprise takeaways for every attendee**
Reach our experts for any queries
Call 1800-1200-1818 / 080-5099-7000 / 080-5099-2444 for more details.