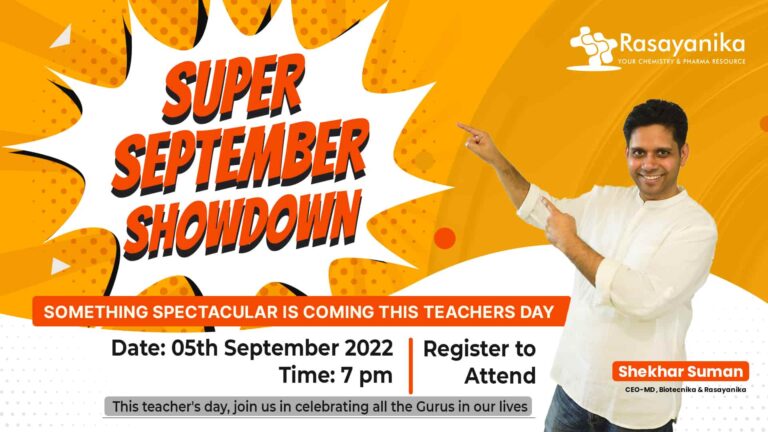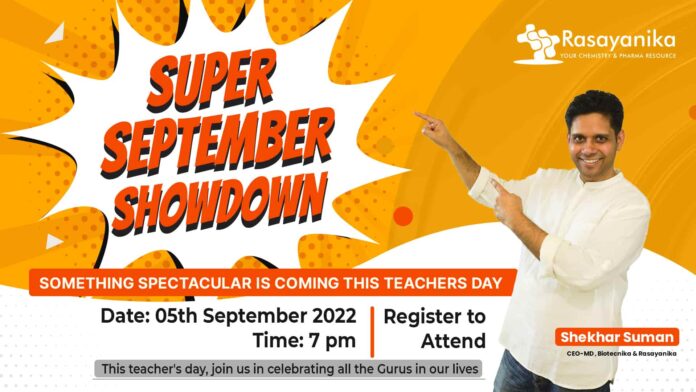 Super September Showdown – This Teachers' Day Something Spectacular Is Coming @ Rasayanika – Register Now & Stay Tuned
Hello everyone
A warm welcome to the Super September Showdown. Hint hint…something spectacular is coming! It's been ages since we have had an exclusive show for all of you, so in this upcoming month of September, we have something spectacular, something incredible that is headed your way.
If you want to know more about Super September Showdown then all you have to do is download the Biotecnika app if you haven't already and fill out the form below because some exclusive goodies are headed your way. 
Biotecnika always goes gun blazing for milestone celebrations. And this September it's all about Teachers' Day. 
Why Teachers' Day?
I came across this quote while scrolling through the other day 
"A teacher's job is to take a bunch of live wires and see that they are well grounded." – Darwin D Martin.
Take a moment to think about that quote. We are a bunch of live wires, aren't we? So much potential, so much energy, excitement and possibilities each one of us possesses. But shouldn't it be channelled in the right direction? Grounding us is what teachers can do. A good teacher knows how to handle each one of us based on our capacities and abilities and this is no easy task. 
They see countless students over the years and take on more than one can handle, but there are some gems out there that want to nurture their students and help them thrive and flourish in their lives. It's a thankless job most times, it's expected that handle the various personalities of students with ease. But it's so difficult to figure out how each person functions. With the limited time that they have with them, they try their best to make an impact and leave an impression on young minds and hope that they can help raise human beings that will leave an indelible mark on society and the world. 
Hence to celebrate the indomitable spirit of our teachers or our gurus, Biotecnika & Rasayanika are celebrating Teachers' Day 2022 with style! Something Spectacular is coming to our YouTube channels on the occasion of Teachers' Day i.e., 05th September 2022. 
For details on Super September Showdown read below
Date: 05th September 2022
Time: 7 pm
Venue: Biotecnika & Rasayanika YT channels
Help us celebrate the gurus in your lives who have helped you or helping you achieve all of your dreams and goals. It's the one day that we take to thank them for the lifetime of knowledge and inspiration they have provided us. Register and see you at 7 pm, let the Super September Showdown begin!