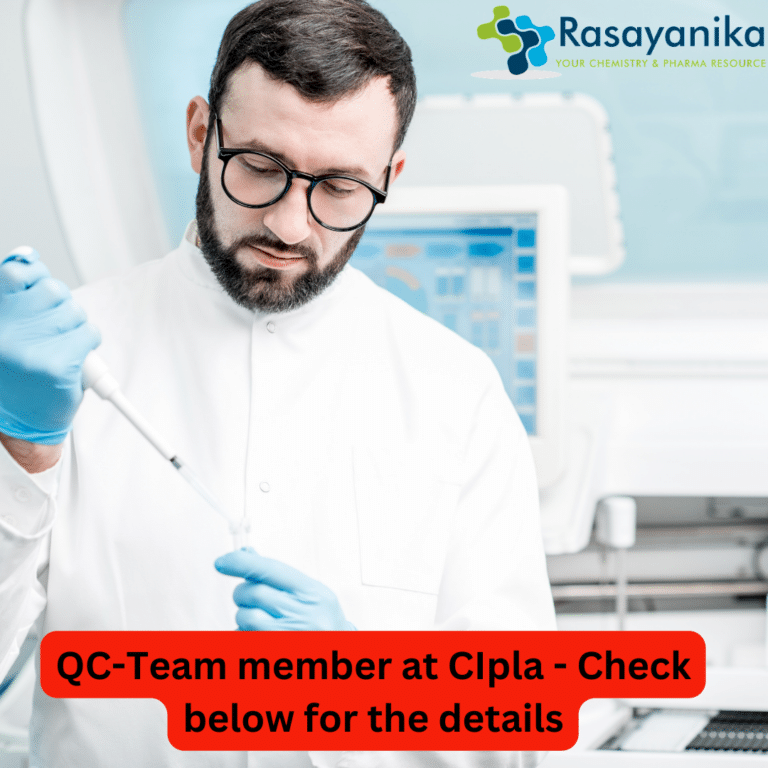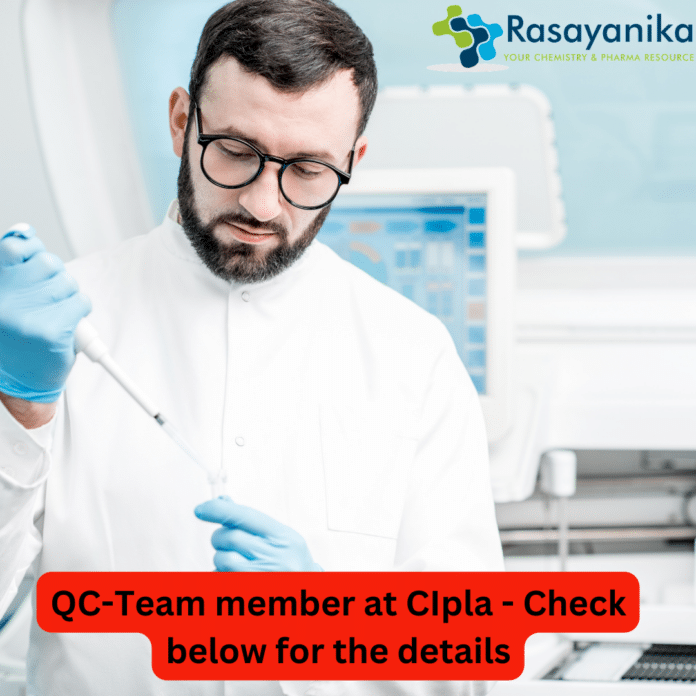 Latest B Pharm Job. Cipla Junior Team Member – QC opening. You can go throught the details below. Apply now.
Job role- Junior Team Member – QC
Location – Rangpo
Job Purpose
Prepare, update and review the specifications, SOPs, policy and operating documents for analysis of materials in order to ensure alignment to predefined quality parameters and compliance to respective standards / pharmacopeia and cGMP requirements
Accountabilities
I. Prepare documents like SOPs, specifications and non-routine documentation and ensure timely availability across the site to provide support during the analysis
II. Review the latest pharmacopeial updates, supplements and amendments by evaluating the updates required in the available document to ensure the compliance with the current pharmacopoeia through consent with regulatory body
III. Review the assigned documents by referring the concern backup and pre-defined quality procedure to ensure its compliance against the quality requirements
IV. Issue documents to applicable units, by maintaining the record of the same in the issuance record (bound book) so the current version of the common document is available at the unit
V. Execute harmonization and simplification process of documents to reduce complexities in processes and ensure standardized procedures are followed
Education Qualification
M.Sc. / B. Pharma
Relevant Work Experience
2 years of experience in QC department of a pharmaceutical organization
Competencies/Skills for Latest B Pharm Job-
Communication Skills (clarity of thought, comprehension)
Likely potential for growth
Job / Product / Technical Knowledge / Pharma domain knowledge
Presentation & Interpersonal skills (If applicable)
Managerial or People Management skills
Safety awareness (If applicable)
Relevance of Previous Experience
Comprehension, Analytical & Problem solving abilities
Productivity & Result Orientation (If applicable)
Attitude
Qualification fitment
Sales drive (If applicable)
Personality traits (Individualistic / Team player, Out spoken, Maturity level etc.)
Hello! We've gathered interview questions and answers to boost your confidence for upcoming interview of Latest B Pharm Job. Good luck!
Can you explain your role in preparing and updating Standard Operating Procedures (SOPs) and specifications for materials analysis in your previous experience?
Answer: In my previous role, I actively contributed to preparing and updating SOPs and specifications for materials analysis. This involved collaborating with the QC team to ensure that the documents were aligned with predefined quality parameters and complied with relevant standards and cGMP requirements. Timely availability of these documents was a priority to support seamless analysis processes.
How do you stay informed about the latest pharmacopeial updates and amendments? Can you share an example of how you ensured compliance with current pharmacopoeia standards in your previous role?
Answer: Staying updated with pharmacopeial changes is essential. I regularly monitored pharmacopeial updates, supplements, and amendments and assessed their impact on our existing documents. In one instance, I identified a critical update and initiated the necessary revisions to our documents, ensuring that our processes remained compliant with the most recent pharmacopoeia standards.
Could you describe your approach to document review to ensure compliance with quality requirements and standards?
Answer: Document review involves a meticulous process. I refer to relevant backup and predefined quality procedures, ensuring that every aspect aligns with the required quality standards. My attention to detail and commitment to compliance has helped maintain the quality and accuracy of documents in my previous role.
How do you ensure the timely issuance of documents to applicable units, and how do you keep track of document versions to ensure current versions are available?
Answer: Timely document issuance is crucial for maintaining consistency and adherence to quality standards. I maintain a detailed record of document issuance in a bound book. This way, I can ensure that the most current versions of documents are readily available at the respective units, which aids in efficient and accurate analysis processes.
In your opinion, why is it important to execute a harmonization and simplification process for documents in QC? Can you provide an example of how you've contributed to simplifying processes in your previous role?
Answer: Document harmonization and simplification are essential to reduce complexity and ensure standardized procedures. In my previous role, I noticed that certain QC processes had become unnecessarily complicated. I proposed and implemented a streamlined approach, which not only reduced complexities but also improved efficiency and consistency in our operations. Simplifying processes helps maintain high-quality standards.