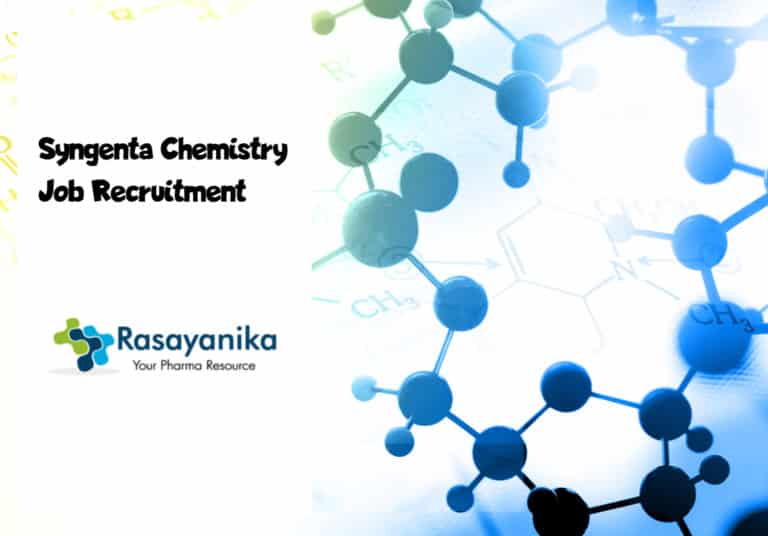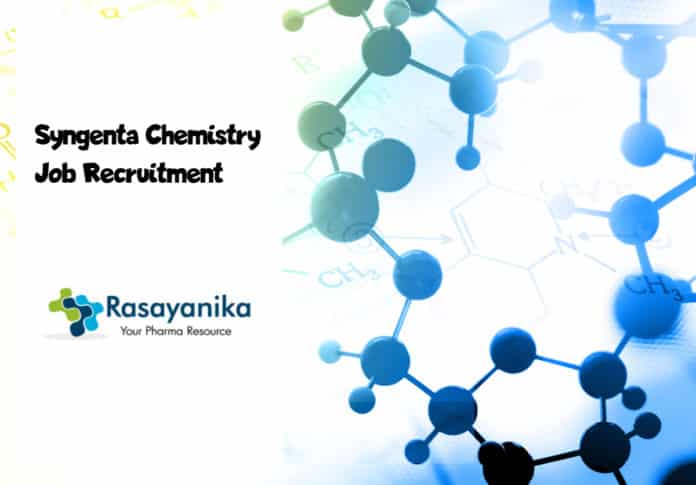 Syngenta Chemistry Job Recruitment 2020- Assistant TPL Post
MSc Chemistry Assistant TPL Jobs @ Syngenta. Career @ Syngenta. MSc Chemistry jobs. Interested and Eligible candidates may apply online. Assistant TPL job openings at Syngenta 2020. TPL job opening 2020 at Syngenta. Check out all the details on our website Rasayanika.com.
Job Title: Assistant TPL
Job Id: 18017993
Location: Aurangabad
Department
Traits & Regulatory
KNOWLEDGE SKILLS & EXPERIENCE:
Critical Knowledge: Basics of Analytical chemistry and general laboratory techniques. Computer knowledge, Basic knowledge on Analytical instruments.
Critical Skills: HPLC, UV Spectrometer, ELISA reader, Biochemical analysis, chemical handling, Data analysis, Logical thinking, Problem-solving skills.
Critical Experience: HPLC, UV Spectrometer, ELISA reader, Biochemical analysis
Domain expertise: Understanding deviations, explaining unexpected results, identifying root causes, constantly exploring improvements
ACCOUNTABILITIES:
Direct people responsibility:
Authority level:
In-charge for all Fruit quality analytics lab activity in vegetables crops.
Work coverage:
Coordination of sample collection and shipment, validation of samples, sample analysis, report generation and submission.
Managing all the requirement of routine lab activities
Regular interaction with stakeholders to understand their requirements
Critical analysis of data to find deviations
Developing protocols for analysis and sample shipments
Developing Teams and working with NFTE and labour for their technical improvement
Updating the latest technical and market knowledge of the area of work
Responsible for:
Project activity timeline for key deliverables like protocol development, routine analysis
Executing plan for allotted work at site.
Planning for judicious use of resources budget monitoring.
HSE and Compliance and management of key CAPEX
Administrative responsibility.
Timely reporting of work execution to Line manager.
Monitoring technical assistants/lab workers for output of the results, crop cultivation, screening, etc.
Co-ordination with BO, breeding and trailing team.
Follow on AMC and Service of key equipment
Financial responsibility.
Utilization of available resources (infrastructure and manpower) for maximum output with higher efficiency.
Know your budget, track your spend and ensure its within
Role purpose
Connect with demand owners, understand their requirements
Understand potential variables affecting end results
Plan and Execute routine quality estimation and analysis as per the procedure.
Trouble fix and understand causes when results not asper expectation
Preparation and submission of reports on agreed timelines
Interact with a global team, executes suggestion and improvement plans
Mange routine laboratory activities -sample and solvent preparation, data collection, documentation, consumable management, people management
Keeping track of R&M of lab equipment.
Ensure HSE requirements are complied with in all lab and other related activities
Editor's Note: Syngenta Chemistry Job Recruitment Subscribe to Rasayanika for latest chemistry and Pharma job openings, follow us on Facebook and Whatsapp and subscribe to our youtube channel for latest updates on chemistry and Pharma jobs and much more.