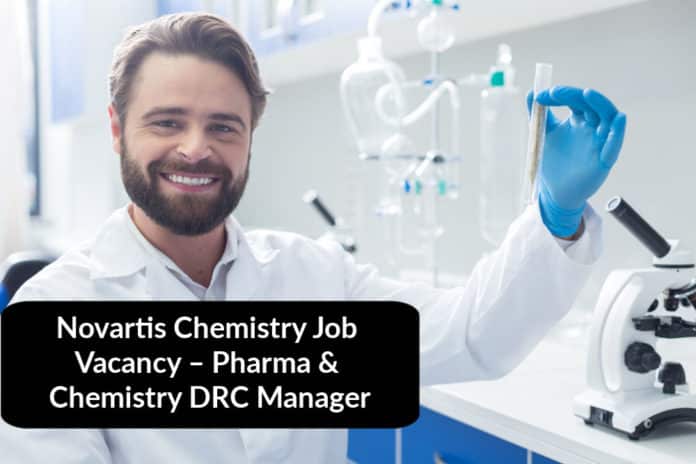 Novartis Chemistry Job Vacancy – Pharma & Chemistry DRC Manager
M.Pharma Manager job openings. Pharmaceutical Jobs. Applications are invited for the post of manager @ Novartis. Career @ Novartis Pharma job opening .vacancy at Novartis. Interested candidates may apply online. Novartis Pharma jobs 2019. Check out all the details on the same below:
Job Title: Manager – Development Regulatory Centers (DRC)
Job Id: 283546BR
Minimum requirements
What you'll bring to the role:
Science degree (Pharmacy, Chemistry,). English, other languages are an asset.
Relevant work experience: 5 to 8 years – Minimum 5 years Regulatory Affairs experience or similar pharmaceutical regulated environment.
Original submission experience with oral dosage forms is required.
Excellent communication skills. High level of organizational skills. Positive attitude, problem-solving mindset.
Extensive hands-on knowledge with CTD Module 2, 3 and 5.
Good knowledge of the business process and project management in the development of generics.
Solid knowledge of ICH, EMA, US FDA, ROW guidelines and regulatory procedures.
Job Description
The primary responsibility of this position is to ensure:
1. All assigned projects have clearly defined regulatory strategies in order to optimize the development work and time to market
2. Regulatory filings/dossiers are prepared and/or reviewed as per established development
milestones
3. Timely regulatory approval is obtained by relevant Health Authorities.
Your responsibilities:
Your responsibilities include, but are not limited to:
Elaborates global regulatory strategies for new product development.
Ensures that all strategies are scientifically sound and in accordance with relevant regulatory requirements.
Participate in project/product-related discussions and provides in-depth strategic, scientific and RA input, for CMC or procedural aspects of given project.
Ensure planning and proper organization of activities in line with the overall project plan and project milestones.
Ensure no delays in submission approval timelines or "first to file" opportunity losses due to gaps in the regulatory strategy and plans.
Responsible for preparation and review regulatory submissions (e.g. ANDS, ANDA, SNDS, NDA) and responses to Health Authority queries.
Compile/write high quality project/product specific regulatory documents to be submitted to Authorities and ensure that those documents meet regulatory requirements.
Continuously improves the quality of dossiers sent to the regulatory authorities ensuring optimal review timelines. Training and regulatory oversight.
Search, analyze, interpret and implement international regulations, guidelines and policies as they pertain to Sandoz products.
Transfer new regulatory related information by preparing internal workshops for training of both DRC and SDC personnel.
Provide regulatory training and coaching to the DRC associates, as needed.
Participate in the development and implementation of standard operating procedures.
Act as the point of contact for Global Regulatory Affairs initiatives/programs.
Provides support and coordinates with relevant SDC team members. Provide support for health authority inspections.
Editor's Note: Novartis Pharma Job Vacancy Pharma Job, Chemistry & Pharma, M Pharma Jobs Pharma & Chemistry expert, M Pharma, Pharma jobs, Specialist post at Novartis, jobs at Novartis, Novartis, quality jobs at Novartis, Subscribe to Rasayanika for latest chemistry and Pharma jobs. Follow us on Facebook.