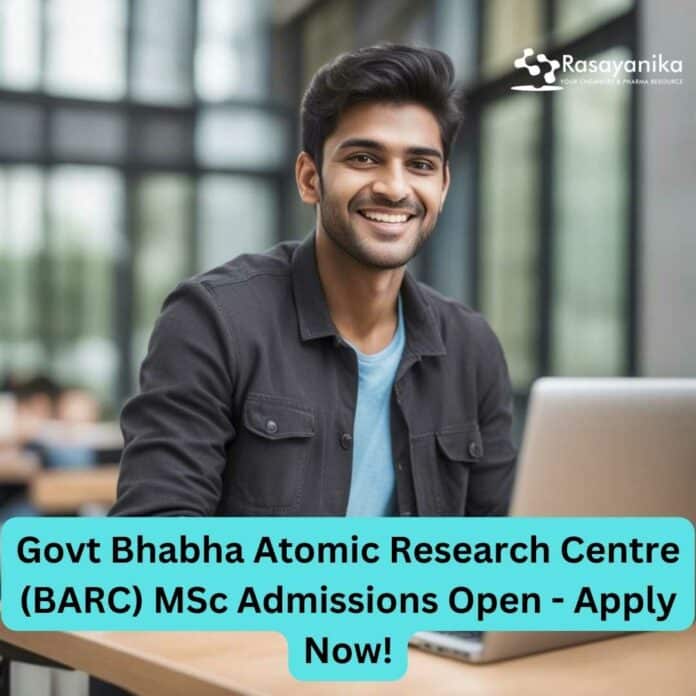 BARC MSc Admission 2024 Open – Apply Now!
BARC MSc Admission 2024 Open – Apply Now! BARC MSc Admission 2024. Interested and eligible applicants can check out all of the details on the same below:
GOVERNMENT OF INDIA
BHABHA ATOMIC RESEARCH CENTRE
ADVERTISEMENT NO. 01/20223 (R-V)
Last date for receipt of Application: 12.11.2023
The Radiation Medicine Centre of Bhabha Atomic Research Centre invites applications
for undergoing the following courses under the aegis of Homi Bhabha National Institute
(HBNI), a Deemed to be University, Mumbai.
COURSE (1):M.Sc. (HOSPITAL RADIOPHARMACY)
1. INTRODUCTION:
This course equips candidates for working as Radiopharmacist / Faculty in Nuclear
Medicine Centres and Medical Cyclotron Facilities. The course will comprise of a fulltime schedule of lectures, demonstration, practicals and related apprenticeship.
Candidates should not hold any other job during the course, or join any other
programme.
2. DURATION OF THE COURSE:
Two Academic Years (2023-2025). This programme shall be of two academic year
duration consisting of four semesters. There will be examination at the end of
every semester.
3. EDUCATIONAL QUALIFICATION REQUIRED FOR ADMISSION:
B.Sc. in any discipline with Chemistry as one of the subjects and Physics, Chemistry
and Mathematics / Biology as subjects in the H.S.C. level
. OR B.Pharm. from a
university recognised by UGC. Candidates should have scored a minimum of 60%
marks in aggregate in Science Subjects at B.Sc. / B.Pharm level.
4. AGE LIMIT:
Not more than 35 years as on 1st May 2023. The upper age limit can be relaxed in
the case of SC/ST (5 Years), OBC (3 Years), PWD category (10 Years) and
Sponsored candidates (10 Years). The candidates with physical disabilities limited to
the lower extremities, but permitting to stand and move and physically able to carry
out the course requirements will only be considered.
5. NUMBER OF SEATS:
Maximum 10 (Ten) (5 Non-Sponsored and 5 Sponsored). Numbers of seats indicated
are provisional and subject to variation.
NOTE (Common to both courses):
Only Indian Nationals can apply.
Candidates can be sponsored by Institutions/Hospitals either, with a running Nuclear
Medicine Facility, Universities, Government / Semi Government institutes, with the
prospect of immediate employment in the same Institution. The sponsoring institute
should have AERB approval or should provide an undertaking that they are in the
process of obtaining approval, for starting a Nuclear Medicine Facility and provide
sufficient document to support such claim and confirm that they are in need of
candidates with M.Sc (NM&MIT) or M.Sc (HRP).They should furnish sponsorship
certificate as per Annexure-I in case of sponsorship for M.Sc. (HRP) /M.Sc.
(NM&MIT) from the Head of Institution. Only candidate providing sponsorship letter
will be considered as sponsored category.
One seat is reserved for SC/ST/OBC candidate either from the Sponsored or the
Non-sponsored category.
Medium of Instruction and Examination is English.
I. COMMON ADMISSION TEST (CAT):
A Common Admission Test for both courses will be conducted and will comprise of 150 Multiple Choice Questions. The CAT syllabus will be drawn from Science Subjects. 1) Physics 2) Chemistry 3) Mathematics or Biology of the level of Standard XII or equivalent. Minimum marks to qualify will be 50%. The CAT will be held on 17.12.2023 at Anushaktinagar, Mumbai – 400094.
II. Admit Card:
Admit card will be generated after the last date of receipt of application. Candidates are
required to print the Admit Card using their own login details. Without the Admit Card, no
candidate will be permitted to appear for the CAT. The list of selected candidates will be
displayed on the BARC website (recruit.barc.gov.in / www.barc.gov.in). (Medium of CAT
exam will be English).
III. SELECTION OF CANDIDATES:
A merit list of candidates qualifying the CAT will be made and candidates will be called in
order of merit to attend Counseling Session. A separate merit list will be drawn for
Sponsored Candidates. The date of counseling session will be notified on BARC website.
The candidate should personally attend the counseling session.
IV. DOCUMENTS SUBMISSION:
On the day of counseling, original document verification will be carried out for candidates
who have qualified the CAT. Printout of online application and attested copies of proof of
age, caste and sponsorship letter (as applicable) along with mark sheet and certificate of
H.S.C. and B.Sc / B.Pharm will be collected from the CAT-qualified candidates.
AFTER THE CAT, AT THE TIME OF VERIFYING THE ORIGINAL DOCUMENTS, IF A CANDIDATE IS FOUND NOT MEETING ANY OF THE ELIGIBILITY CRITERIA, HIS / HER CANDIDATURE WILL BE REJECTED.
V. STIPEND:
For M.Sc. Courses, a stipend of Rs.15,000/- p.m. (Rupees Fifteen Thousand Only) is given
to each Non-Sponsored candidate. No stipend is admissible to Sponsored candidates.
VI. FEES:
No fees for the courses will be charged by BARC. However, a onetime enrolment fees of Rs.
Rs.11000/- (Rupees Eleven Thousand only) or as prescribed by Homi Bhabha National
Institute (HBNI) will have to be paid for the M.Sc. courses. A caution deposit of Rs.2000/-
(Rupees Two Thousand only) will have to be remitted by the selected candidates to BARC.
VII. BOND:
Selected candidates will have to execute a bond to complete the training for a period of 2 years. A trainee who fails to complete the training, will be liable to pay to the Government a sum equivalent to aggregate amount of stipend received by him/her during the period of
training along with interest thereon.
VIII. AWARD OF DEGREE / DIPLOMA
The minimum qualifying marks or grades and other criteria for declaring a student as successful for the award of the M.Sc. Degree will be as per HBNI academic ordinances.
Maximum number of attempts allowed including the first one will be three. The maximum period allowed for completing the M.Sc. courses is four years.
The examination result of all the candidates shall be communicated to the Dean, HBNI through Dean-Academic of the Constituent Institute. The successful candidates will be awarded M.Sc.by HBNI.
IX. ACCOMMODATION:
Selected candidates may apply for hostel accommodation. They will have to pay for
boarding and lodging. However, accommodation is not guaranteed.
X. JURISDICTION:
Any legal disputes arising out of this notification are subject to Mumbai jurisdiction only and
in case of any dispute; English version of detailed Advertisement placed on BARC website
shall be referred.
XI. Students are advised to carry their own Medical Insurance with service available at Mumbai during the duration of the course. No medical benefits from BARC are admissible to the candidates.
XII. HOW TO APPLY ONLINE:
Facility for submission of online application will be available from 22.10.2023 at 10:00
hours to 12.11.2023 upto 23:59 hours on website of BARC i.e. https://recruit.barc.gov.in
Applications will be accepted only through online mode.
Candidate should read the instructions in the advertisement and online application form carefully before making any entry or selecting any option.
Before filling application form, candidates should keep ready the necessary documents/ certificates required. Candidate is required to fill up personal details and details of courses applied for etc. and upload recently taken front facing passport size photograph in JPEG format with size not exceeding 20 KB. Photograph not in conformity with the specification shall render the application liable to be rejected. While filling up the online application form candidates should ensure that all the required details are entered.
The candidate must ensure that their photo and signature is clearly visible in preview at the time of filling application in online mode. If photo/ signature displayed is small or not visible in preview on website, that means photo/ signature is not as per the required format and in that case the application will be rejected. Therefore, candidates must ensure that photo and signature are clearly visible.
Before clicking the submit button, the candidate is advised to check that all the details filled in are correct. Candidate may also ensure that name, date of birth, etc., is entered correctly in the application form as per Secondary School Certificate (SSC). Any incorrect information may disqualify candidature. After final submission of application no request for change/ correction in any of the information in the application form shall be entertained under any circumstances.
Student can submit application for either or both courses if he / she satisfies the eligibility criterion.
:: IMPORTANT NOTE ::
No travelling allowance will be paid for attending CAT.
Before applying, the candidate should ensure that he/ she fulfill all the eligibility
conditions mentioned in the advertisement. Candidates should ensure that they fill in
the correct information. Furnishing of incomplete, false or misleading information
shall render the application liable to be rejected. The candidate would be admitted to
various stages of the recruitment process based on the information furnished by the
candidate in his/ her application. As such, the candidature of the applicant shall
remain provisional till detailed scrutiny is undertaken and the candidate is found
eligible in all respects. BARC would be at liberty to reject any application at any stage
if the candidate is found ineligible for the course or if it comes to notice that the
candidate has furnished false information. The decision of BARC shall be final in
deciding the eligibility of the candidate. The mere fact that a call letter has been
issued to the candidate and allowed to appear for CAT will not imply that his/ her
candidature has been finally cleared or that entries made by the candidate in his/ her
application have been accepted as true and correct.
Person working in the Central / State Government / Public Sector Undertaking should
submit their applications through proper channel. They may however, submit
advance copy online. Applications, which are not in the prescribed form (Online) are
liable to be rejected.
In case the original B.Sc/ B.Pharm marksheets / certificates have been submitted to
any other institution for pursuing other courses, candidates are required to submit a
letter to that effect from the Head of that institution.
B.Sc/ B.Pharm mark sheets/certificates are retained by the office during the course.
SC/ST/OBC (clearly indicating Creamy Layer status) certificate should be as per the
format prescribed for employment in Government of India.
Candidates who are NOT meeting the eligibility criteria NEED NOT apply.
Course work involves handling of radioactivity. Female candidates who are likely to
be pregnant or planning for pregnancy during the period of the course are advised
not to apply.
Corrigendum, if any, issued on the above advertisement will be published only
on BARC website.
Click here for the notification and the annexure
Editor's Note: BARC MSc Admission 2024 Open – Apply Now! BARC MSc Admission 2024 Notification. Subscribe to Rasayanika for the latest chemistry and Pharma job openings, follow us on Facebook and Telegram and subscribe to our youtube channel for the latest updates on chemistry and Pharma jobs and much more.