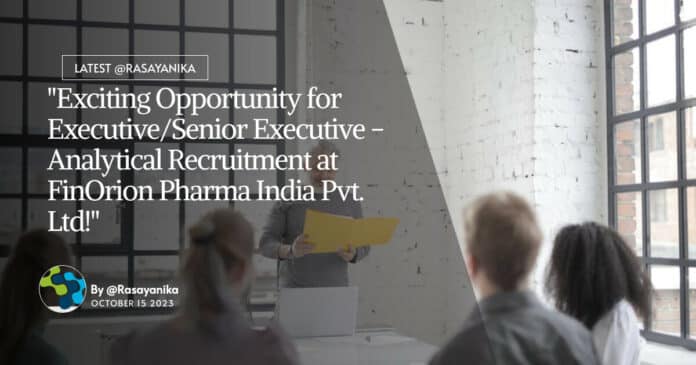 Executive / Senior Executive – Analytical Recruitment at FinOrion Pharma India Pvt. Ltd
FinOrion Pharma India Pvt. Ltd. is looking for an Executive / Senior Executive – Analytical in the Pharmaceuticals department. In this position, you will be based in Mumbai.
Description of Position
Responsibilities:
Writing of Product Quality Review (PQRs) for own production products & ensure its timely approval
Preparation and review of other documents related to PQRs
Requesting, follow-up and tracking of PQR related data
Review of Externally supplied PQRs, related coordination and follow up with vendor and other stakeholders
Responsible for planning stability studies, writing and/or review of stability protocols, reports, and preparation of technical documents in CTD format
Co-ordinate & follow up stability studies at contract research organisations (CROs)/ Chemical Quality Control lab of Orion (CQC)
Co-ordinate and follow up validation and method transfer at CROs
Write/check/review analytical and pharmaceutical documents as per regulatory requirements (method and validation documents/ variations/ additional question responses)
Evaluate/ review method validation protocols / reports / analytical methods prepared by CROs.
Reviewing and commenting on change controls, deviations, temperature excursions, stability data, process validation documents and troubleshooting etc. for externally supplied products
Write documents into Orion's IT systems for example analytical methods
Theoretical evaluation of physio-chemical properties of the drug products and/or raw materials
Co-operation with other departments/ partners
Local in-licensing support
To assist the overall working of Indian Pharmaceutical team
Other possible tasks appointed by Supervisors
Note: We do not have own Laboratories in India!
Description of Unit
FinOrion Pharma India Pvt. Ltd. (http://www.orionpharma.in) is a wholly owned subsidiary of Orion Group. A presence in India provides an opportunity for Orion Group to strengthen the business relationship with the current partners and support the headquarters in various office activities. The India office focuses mainly on Global Operations and R&D activities.
Global operations (formerly known as supply chain) is one of the core areas of operations in Orion's India office. This office is involved in procurement of in-licensed formulated products and pharmaceutical ingredients for in-house manufacturing in Finland. The Packaging Technology team is involved in creating and managing artworks for both in-licensed and in-house manufactured products. The Quality Assurance team is involved in auditing our partners globally to ensure cGMP compliance.
CPD & LCM India (Pharmaceuticals and Regulatory Affairs teams) supports the product life cycle management, maintenance of marketing authorizations, and various other documentation requirements for regulated markets. The Medical Communications and Design team in India supports activities such as biostatistics, programming, and medical writing tasks.
Orion Corporation (https://www.orion.fi/en) is a globally operating Finnish company that develops, manufactures, and markets human and veterinary pharmaceuticals, active pharmaceutical ingredients. The company employs more than 3,000 professionals in different countries. In Finland, Orion is the leading company as a manufacturer and marketer as well as in R&D of pharmaceuticals. With strong engagement in the promotion of healthcare, Orion has been building well-being for 100 years. Our ambition in the far-sighted research activity is to introduce novel, innovative medicinal treatments for global markets.
We Offer
An excellent opportunity to work in an inspiring and important role in the area of Pharmaceuticals
Great opportunity to become part of the wholly owned subsidiary of the globally operating Orion Group
Possibility to utilize your own strengths with the support of professionals
Flexible, high spirit working environment where your skills are appreciated
Hybrid Work Policy (In a week – 3 days work from office and flexibility to work remotely for two times)
Good work-life balance
Clear, transparent processes and responsible supervisors are our benefits to the personnel
Requirements
Master's degree in Chemistry from a reputed College / University
Minimum 4 years' work experience in Analytical Development activities in the global Pharma industry
Knowledge of EU and US requirements and ICH guidelines
Practical development skills from the laboratory work and troubleshooting
Excellent fluency in oral and written English is essential for the role
Task oriented with a learning attitude and Teamwork skills
Confirmed skills of Microsoft Office is essential
Pharmaceutical education & practical analytical development skills also from the laboratory to production scale of different types of formulations (tablets, capsules, liquids, etc.) will have added advantage
Candidate interested/experienced in the above documentation work will be preferred
How to Apply:
Please mandatorily fill the Candidate Information Form by clicking below link. Also email your updated CV to [email protected] with a copy to [email protected] for the screening purpose.
Candidate Information Form: https://forms.gle/s4c4qrUJH2g8Kq6Q7
Submit your application as soon as possible and latest by October 31, 2023.
Keywords: Executive, Senior Executive, Analytical, Recruitment, Pharmaceuticals, Mumbai, Job Posting, FinOrion Pharma India Pvt. Ltd