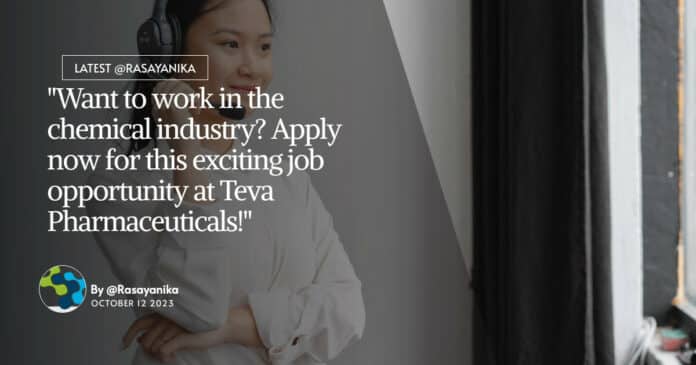 Operator III
Date: Oct 12, 2023
Location: Gajraula, India, 244235
Company: Teva Pharmaceuticals
Job Id: 51761
Who we are
To make good health more affordable and accessible, Teva Pharmaceuticals is on a mission to help millions around the world enjoy healthier lives. With a presence in nearly 60 countries and a diverse workforce, Teva Pharmaceuticals is the leading manufacturer of generic medicines and proudly produces many products on the World Health Organization's Essential Medicines List. Every single day, at least 200 million people around the world rely on our medicines. We are always seeking new ways to make a difference and looking for new individuals to join us in our mission.
The opportunity
As an Operator III, your responsibilities will include assigning daily tasks to production technicians for manufacturing encapsulated products. You will also be responsible for completing manufacturing documentation according to approved procedures. This includes reviewing documentation for accuracy and completeness within established timelines. In addition, you will act as a qualified trainer for those with less experience and provide indirect supervision to the team. You will contribute to annual performance evaluations of production technicians, investigate and resolve problems, and communicate effectively with the Process Lead and Supervision.
To
excel in this role, you should have extensive equipment knowledge to perform troubleshooting and root cause analysis. Your problem-solving skills should demonstrate resourcefulness, creativity, and innovation consistent with the organization's objectives. You will work independently and have the freedom to determine your objectives and approaches to assignments. Good organizational and basic first-line management skills are also required to successfully carry out daily operations. Additionally, a strong understanding of cGMP standards and the current Code of Federal Regulations (CFR) is essential.
The coordination of production tasks to meet assigned schedules will be a crucial part of your responsibilities.
How you'll spend your day
The skills, knowledge, and abilities required for this role include:
Motivating and leading others
Computer proficiency with knowledge of automated systems (i.e. ERP) preferred
Being self-directed with the ability to organize and prioritize work
Effective written and oral communication skills
Positive interaction with co-workers, team, and supervision
Physical Requirements:
As part of your role, you will be required to wear personal protective equipment such as safety shoes, safety glasses, powered air purifying respirator, gloves, etc.
Your experience and qualifications
BE/ B. Tech. Chemical: 3-5+ years of experience
Link to apply: Apply Now!
Keywords: Teva Pharmaceuticals, BTech Chemical, Job Opening, Recruitment, Operator III, Gajraula, India