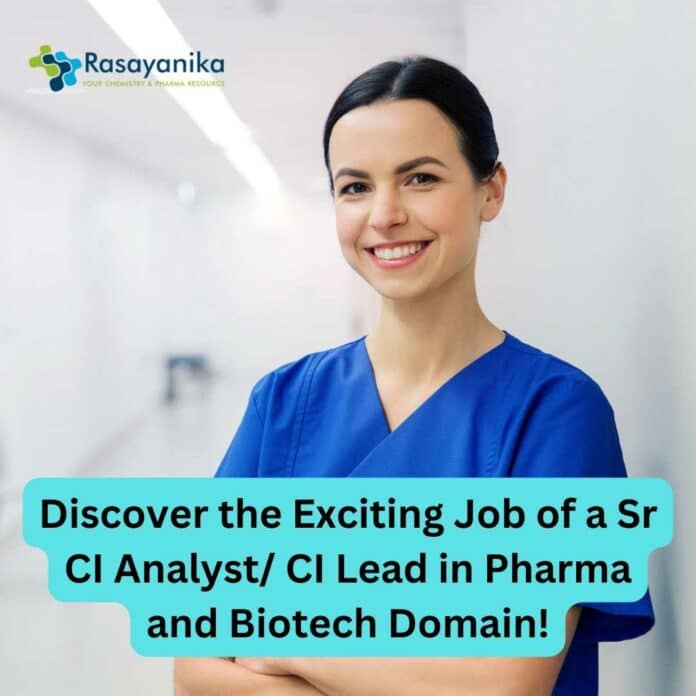 Position Title – Sr CI Analyst/ CI Lead
Location: Chennai
Job Type: Full Time
Years of Relevant Experience in Analytics/Pharma/Biotech Domain: 4-7 years in the competitive intelligence space preferably in the Pharma, Healthcare, Biotechnology domain
Job Description:
Roche has established Global Analytics and Technology Center of Excellence (GATE) in India to drive analytics & technology driven solutions by partnering with Roche affiliates across the globe.
As a Sr CI Analyst/ CI Lead, you will work closely with stakeholders in the business teams across Roche's global affiliates, conduct research on internal & external databases, data analysis, generating qualitative and quantitative insights, and deliver high quality research and analytics solutions to business problems. You will be required to conceptualize unstructured business problems and apply research and analytical skills to address business questions.
In this role, you will:
Be the subject matter expert on healthcare industry trends, competitive intelligence and secondary research
Proactively mine both internal information, reports maintained by vendors and other external sources to spot trends, areas of opportunities and threats for the business.
Gather insights from various sources, including public & proprietary databases, and translate the information into insightful stories that help in developing strategies
Cover global conferences such as ASCO, ESMO, AACR, etc as well as other conferences focused on healthcare such as JP Morgan, Jefferies, etc to get an update on new molecules & clinical trials being discussed
Cover the quarterly earning calls, annual reports and other important announcements of the competitors
Work with the stakeholders and peers in developing competitors' profiles, track their performance, focus areas and study market shifts
Track social media platforms to provide insights related to stakeholders' opinions on new molecules, clinical trial results, brand insights, etc
Perform market landscape study and competitors deep dive related to both clinical and commercial aspects of new and existing molecules
Flag key trigger events in the competitive landscape and assess potential implications related to Roche brands
Process small and large scale secondary healthcare datasets (IQVIA, SHA, Payer data) and perform complex analysis to derive insights
Generate qualitative / quantitative reports that communicate the key takeaways in an easy to understand manner
Present the findings from the analyses to the stakeholders in an effective and structured fashion
Take complete ownership and work with minimal guidance to add value in a dynamic environment
Qualifications:
Overall experience of 4-7 years in the competitive intelligence space preferably in the Pharma, Healthcare, Biotechnology domain
Hands on experience with SQL, MS-Excel & MS-PowerPoint is MANDATORY and exposure to gSuite/ Tableau/ PowerBI tools are desirable.
Hands on experience in developing deliverables, reports, outputs on various formats including MS-Word, MS-Excel, MS-Powerpoint, gSuite, BI tools, with minimal guidance
Experience of working with global customers especially in the US & EU markets
Strong understanding of the drug development process from clinical phases to launch and commercialization
Knowledge of data sources such as clinicaltrials.gov, PubMed, DRG, MIDAS etc. is desirable
Strong verbal and written communication skills with ability to develop compelling stories, present to the stakeholders and influence decision making
Ability to communicate with the Stakeholders independently and navigate through structured and unstructured requests
Self-starter with innovative mindset and passionate about solving complex problems
Highly motivated, learning oriented and quality focused individuals would be preferred
Education: B. Sc. / B. Tech/ B.E. – Biotechnology/ Pharma/ Healthcare/ Life sciences. Masters in Sc. OR MBA or Certification in area of analytics (good to have)
Keywords: Sr CI Analyst, CI Lead, Competitive Intelligence, Pharma, Healthcare, Biotechnology, Analytics, Research, Insights, Data Analysis.