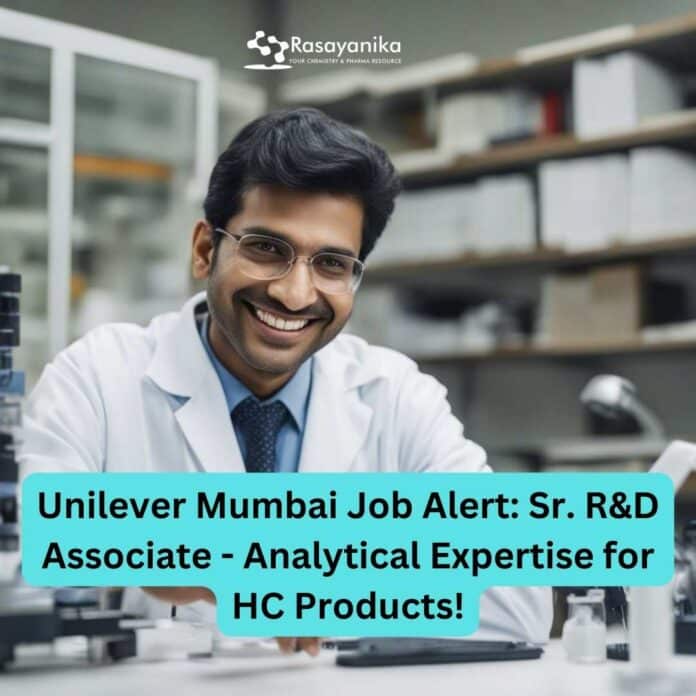 Sr. R&D Associate – HC Analytical at Unilever
Job ID: R-73851
Category: Research/Development
Location: Mumbai, Maharashtra
Date posted: 09/26/2023
ABOUT UNILEVER:
Be part of the world's most successful, purpose-led business. Work with brands that are well-loved around the world, that strive to improve the lives of our consumers and the communities around us every day. Every day, nine out of ten Indian households use our products to feel good, look good and get more out of life – giving us a unique opportunity to build a brighter future. We promote innovation, big and small, to make our business win and grow; and we believe in business as a force for good. Our brilliant business leaders and colleagues provide mentorship and inspiration, so you can be at your best.
At HUL, we believe that every individual irrespective of their race, colour, religion, gender, sexual orientation, gender identity or expression, age, nationality, caste, disability or marital status can bring their purpose to life. So apply to us, to unleash your curiosity, challenge ideas and disrupt processes; use your energy to make the world a better place. As you work to make a real impact on the business and the world, we'll work
to help you become a better you!
Job Description:
We are looking to hire a R&D / Sr. R&D Associate, Analytical based in Mumbai HURC.
Role Purpose:
We are looking to hire an R&D Associate/Sr. R&D Associate, Analytical, based in Mumbai, for a position in Applied Measurements, reporting to the Manager of Applied Measurements. This position will not have any HUL employees as direct subordinates.
Accountability
Analytical support for projects in HC & BPC.
Method development using spectroscopy and chromatography techniques like HPLC/GC/UV/NMR/IR/MS/AAS/ICP techniques.
Coordinating with UL project teams globally to support analytical needs.
Assisting various UL functions (Formulation, Regulatory, supply chain factories, etc.) in matters related to instrumentation, analytical monitoring, and GLP.
Managing outsourced services, including training and auditing.
Data interpretation from various analytical labs.
Training 3P personnel and guiding them on method developments.
Deliverables
New methods for raw material analysis and finished product analysis.
Competitor product analysis.
Project support.
Required professional skills:
Hands-on experience in classical wet chemistry, chromatographic, and spectroscopic techniques like HPLC/GC/LCMS/GCMS/NMR/FTIR/XRD, etc.
Stakeholder management skills – working with project teams.
Interpretation of spectra from NMR/IR/MS.
Method development using wet chemistry, chromatographic, and spectroscopic techniques.
Knowledge of lab auditing systems.
Team player with good communication skills.
All about you, what you'll need to succeed
5 to 6 years of experience in an FMCG chemical analysis laboratory.
Expertise in analytical instruments such as HPLC/GC/UV/NMR/IR/MS/AAS/ICP, etc.
Basic understanding of various home care/personal care product formats.
Data analysis, data compilation, and report writing
Good communication skills.
Link to Original Notification to apply: Apply here
Keywords: R&D Associate, HC Analytical, Unilever, Mumbai, Maharashtra, Research/Development, Analytical support, Spectroscopy, Chromatography techniques, HPLC, GC, UV, NMR, IR, MS, AAS, ICP techniques, Lab auditing, Data analysis