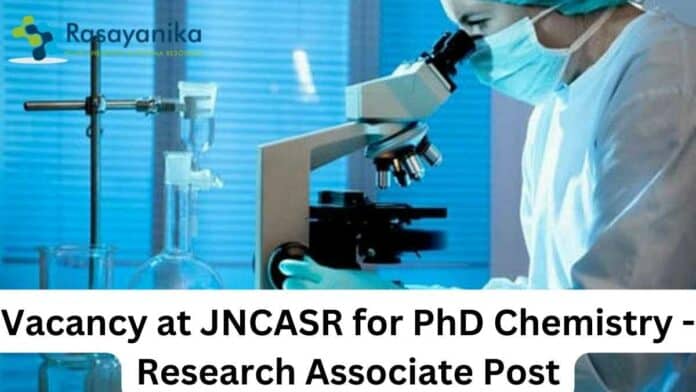 Vacancy at JNCASR for PhD Chemistry Candidates. Apply Now!
The Jawaharlal Nehru Centre for Advanced Scientific Research (JNCASR) is currently offering an exciting career opportunity for PhD Chemistry candidates. Applications are invited for the temporary position of Research Associate to work under the guidance of Prof. Premkumar Senguttuvan, New Chemistry Unit, JNCASR, Jakkur, Bengaluru,
560 064.
Advertisement No.: NCU-Centre-101
Job Title: Research Associate
Research Centre: JNCASR
Location: Bangalore
Remuneration:  Rs.47,000/- plus 24% HRA. (Remuneration will be fixed based on experience).
Maximum age limit: 35
Number of post: 01
Vacancy at JNCASR for PhD Chemistry. The Essential Qualification is :
Ph.D (in Physics/Chemistry/Materials Engg.) with at least one research paper in Science Citation Index (SCI) Journal.
Desirable Qualification:
Experience in solid-state chemistry/crystallography/magnetism/electrochemistry/energy devices.
Information to Candidates:
Interested candidates are required to send scan copy of duly filled in Template along with scan copies of original testimonials in support of educational qualification, age,
experience, publication, etc. with brief resume to Prof. Premkumar Senguttuvan, New
Chemistry Unit, through email to [email protected] latest by 25th September 2023.
Vacancy at JNCASR for PhD Chemistry. The possible interview Q & A:
1.Question: Can you describe your Ph.D. research and the specific contributions you made in the field of Chemistry or related disciplines?
Answer: During my Ph.D., I focused on (briefly explain your research area) and conducted research that resulted in (mention specific achievements or contributions). One of my significant achievements during this time was the publication of a research paper in a Science Citation Index (SCI) Journal, which underscores the quality and impact of my work.
2.Question: The job description mentions desirable qualifications related to solid-state chemistry, crystallography, magnetism, electrochemistry, and energy devices. Can you highlight any relevant experience or projects that align with these areas?
Answer: Certainly. I have gained valuable experience in (mention relevant area) through my prior research and projects. For example, during my Ph.D., I worked on (describe relevant project or experience), which involved aspects of (mention relevant topics). This experience has equipped me with the skills and knowledge required to contribute effectively in the mentioned areas.
3.Question: Research Associates often collaborate closely with their mentors or supervisors. Can you tell us about your experience working in a research team and your ability to collaborate effectively?
Answer: Collaboration is an integral part of research, and I have a strong track record of working effectively in research teams. During my Ph.D., I collaborated with (mention collaborators or teams) on projects that required interdisciplinary contributions. I believe in open communication, sharing ideas, and leveraging each team member's strengths to achieve research objectives.
4.Question: How do you plan to stay updated with the latest developments and advancements in your field, considering the dynamic nature of scientific research?
Answer: Staying updated in a rapidly evolving field like chemistry is essential. I plan to remain engaged in scientific literature, attend relevant conferences and workshops, and actively participate in discussions within the academic and research community. Continuous learning and seeking new knowledge are fundamental to my approach.
5.Question: In this role, you will be expected to contribute to research under the guidance of Prof. Premkumar Senguttuvan. Can you describe why you are interested in working with Prof. Senguttuvan and how your research aligns with his expertise?
Answer: I am keen to work with Prof. Premkumar Senguttuvan because of his renowned expertise in (mention his specific area of expertise). My research interests align closely with his work, and I believe that working under his guidance will provide me with valuable insights and mentorship to advance my research further in the field of (mention your specific research interest). I am excited about the opportunity to collaborate with him and contribute to his research endeavors.