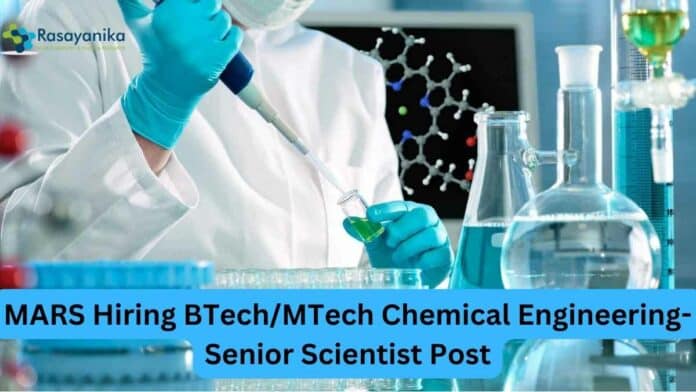 MARS Hiring Chemical Engineering Candidates!
MARS is currently seeking highly qualified candidates with BTech/MTech degrees in Chemical Engineering for the position of Senior Scientist. This role offers an exciting opportunity to contribute to cutting-edge research and innovation in a dynamic scientific environment. If you have a strong educational background in chemical engineering, consider joining our team at MARS to drive advancements in science and technology.
Job Title: External Manufacturing Senior Scientist
Segment / Business Unit: Mars Wrigley
Country / Site: GEM
Job Function:  R&D (Q&FS)
MARS Hiring Chemical Engineering. The required Education & Professional Qualifications:
Academic education in food science/ technology /Chemical engineering / Industrial Engineering or similar
FMCG experience in various aspects of the food or pet industry.
Knowledge / Experience Professional Qualification:
Minimum 5 years experience in a Quality or Food Safety role in food industry or related industries.
Strong relationship builder with good commercial awareness and supplier management skills.
Proven and effective strategic thinker, planner, project management & organizing experience.
Visible passion, behavior and leadership around Mars first principle – Quality
Key Skills:
HACCP, ISO, and quality & food safety management systems.
Basic Knowledge about micro chemical and physical hazards.
PRIMP or Incident management.
Risk assessment & management.
Good technological knowledge around food processing equipment & engineering.
Knowledge about Lean Six Sigma methods.
Quick learner.
Job Purpose:
Supports, coordinated, and lead the execution of the QFS strategic direction of External Manufacturing Quality Assurance (EMQA) for GEM taking into consideration, how to approach the model from a risk-based approach while enabling an accelerated model that is mutual for all parties.
Ensures that externally manufactured products, comply with the Mars standards in GEM by coaching, guiding, and supporting the cluster EMQM.
The associate will also oversee governance for sourcing standards and ensures Quality is designed in new initiatives.
Key Responsibilities:
As the Regional MARS GEM QFS representative at External manufacturers, the Senior scientist is responsible for:
Design a Risk based approach to use with new Co-manufacturers including assessments to ensure that all Q&FS and legal risks are considered.
Standard owner for the GEM region for sourcing standards with focus on EMQM.
Translating and embedding MARS principles and culture while balancing the acceleration process for the growth portfolio.
Partnering with commercial & supply to drive the performance and continuous improvement of our External manufacturers, with focus on their adherence to MARS Q&FS requirements and best practices to ensure that we protect our brands and corporate reputation.
Perform all co-manufacturing Q&FS governance and metrics to verify the quality and effectiveness of their quality management systems and compliance to MARS QMP requirements.
Training Mars EMQM cluster associates on various problem-solving tools such as PDCA, 5 whys, IWS to aid root cause analysis as part of post incident reviews for GEM co-manufacturer including the assurance of corrective and preventative actions are implemented within agreed time frames and incident learnings are shared with the wider business.
Leading the COP for GEM to build a technical community of expertise.
Thinking of strategic methods to mutually choose, cooperate and coordinate with co-manufacturers.
MARS Hiring Chemical Engineering Candidates.The possible interview Q & A to help you with:
1.Question: Can you describe your experience in implementing a risk-based approach to quality and food safety in the food industry?
Answer: In my previous role, I led the development and implementation of a risk-based approach to quality and food safety for our external manufacturing partners. This involved conducting thorough assessments to identify and mitigate Q&FS risks and ensure compliance with legal requirements. By adopting this approach, we were able to proactively address potential issues and enhance product quality.
2.Question: How do you ensure that externally manufactured products meet Mars' quality standards while maintaining an accelerated model for growth?
Answer: To balance quality standards with an accelerated model for growth, I focus on establishing clear quality standards and expectations upfront with our external manufacturing partners. I also work closely with the commercial and supply teams to drive performance and continuous improvement. By proactively addressing any potential quality issues and providing training on problem-solving tools, we can ensure that quality is designed into new initiatives while supporting growth.
3.Question: Can you provide an example of a challenging incident or quality issue you've encountered and how you managed it?
Answer: In a previous role, we faced a significant quality issue with one of our co-manufacturers that could have impacted our brand's reputation. I led a cross-functional team to conduct a thorough root cause analysis using tools like the PDCA and 5 whys. We identified the underlying issues, implemented corrective and preventive actions, and ensured that incident learnings were shared across the organization. This proactive approach not only resolved the issue but also strengthened our quality management systems.
4.Question: How do you ensure that external manufacturing partners adhere to Mars' quality and food safety requirements and best practices?
Answer: I establish a strong partnership with external manufacturing partners by clearly communicating our quality and food safety requirements and expectations. Regular audits and performance assessments are conducted to verify compliance. In addition, I provide training and guidance to ensure that our partners understand and implement Mars' Quality Management Principles (QMP). Continuous communication and collaboration are key to maintaining adherence to our standards.
5.Question: Can you describe your experience in building a technical community of expertise within your team or organization?
Answer: Building a technical community of expertise is essential for knowledge sharing and continuous improvement. In my previous role, I initiated a Community of Practice (COP) for the Global External Manufacturing Quality Management team. This forum facilitated knowledge exchange, best practice sharing, and problem-solving discussions among team members. It helped create a culture of collaboration and learning, enhancing our ability to address quality and food safety challenges effectively.