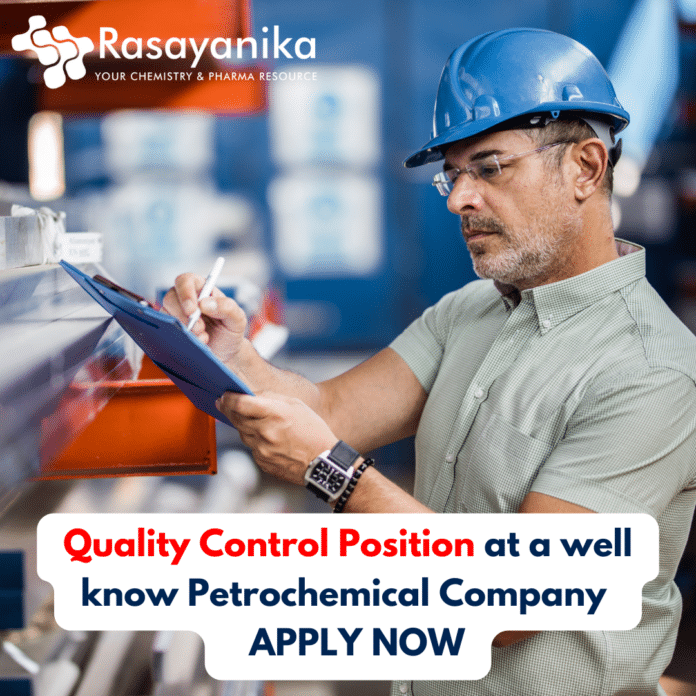 Quality Control Position at a renowned Petrochemical Company – BSc chemistry, BTech chemical Graduates – Check out the details below and Apply 
Role : Senior Quality Control Professional
Company : Columbia Petro Chem Private Limited
Location : One Position is for Silvassa/Gujarat location and another Position is for Taloja /Navi Mumbai location
Qualification : BSc chemistry, BTech chemical
Candidate should be only from Oil base company
Job Profile
Key Responsibility Area for the Quality Control Position
Ensure the standard operating procedures are adhered to.
Playing vital role in Technical Support to Marketing Dept. and handle market complaint.
Managing Quality Audit and conduct regular training to QC Staff.
Ensure the Calibration & maintenance cycles are adhere to and documented.
Managing the Dept. budgets, implement cost control programs and maintain the reports.
Review of Batch manufacturing Record and Batch Packing Record.
Monitor the process of water bath temp R.I Viscosity, PH, UV, water.
Testing done with Transformer Oil, White Oil, Liquid Paraffin, Petroleum Jelly.
Advise and monitor appropriate safety measures and enforced the Chemical Hygiene Plan.
Setting up the quality standards for the product.
Carry out audit tasks as required by the Quality System Audit Schedule.
Monitoring stocks, Payment, billing, etc. of Tech dept. and main the standard minimum stock level at all time.
Taking charge of office administration related to Tech. for implementing the company's policies and goals.
Manage human and material resources to meet the targets. Also maintain dept.in good condition.
To deal with all license/ statutory compliance pertaining to Tech. dept. in time.
Liaising with internal department i.e production, maint.,Logistic, commercial, etc.
To ensure implementation and adherence of health and safety procedures
Here are some interview questions and sample answers for the role of Senior Quality Control Position at Columbia Petro Chem Private Limited:
1. Can you explain your experience in adhering to standard operating procedures (SOPs) and why they are important in quality control?
Sample Answer: SOPs are the foundation of a well-functioning quality control system. In my previous role at [mention previous company], I consistently ensured that all team members followed SOPs meticulously. These procedures are crucial as they standardize processes, minimize errors, and ensure product consistency, which is vital in the oil-based industry where even minor deviations can have significant consequences. I have experience in creating and updating SOPs to reflect industry best practices and regulatory requirements.
2. How have you provided technical support to the marketing department and handled market complaints in your previous role?
Sample Answer: In my previous position, I collaborated closely with the marketing department to address technical inquiries and resolve customer complaints. I maintained open lines of communication with the marketing team, providing them with technical data and insights to help them better understand our products. When addressing market complaints, I followed a structured approach, conducting root cause analyses and implementing corrective and preventive actions to ensure customer satisfaction and product improvement.
3. Can you discuss your experience in managing quality audits and training QC staff?
Sample Answer: I have a strong track record of managing quality audits to ensure compliance with industry standards and regulations. I regularly scheduled and conducted internal audits, prepared audit reports, and implemented corrective actions. Additionally, I played a significant role in training QC staff, ensuring they were well-versed in quality control techniques, instrumentation, and safety protocols. Training is essential to maintain a skilled and knowledgeable workforce that can consistently meet quality standards.
4. How do you ensure calibration and maintenance cycles are adhered to and documented within your department?
Sample Answer: Calibration and maintenance are critical to maintaining the accuracy and reliability of testing equipment. I have implemented a robust system to track calibration and maintenance schedules for all equipment in my department. This includes creating a centralized database that records calibration dates, maintenance tasks performed, and any issues identified. Regular audits are conducted to verify compliance, and I ensure that all relevant documentation is up-to-date and easily accessible for audit purposes.
5. How do you manage department budgets and implement cost control programs?
Sample Answer: Managing department budgets requires a proactive approach. I begin by conducting a thorough analysis of past expenditures and future needs. I then create a budget plan that aligns with the company's goals and objectives. To implement cost control programs, I focus on optimizing resource allocation, identifying areas of waste or inefficiency, and negotiating favorable contracts with suppliers. Regularly reviewing and monitoring the budget against actual expenses allows me to make timely adjustments to ensure financial targets are met.
Explore the Latest Job Opportunities at Rasayanika
ALL THE BEST!