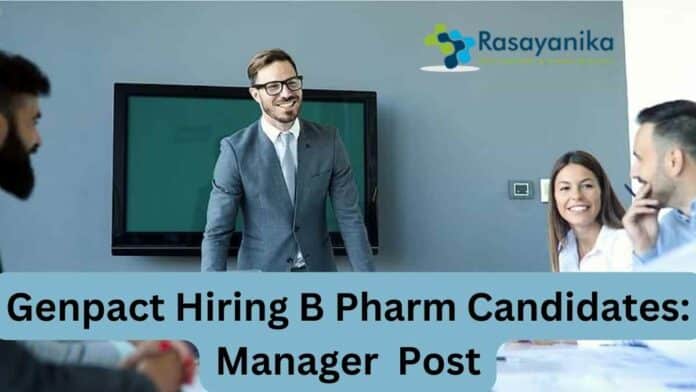 Genpact Hiring BPharm Candidates!
Genpact is actively seeking talented B Pharm candidates for the position of Manager in Regulatory Affairs. This role offers an exciting opportunity to join a dynamic team and play a key role in ensuring compliance with regulatory guidelines and standards in the pharmaceutical industry. If you have a strong background in pharmaceuticals and regulatory affairs, this position could be an excellent fit for you.
Job Title: Manager: Regulatory affairs
Company: Genpact
Location: Mumbai, India.
Job Type: Full time
Genpact Hiring BPharm Candidates. Qualifications required are  :
Minimum Qualifications:
Bachelor's degree in pharma / Science.
Strong financial analytical skills and problem solving skills.
Effective communicate in writing and verbally to senior management.
Experience in balancing customer facing role and work assessments.
Self-starter and have analytical, problem solving skills.
Ability to balance customer governance meetings.
Preferred qualifications:
Able to nurture robust working relationships with the team, peers and clients, scheduling flexibility required.
Overall candidate should have problem solving, macro-level research and analytics approach and good in numbers.
Good people and customer handling skills.
Effective communication and interpersonal skill.
Job Description:  In this role, you will be responsible for implementing CMC regulatory strategies for assigned pharmaceutical products in accordance
with global regulations, guidance's and defined regulatory strategies along with the preparation and review of information required for development of regulatory CMC dossiers for commercial products.
Responsibilities:
The Role demands for a highly qualified professional who can provide mentorship to direct reports typically comprising of first line managers and supervisors. Manager will be responsible for all the activities related to –
Perform document level & submission level publishing, assembly and distribution activities.
Performing submission readiness checks.
Compiling SAS and other datasets and non-PDF files.
Publishing documents for eCTD, NeeS, paper, and other PDF format submissions.
Performing final technical quality review and technical validation (eCTD/NeeS).
In depth solid understanding of ECTD/ NEES types of submission, industry standard publishing systems.
Effective time management and interpersonal skills to efficiently run multiple time-sensitive assignments simultaneously.
Demonstrates deep understanding of the business value of quality and compliance, and the implications and risks of non-compliance. Adjusts behaviors to drive high quality deliverables.
Demonstrates the ability to independently solve trouble shoot problems that arise within job responsibilities and expectations, and takes a new perspective using existing solutions.
Effectively communicates difficult issues both verbally and in writing to build alignment around a complex situation.
Flexibility to adapt to a changing environment, keeping current with new and updated processes and procedures.
Genpact Hiring BPharm Candidates. The possible interview Q & A to help you with:
1. Question: Can you tell us about your experience in implementing CMC regulatory strategies for pharmaceutical products?
Answer: In my previous role at [Previous Company], I played a pivotal role in developing and implementing CMC regulatory strategies for a range of pharmaceutical products. I ensured compliance with global regulations and guidelines while preparing and reviewing regulatory CMC dossiers for commercial products. This experience has equipped me with a strong understanding of the regulatory landscape and the ability to navigate complex compliance requirements effectively.
2. Question: How do you prioritize and manage multiple time-sensitive assignments simultaneously?
Answer: Managing multiple time-sensitive assignments effectively requires a combination of efficient time management and prioritization skills. I utilize a structured approach where I first assess the urgency and importance of each task. I then create a detailed schedule, allocating sufficient time to address critical tasks while ensuring I meet deadlines. Additionally, I regularly communicate with team members to streamline workflows and ensure everyone is aligned with our priorities.
3. Question: Can you provide an example of a challenging regulatory compliance issue you encountered and how you resolved it?
Answer: In a previous role, we faced a complex regulatory compliance issue related to a change in global regulations for a key product. To resolve this, I led a cross-functional team to conduct a comprehensive impact assessment, identified gaps in our processes, and developed a mitigation plan. Through effective communication and collaboration, we successfully implemented the necessary changes, ensuring compliance with the new regulations and minimizing any potential disruptions.
4. Question: How do you stay updated with industry standards and evolving regulatory requirements?
Answer: Staying updated with industry standards and regulatory changes is crucial in this role. I regularly subscribe to regulatory newsletters, attend industry conferences, and participate in relevant webinars and workshops. Additionally, I actively engage with industry associations and networks to exchange insights and best practices, ensuring that our regulatory strategies remain aligned with the latest developments.
5. Question: Can you describe a situation where you had to communicate difficult issues to your team or stakeholders and how you handled it?
Answer: There was a situation where we identified a critical compliance issue that required immediate attention. I scheduled a meeting with the team and stakeholders, presenting the issue transparently and providing a detailed action plan to address it. I encouraged open discussion, welcomed input from team members, and ensured that everyone understood the seriousness of the situation. Ultimately, we successfully resolved the issue by working collaboratively and maintaining clear communication throughout the process.