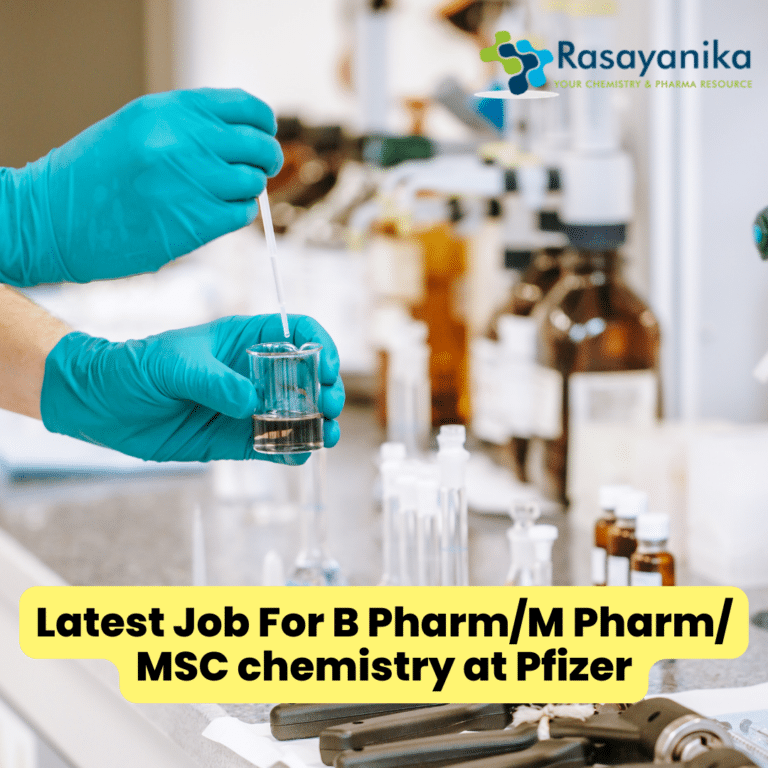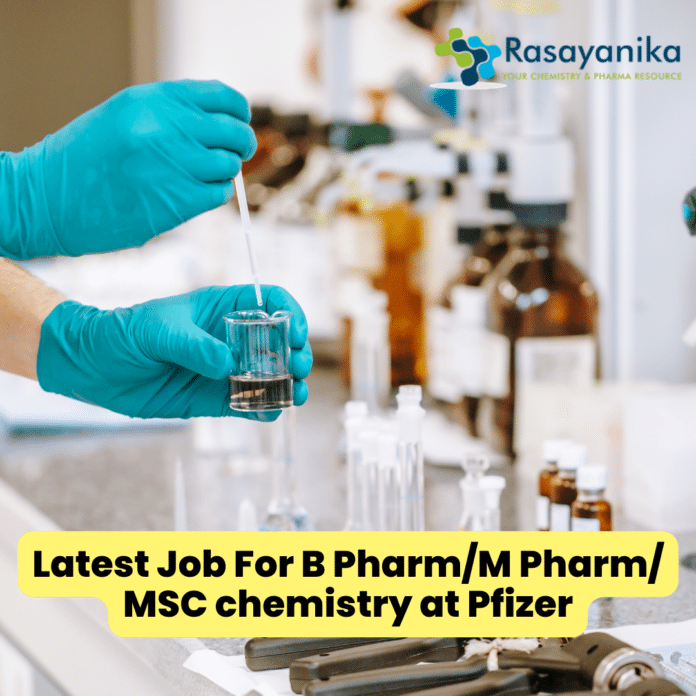 Latest Job For B Pharm/M Pharm/MSC chemistry at Pfizer
Latest Job For B Pharm/M Pharm/MSC chemistry at Pfizer. Interested Candidates can check out the details below and Apply Online.
Job title: Calibration lead
Job Location: Chennai, India
Job id: 4893808
Job Type: Full Time
Knowledge required:
Operation and calibration of various analytical equipments like HPLC, GC, UPLC, LCMS/MS, GCMS/MS, ICPMS, Balances, pH meters, KF etc.,
Expertise in Empower3 application
Calibration procedures, tools and processes
Calibration database systems like Blue Mountain and EAMS will be an added advantage
Experience in establishing SOP's
Knowledge on metrological standards and investigations through Trackwise
Operation and calibration of Standard instruments
Regulatory Guidelines for GMP and documentation review skills
Effective problem solving capabilities
Excellent Interpersonal, written and communication skills
Expertise in reviewing the chromatograms of HPLC,UPLC,GC &ICP-MS and calibration data.
Responsibilities
To lead the team of 2-3 members for managing the calibration of various analytical equipment typically used in the Pharmaceutical industry as per the SOP.
Plan and coordinate with the external vendors performing calibration and maintenance activities onsite/offsite.
Review, Archive and maintain the calibration records.
Investigate the out of tolerance results during the calibration through Trackwise.
Order and maintain the standard solutions and standard instruments required for the calibration.
Ensure inspection readiness in calibration across the laboratories Publish metrics reports on calibration, on-time performance and alert on open issues.
Prepare and maintain the calibration and maintenance schedules for instruments and ensure the state of calibration is valid
Develop, implement and maintain calibration procedures for new equipment and Provide the support for OQ/PQ during qualifications
Provide support to the site in reviewing the potential product impact due to an out of tolerance conditions during calibration
Provides expert support for troubleshooting during calibration and maintenance
Provide technical guidance and support of new projects in specifying new instruments and calibration methods for new instruments
As requested, present and support the calibration program during internal and external audits.
Perform routine field inspections of calibration status labelling to ensure compliance
Qualifications:
B. Pharm/M Pharm/MSC chemistry
BE (Electronics, instrumentation)
Experience: 6-9 yrs. of experience with practical experience in calibration of Analytical and process instruments/equipment
Work Location Assignment: On Premise
Latest Job For B Pharm/M Pharm/MSC chemistry at Pfizer. Here are five Possible interview questions along with sample answers for the position of Calibration Lead :
1. Question: Can you describe your experience in managing the calibration of various analytical equipment, and how do you ensure that the calibration process aligns with regulatory guidelines?
Answer: In my previous role at XYZ Pharmaceuticals, I led the calibration of a wide range of analytical equipment, including HPLC, GC, UPLC, LCMS/MS, GCMS/MS, ICPMS, Balances, pH meters, and KF instruments. To ensure compliance with regulatory guidelines, I established and maintained comprehensive Standard Operating Procedures (SOPs) that outlined the calibration procedures and ensured that all instruments were calibrated according to Good Manufacturing Practices (GMP) standards. Additionally, I regularly reviewed the calibration records to identify and address any discrepancies or out-of-tolerance results, ensuring that all instruments remained in a state of calibration and met regulatory requirements.
2. Question: How do you handle the coordination of external vendors for calibration and maintenance activities, and what steps do you take to ensure the quality and timeliness of their work?
Answer: Coordinating with external vendors is a critical aspect of calibration management. I begin by thoroughly evaluating and selecting reputable vendors with a strong track record in calibration services. Once engaged, I provide them with detailed calibration schedules and requirements, emphasizing the importance of adherence to timelines and quality standards. Regular communication and follow-up are essential to ensure that the work progresses as planned. Additionally, I perform post-calibration reviews and inspections to verify the quality of their work and address any issues promptly, ensuring that our equipment is consistently well-maintained and calibrated.
3. Question: Can you share your approach to maintaining a calibration database system, and how have you utilized systems like Blue Mountain and EAMS for this purpose?
Answer: I have experience working with calibration database systems such as Blue Mountain and EAMS to maintain calibration records. These systems help streamline data management and ensure traceability. I enter and archive calibration records systematically, including instrument details, calibration dates, and results. In cases of out-of-tolerance results, I use these systems to initiate investigations and document corrective actions. Additionally, I generate reports from these databases to track on-time performance and open issues, facilitating continuous improvement in the calibration process.
4. Question: How do you ensure inspection readiness across the laboratories in terms of calibration, and what metrics do you use to monitor the effectiveness of the calibration program?
Answer: Inspection readiness is a crucial aspect of compliance. To ensure readiness, I regularly review and archive calibration records, ensuring that they are easily accessible and organized for inspection purposes. I also conduct routine field inspections to verify that calibration status labeling is accurate and up to date. In terms of metrics, I maintain reports that include key performance indicators related to calibration, such as on-time performance, open issues, and out-of-tolerance incidents. These metrics provide a clear overview of the effectiveness of the calibration program and help identify areas for improvement.
5. Question: Can you provide an example of a situation where your problem-solving skills were instrumental in resolving a challenging calibration issue, and how did you approach the problem?
Answer: In a previous role, we encountered a persistent issue with the calibration of an analytical instrument that was critical for our processes. The instrument consistently gave out-of-tolerance results despite multiple attempts at calibration. To address this, I initiated a comprehensive investigation. We reviewed historical calibration data, conducted instrument diagnostics, and collaborated with the equipment manufacturer's technical support team. Through this thorough approach, we identified a faulty component within the instrument, which was promptly replaced. Subsequent calibrations were successful, and the instrument's performance was restored to meet regulatory requirements. This experience highlighted the importance of methodical problem-solving and collaboration in maintaining calibration integrity.
These sample questions and answers should help you prepare for your interview for the Calibration Lead position in Chennai, India. Tailor your responses to your specific experiences and qualifications.
Subscribe Rasayanika for more Chemistry and Pharma job updates.