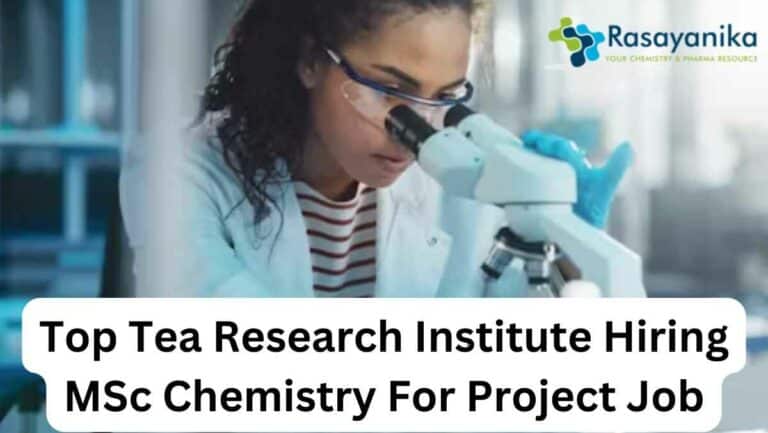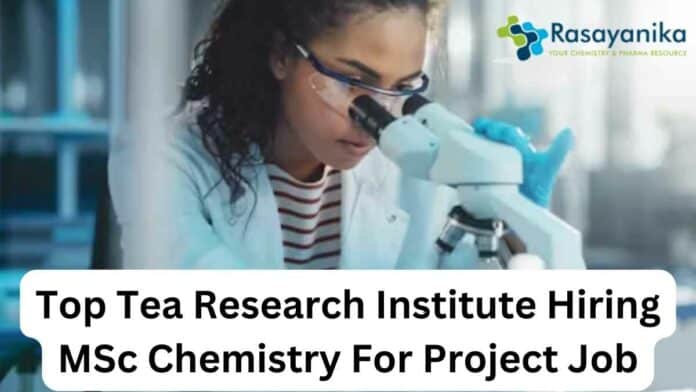 MSc Chemistry JRF Job at TOCKLAI Tea Research Institute
MSc Chemistry JRF Job at TOCKLAI Tea Research Institute. Applications are invited for a post of Junior Project Fellow/Project Associate-I for DBT sponsored research projects entitled "Value addition and Product Diversification in Tea"
(DBT project sanction no. BT/PR45264/NER/95/1920/2022) at Biochemistry Department of
Tocklai Tea Research Institute, Tea Research Association, Jorhat-785008, Assam as per
following details. The appointments will be purely on a temporary contractual basis and hence the Institute will not provide any employment after completion of the project.
Job Title: JRF/ Project Associate Position
Institute: TOCKLAI Tea Research Institute
Location: Jorhat, Assam, India.
Number of Post: One
Upper Age Limit: 35 years
Project Title: Value addition and Product Diversification in Tea
Project Duration: Up to 12.03.2025
Essential Qualification: M.Sc. in Chemistry
Desirable Qualifications:  Research experience in relevant field
DBT Project for MSc Chemistry. The monthly fellowship is : For JRF, Rs.31,000 + 8% HRA per month / For Project Associate-1, Rs. 25,000 +8% HRA per month.
Job Responsibility:
Project-related research work.
The candidate will have the responsibility to do wet chemical
analysis, field activity, pilot plant work and run sophisticated analytical instruments like HPLC, UV-Vis. Spectrophotometer etc.
Candidate will also get opportunity to register for higher degree (subject to attainment of required qualification).
General Instructions:
1. The above posts are purely temporary and co-terminus with the project.
2. Candidates should submit a soft copy of the duly filled application form as enclosed below to the email id [email protected] on or before 21st September 2023.
3. Only shortlisted candidates will be called for interview. No TA/DA or any other expenses
will be provided for attending the interview.
4. Short-listed candidates must carry a set of photocopies of documents (testimonials of
qualifications, mark sheets, experience, date of birth etc.) along with originals for
verification.
5. All other terms and conditions of appointment will be governed by prevailing Institute
rules and the decision of the Chairman of the Selection Committee will be final and
binding.
6. Selected candidates need to join immediately or at very short notice.
7. The Director, Tocklai Tea Research Institute, Jorhat, Assam reserves all rights of selection
or rejection of a candidature including cancellation of the interview without assigning any
reason thereof.
The possible interview Q & A to help you with:
Interviewer: Can you briefly describe your understanding of the project's title, "Value addition and Product Diversification in Tea"?
Candidate: Certainly. This project aims to explore methods of enhancing the value of tea products and expanding the variety of tea-related products available in the market. It involves investigating innovative approaches to processing and incorporating tea into new and diverse product offerings.
Interviewer: Why do you think value addition and product diversification are important in the tea industry?
Candidate: Value addition and product diversification are crucial for the tea industry to remain competitive and adapt to changing consumer preferences. By creating new tea products and improving the quality of existing ones, we can attract a broader customer base and increase profitability.
Interviewer: What relevant skills or knowledge do you bring to this project that would make you a valuable team member?
Candidate: I have a strong background in chemistry, particularly in the analysis and manipulation of organic compounds. This knowledge can be applied to assess the chemical components of tea and explore ways to enhance its quality and diversify its applications. Additionally, I have experience working on research projects that involved value addition and product development.
Interviewer: Could you provide an example of a potential value addition or product diversification idea you might explore within this project?
Candidate: One possible idea is to investigate the use of tea extracts in cosmetic products, such as skincare or haircare items, which could tap into the growing demand for natural and antioxidant-rich ingredients. This would be achieved by isolating and purifying specific compounds from tea leaves.
Interviewer: How do you envision the outcomes of this project benefiting the tea industry and consumers?
Candidate: The project's outcomes can have a twofold benefit. For the tea industry, it can lead to the creation of high-value tea products and diversification opportunities, ultimately increasing revenue. For consumers, it can mean access to a wider range of quality tea products and innovative tea-based items that cater to various tastes and preferences.
Interviewer: What challenges do you anticipate facing in this project, and how do you plan to address them?
Candidate: One challenge could be ensuring the consistency and safety of newly developed tea products. I plan to address this by conducting rigorous quality control and safety assessments throughout the development process, collaborating with experts in the field, and adhering to relevant regulations and standards.
Interviewer: How do you see this project contributing to your personal and professional growth in the field of chemistry and the tea industry?
Candidate: This project provides an excellent platform to deepen my understanding of chemistry's practical applications in the tea industry. It offers opportunities to develop problem-solving skills, work on interdisciplinary teams, and gain hands-on experience with product development, all of which are valuable for my career growth in both chemistry and the tea sector.
Editor's Note: MSc Chemistry JRF Job at TOCKLAI Tea Research Institute. Subscribe to Rasayanika for the latest chemistry and Pharma job openings, follow us on Facebook and Telegram and subscribe to our youtube channel for the latest updates on chemistry and Pharma jobs and much more.