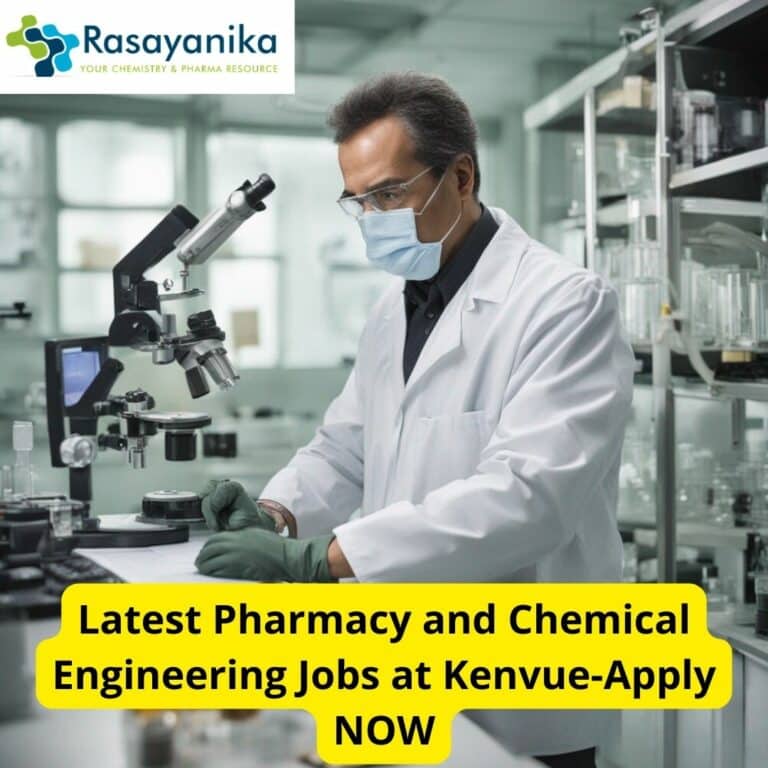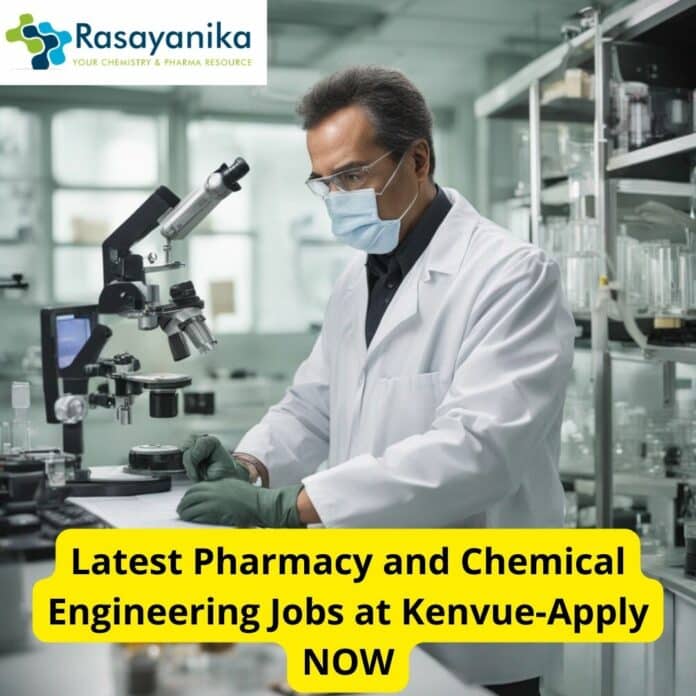 Latest Pharmacy and Chemical Engineering Jobs
Latest Pharmacy and Chemical Engineering Jobs. Principal Scientist At Kenvue. Interested candidates can check the details and apply online.
Job role: Principal Scientist
Job ID: 2307011690W
Job location: Asia Pacific-India-Maharashtra-Greater Mumbai
Job Function: R&D
Description
Who We Are
At Kenvue, we realize the extraordinary power of everyday care. Built on over a century of heritage and rooted in science, we're the house of iconic brands – including NEUTROGENA®, AVEENO®, TYLENOL®, LISTERINE®, JOHNSON'S® and BAND-AID® that you already know and love. Science is our passion; care is our talent. Our global team is made up with 22,000 diverse and brilliant people, passionate about insights, innovation and committed to deliver the best products to our customers. With expertise and empathy, being a Kenvuer means to have the power to impact life of millions of people every day. We put people first, care fiercely, earn trust with science and solve with courage – and have brilliant opportunities waiting for you! Join us in shaping our future–and yours. For more information, click here.
Responsibilities:
Lead the APAC Base Business pillar and represent APAC region in Global Base Business team.
Ensure timely completion and compliance for regional and global projects triggered due to raw material discontinuations, supplier driven changes.
Support internal/external manufacturing sites for Raw material related trouble shootings & investigations. (10 internal manufacturing sites & more than 25 external manufacturing sites in scope)
Shape the end-to-end processes to drive simplifications to create a strong relationship with key stakeholders.
Closely work and define strategies with Procurement, Plant, Quality and Rapid Response team to lead Raw Material Base Business team ensuring business continuity by delivering innovative science-based qualification projects.
Keep strengthening the technical expertise of the base business scientists, monitor the quality metrics for change controls.
To engage, drive actions & improve reliability & agility with strategic suppliers to discuss upcoming changes, challenges and other help needed from both parties.
Develop an agile mindset within the team and be a networker for the AP Base Business team and drive agile new ways of working with stakeholders across R&D and Supply Chain.
Unlock areas of opportunities & share the technical expertise with Supply Chain team to deliver BCP & Reliability driven projects for specific chemical categories.
Key Responsibilities
Base Business Project Management activities which involve the work allocation and tracking, Training and coaching of the team.
Participate in various meetings with internal and external stakeholders.
Review and approval of change control and manage the quality metrics for the change control.
Participate in Global base Business discussion, generate new ideas and contribute to shape the processes and implement it in APAC region.
Performance assessment of the team members, contractors, and third-party resources.
Provide visibility of overall projects and team's performance to reporting manager and provide insight on creating new opportunities for process improvements and team development.
Qualifications
Required Qualifications
Bachelors/Masters in Pharmacy, Cosmetic Technology/Chemical Engineering.
Skills:
Deep knowledge of raw materials and it's impact on the personal care formulations.
Adequate knowledge of GxP & quality systems.
Excellent communication, organizational, and interpersonal skills.
Ability to collaborate with internal and external resources to meet project objectives.
Proven record of delivering project results.
Strong analytical and problem-solving skills.
Proficiency in Microsoft office.
Ability to manage/resolve interpersonally challenging situations.
Ability to successfully navigate unknown/unforeseen challenges
Expertise in change control management process.
Benefits:
Competitive Benefit Package
Paid Company Holidays, & More!
Learning & Development Opportunities
Employee Resource Groups
Kenvue is proud to be an Equal Opportunity Employer. All qualified applicants will receive consideration for employment without regard to race, color, religion, sex, sexual orientation, gender identify, age, national origin, or protected veteran status and will not be discriminated against on the basis of disability.
Possible interview questions with answers for the role of Principal Scientist :
1:Can you describe your experience in managing raw materials and their impact on personal care formulations?
Answer: Certainly. Throughout my career, I have gained extensive experience in managing raw materials and their influence on personal care formulations. For example, in my previous role at [Previous Company], I led a team responsible for optimizing the selection and utilization of raw materials in the development of skincare products. This involved a deep understanding of the chemical properties of various ingredients and their compatibility with specific formulations. I also worked closely with suppliers to ensure the quality and reliability of raw materials, contributing to the successful launch of several product lines.
2: How do you stay informed about industry regulations and quality systems, and how do you ensure compliance with these standards in your work?
Answer: Staying informed about industry regulations and quality systems is crucial in my role. I regularly participate in industry conferences, workshops, and seminars to stay updated on evolving standards. Additionally, I collaborate closely with our Quality Assurance team to ensure our processes align with regulatory requirements. To maintain compliance, I've implemented robust documentation and tracking systems, ensuring that our projects adhere to GxP standards. This proactive approach has allowed me to successfully navigate quality audits and uphold high-quality standards in my work.
3: Can you provide an example of a project where you had to collaborate with both internal and external stakeholders to meet project objectives effectively?
Answer: Certainly. In a previous role, we faced a challenge related to the discontinuation of a critical raw material used in our flagship product line. I led a cross-functional team that included members from R&D, Procurement, and External Suppliers. We collaborated closely with our suppliers to identify alternative materials and conducted rigorous testing to ensure they met our quality and performance standards. Simultaneously, we worked internally to adapt our formulations and manufacturing processes to accommodate the change. Through effective communication and collaboration, we successfully transitioned to the new materials, ensuring business continuity and customer satisfaction.
 4: How do you approach team development and process improvement in a dynamic work environment?
Answer: In a dynamic work environment, I prioritize team development and process improvement to enhance our agility and effectiveness. I encourage a culture of continuous learning and development within the team, regularly conducting training sessions and providing opportunities for skill enhancement. Additionally, I actively seek feedback from team members and stakeholders to identify areas for process improvement. By fostering a collaborative and innovative atmosphere, I aim to empower the team to adapt to changing circumstances and drive positive outcomes. This approach has consistently yielded improved project outcomes and increased team efficiency.
Latest Pharmacy and Chemical Engineering Jobs.
Follow RASAYANIKA for more chemistry and pharma related job updates.