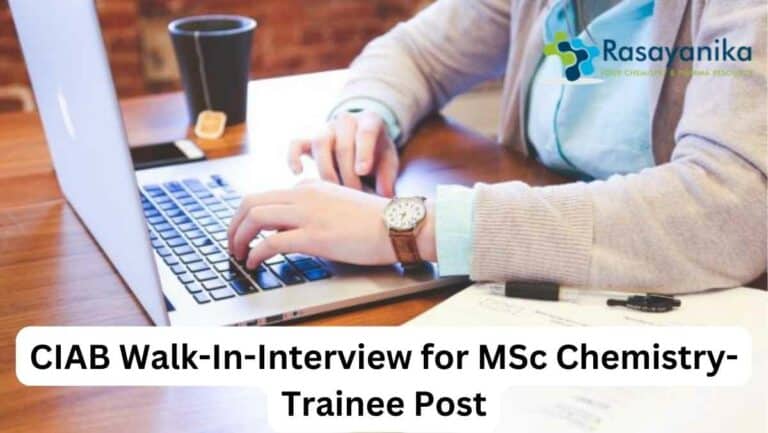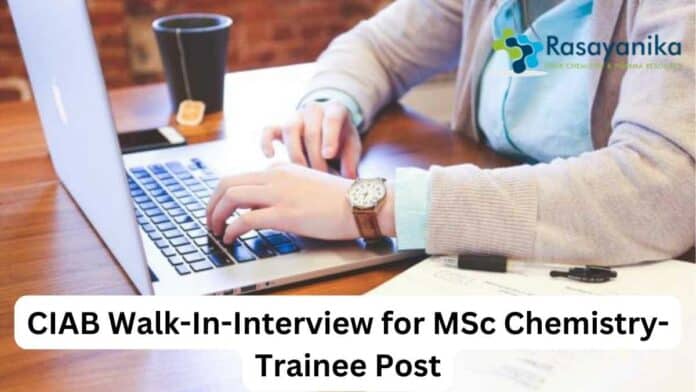 Trainee Post for MSc Chemistry at CIAB- Attend Walk-in-Interview!
The Center of Innovative and Applied Bioprocessing (CIAB) is conducting a Walk-In-Interview for candidates with MSc in Chemistry. This opportunity offers a platform to join a dynamic research environment and contribute to cutting-edge bioprocessing research. Don't miss this chance to be a part of CIAB's innovative team.
Job Title: Trainee
Institute: CIAB
Location: Mohali, Punjab.
Number of position: One
Age Limit: 28 years
Fellowship: Rs. 5,000/- per month (Fixed)
Project title: Development of novel high-level secretary expression systems and continuous production of anti-diabetic sugar, D-allulose.
Tenure: 2 Months
Qualifications: M.Sc. in Chemistry / Biochemistry / Life Sciences from a recognized University / Institute.
Application Procedure to apply for Trainee Post for MSc Chemistry at CIAB:
The interested candidates may appear for a Walk-In-Interview on 20-09-2023 along with the application form available on the website www.ciab.res.in.
The duly filled application form must be submitted at the time of the registration from 09:00 AM to 10:30 AM on 20-09-2023.
The candidates must ascertain their eligibility before applying, as ineligible candidates would not be interviewed.
Process of Engagement:
The eligible applicants would be interviewed by a duly constituted committee. The committee would recommend the
candidates, if found suitable, for consideration of the competent authority for engagement on purely on Fellowship/Stipendiary basis.
Click here for the notification
Trainee Post for MSc Chemistry at CIAB. The possible interview Q & A to help you with:
Question: What motivated you to pursue research in the development of high-level secretary expression systems for D-allulose production?
Answer: I've always been passionate about bioprocessing and its potential to create valuable products. D-allulose's anti-diabetic properties make it an exciting target, and the challenge of optimizing secretion systems for high-level production aligns with my research interests.
Question: Can you explain the significance of D-allulose in the context of diabetes management and why it's important to develop continuous production methods?
Answer: D-allulose is a rare sugar that mimics the taste and texture of regular sugar without affecting blood glucose levels. Developing continuous production methods is essential because it ensures consistent and cost-effective access to this valuable sugar, which can greatly benefit individuals with diabetes.
Question: What specific techniques or methodologies are you planning to employ in this project to enhance secretary expression systems for D-allulose production?
Answer: I plan to employ genetic engineering techniques to optimize microbial strains for high-level secretion of D-allulose. Additionally, I will explore bioreactor design and process control strategies to ensure continuous and efficient production.
Question: What potential challenges do you foresee in developing these novel expression systems, and how do you plan to address them?
Answer: One potential challenge is achieving a balance between high-level secretion and cell viability. To address this, I'll use a systematic approach, including strain engineering and optimization of growth conditions, to fine-tune the systems. Regular monitoring and adjustments will be key to overcoming challenges as they arise.
Question: How do you envision the practical applications of your research beyond the production of D-allulose, and how might it contribute to the broader field of bioprocessing?
Answer: While the primary focus is on D-allulose production, the development of high-level secretion systems has broader implications in bioprocessing. It can be applied to produce other valuable bioproducts efficiently, reducing production costs and environmental impacts, which aligns with the goals of sustainable biotechnology.
Editor's Note: Subscribe to Rasayanika for the latest chemistry and Pharma job openings, follow us on Facebook and Telegram and subscribe to our youtube channel for the latest updates on chemistry and Pharma jobs and much more.